"My life has been dedicated to the noblest cause, that of the freedom of the country. Therefore, there is no rest or worldly desire that can lure me now"
These are the words of a boy about 19-year-old, who ran away from his house to Cawnpore to avoid getting married by his family leaving this statement on a letter.
One of the most influential revolutionaries of the Indian independence movement, Bhagat Singh, was born on 28 September 1907 at the village of Banga, Lyallpur district (now in Pakistan). Singh had a spirit of martyrdom since his childhood. As a child, he wanted to grow guns in the fields, so that he could fight the British and at the age of 8, he talked about driving out Britishers from India instead of games or toys.
On Bhagat Singh's birth anniversary his memories are sure to linger in our hearts and so are these Bhagat Singh quotes:
11. Bhagat Singh was inspired by the ideals of socialism from an early age. Gaining interest he used to read about the socialist revolutions that were led by Lenin.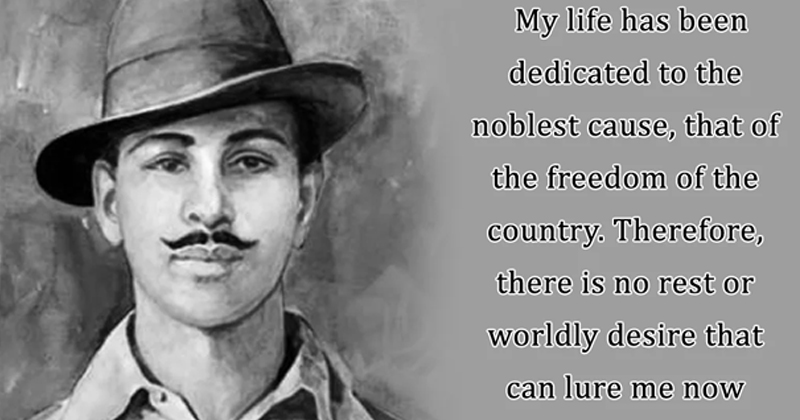 10. He coined the phrase 'Inquilab Zindabad' that became the slogan of the India's armed freedom struggle.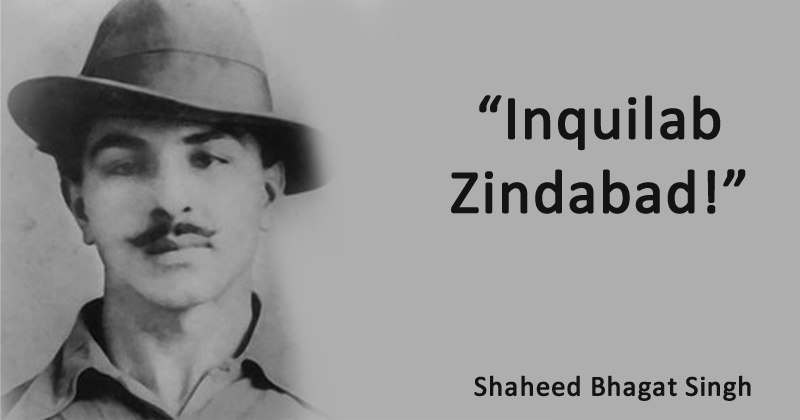 9. Bhagat Singh at an early age made his mind about what he wanted from life, at a quite early age he entered the spiritual world, now for him this material world was nothing.
8. Few seconds before begin hanged to death, Singh was not thinking about saving his life or dying but he was smiling.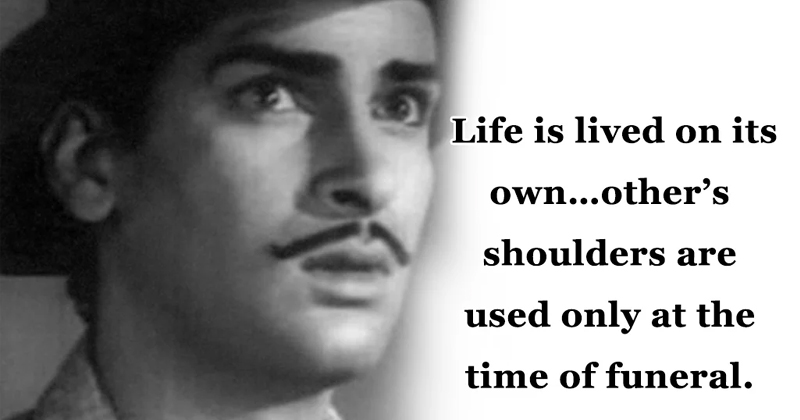 7. Singh is that person who does not stand behind the line but stands somewhere where no one has ever stood before.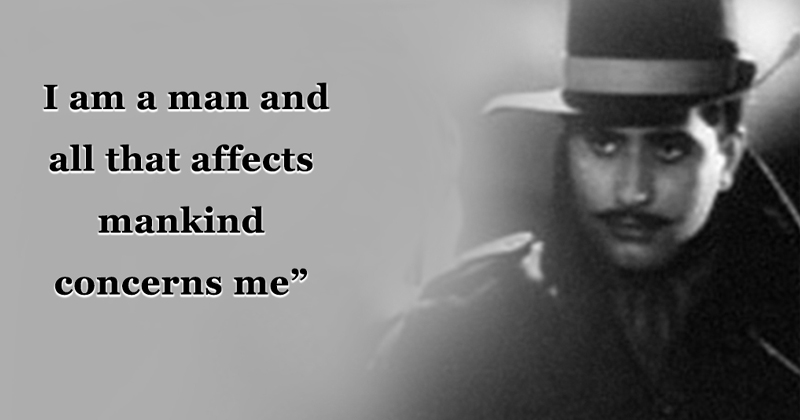 6. Singh was sentenced to death in the Lahore conspiracy case and ordered to be hanged on March 24, 1931. That schedule was moved forward by 11 hours and he was hanged on March 23, 1931 at 7:30 PM.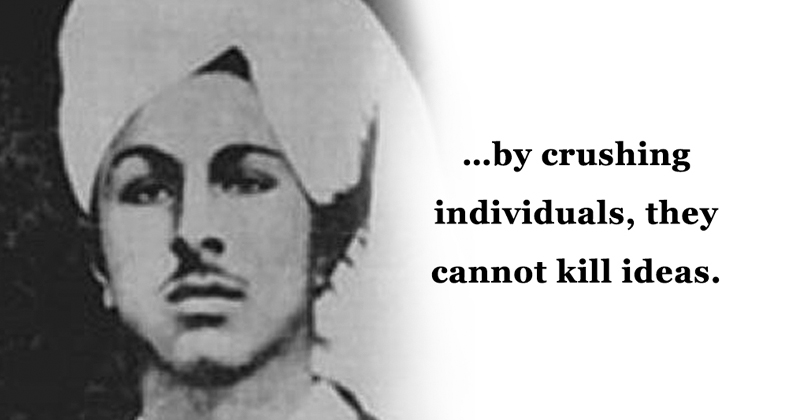 Also Read: Remembering Bhagat Singh, Rajguru and Sukhdev, This Shaheed Diwas
5. After Mahatma Gandhi called off the non-cooperation movement, Singh became disillusioned with Gandhi's philosophy of non-violence. 
4.  Subhas Chandra Bose said "Bhagat Singh had become the symbol of the new awakening among the youth."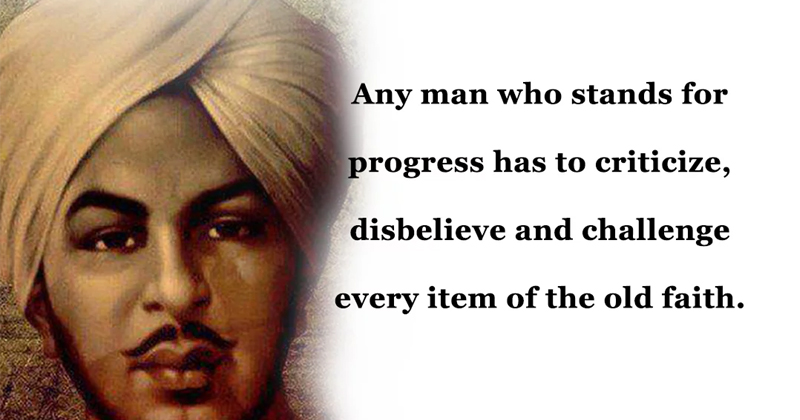 3. Aside from being a revolutionary who gave the British nightmares, Bhagat Singh was also a great writer who contributed to many newspapers of the time.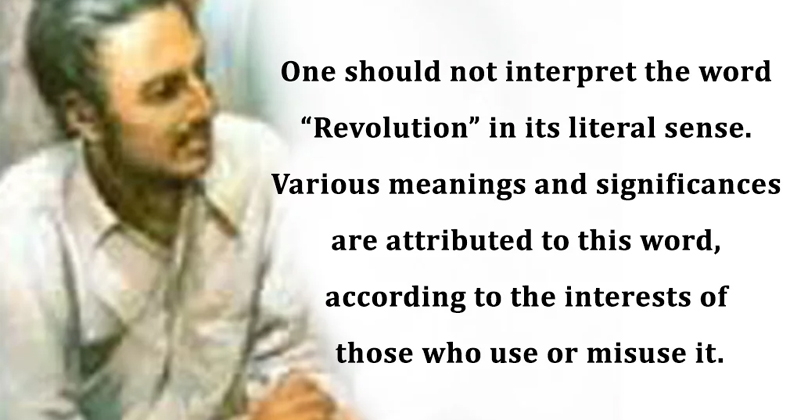 2. After discovering Lenin, Marx and Trotsky, Bhagat Singh became an atheist.
1. His hunger for knowledge is inspiring and he is a perfect example for a voracious reader. He used to makes notes of poems , sentences , quotes , sometimes entire paragraph of what he read in a particular book.
He is one of few martyr who had the courage of going beyond the obvious, who choose death at the age of 23 and when the death was few moments away he was not scared; he was composed and content, smiling as if he was lined up for some adventure. The sky still remembers that smile.
Singh died smiling because he knew that his death would bring the change he couldn't bring in his life and his death did create a very big chaos not only in India but globally. In the leaflet he threw in the Central Assembly on 9 April 1929, he stated that It is easy to kill individuals but you cannot kill the ideas and he proved it.
Shaheed Bhagat Singh's life was a very short lived one, but he did such big and impactful things that today after so many years he is recognized as the symbol of martyrdom. 
28 September 2016
Avni S. Singh