Five years back, there stood on a red-carpet stage facing students of the revered Faculty of Management Studies in Delhi, a woman about to speak in a Ted-exclusive. The room was full of perhaps tens of hundreds of minds who, in APJ Kalam parlance, you'd call the 'curious ones,' or 'the future of the country.' Perhaps they'd have expected from the figure donning a bright peacock blue salwar, garrulous lectures on the importance of academics, or the novel way to pursue the right career. Though, truth be told, none of that followed.
For what followed was a candid, human-to-human, passionate exchange about the countless dreams of a girl who once grew up in a patriarchal mindset in a far-from-urban Kanpur. But a girl who dared to question established norms, break away from the presupposed mindsets, beyond the constructs of a society that expected her to behave in the archetypal mindset. There was, without a modicum of doubt, a sense of reassurance in her voice, and an undulating charisma that charmed the FMS gathering who got more than they could've bargained for in exchange for hearing what it takes to follow one's own path in life. The woman on the stage was Shazia Ilmi.
Growing up in a conservative Muslim household, as she narrated, girls, Shazia Ilmi told, weren't allowed to question things; they were told to do things. But our personality in focus dreaded that. Not a wall on which you'd throw a ball only for the round-shaped object to fall back, Shazia spent much of her growing up years in breaking down walls of pre-determined beliefs to which girls had to conform, so that she could construct a path of her own.
She recounted with quintessential passion, how once in a crowded bus, a man was doing more than just ogling at her; finding a way to touch her that made her really uncomfortable. But the last person on earth to get afraid, she told the young assembly in the Ted exchange, on how she decided to land her foot with all her might onto the man's leg. This, simply, shoed him away.
It's the sort of experience an asker of an unbecoming question feels, to this date, when she's rubbed the wrong way on the television.
In fact, at a time where men are the one's who are allowed to exhibit temper, women not so much, there's this sense of incandescence associated with temper that makes Shazia Ilmi- a non-milk coffee lover, obsessive reader of books, a habitual penner of poems, a fan of New York, wearer of Gandhian and Lenon style glasses- markedly different.
"A little spark of rage. That little little anger. That became a forest fire of passion with which I wanted to reach out," exclaimed the passionate figure on the stage!
You could be anyone today- a housewife running her own cookery YouTube channel, a start-up entrepreneur dealing with AI, a retired bank executive or a budding cricketer- anger management and how to deal with fiery temper is what we get to hear all the time.
But in her talk, Shazia Ilmi noted the importance of channelising the anger so that it could lead to something constructive.
Sharing candidly, instead of throwing heaps of moral lecture, she urged the attendees to keep the spirit of questioning alive; "For unless and until we do not question the boxes we are spaced in, we cannot get out of them. And I don't like boxes, I like the spaces between them, "exclaimed the mesmerising speaker!
Hearing her recounting her tale- on how she made it far, actually quite far from the by-lanes of a crowded Kanpur to educational institutions of preeminence- first at Shimla's St. Bedes College, and later, the revered Jamia Milia Islamia in Delhi, was like listening to a soldier telling a newly-admired cadet corps about how he traversed a battlefield having refused to play with toy soldiers as a child, preferring instead to engage with real-life war-like situations.
Frankly, in an age obsessed with anointing adjectives of all kinds and that too, within a space of a few seconds to public figures, we've probably already attributed a certain adjective to Shazia Ilmi.
To her critics, who perhaps have come to revile her bold and aggressive ways of speaking, albeit which is when she sticks to a narrative sans drama, she could be needlessly talkative. Others might herald her as a firebrand persona. To some, she would seem the mouthpiece of the largest ruling political party in India- the revered Bhartiya Janta Party.
But if you happen to move away from mass media shenanigans and listen to the carefree spirit that embodies the woman we see on our television screens, you'd perhaps realise there's more to Shazia Ilmi than meets the eye.
In an age where empowerment is a term that's loosely bandaged for every cut or scratch, whether or not it is gruesome, here's someone who truly believes in the empowerment of the women of India. And cannot for one second, accept- and rightly so- the stereotypical depiction of the conservative Indian Muslim woman who's often seen no more than just a baby-producing factory, one who can rarely ask a question to her spouse, let alone answer back in seething rage even if it ever comes to that!
This is no fanboy speak, but a fact! Three years ago, appearing on the national television to which she now belongs akin to the blue whale in the pacific ocean, she actually broke down and her tears of contentment were for all to see when news became legit regarding India doing away with the system of Triple-Talaaq!
Speaking in defence of a woman who'd been a victim of the rather unruly and cantankerous approach, Shazia Ilmi expressed with gladness the relief she found that India had done away with the rather brazen law that gives women not even a prior right to know that they're being 'done away with,' and rather uncharacteristically so.
But if anyone thinks that her good looks and youthful persona made it easy for her in bigger cities like Delhi or Mumbai, then perhaps nothing could be further from the truth.
She recalled the time when with a top media channel, she was told to cover Bollywood & Music, Fashion or Lifestyle. But instead of sticking to the easy route that often beds controversies whilst producing absolutely zilch content of intellectual mentation, Shazia revolted and opted for politics.
One time, interestingly, she was told to simply be the news reader, whilst leaving it to the menfolk the job of arguing, debating and counter arguing political discussions and discourses. But not the girl who likes diamonds, but one with a penchant for newspapers, Shazia Ilmi fought her way through that stereotypical approach as well.
As a matter of fact, she was just 20 when travelling in a Shatabdi she experienced with a forlorn expression a strange episode, with a newspaper vendor refusing to give her a paper to read thinking what good might it possibly serve a woman? But even then, Shazia coolly explained that there are some for whom flimsy gossip magazines aren't the world and that for this breed of women- a newspaper is the pathway to a greater understanding of the world around.
Someone who's never had it easy but has had to, at every stage of life, work hard to achieve the social standing she commands today, Shazia may have earned as many brickbats and bouquets. But with her keen sense of passion and remarkable ease at public speaking, the girl from UP has literally gone "Upwards" in life instead of spiralling down in a world where there's still plenty of men to challenge the authority and mere presence of women.
And while it's really no business of ours, especially mine to wonder why she moved political parties, this brand ambassador of the Clean India movement, it's important to note, is someone who functions with passion and from a clean space of intent in her heart.
Central to her heart, you'd gather from a discussion or two, is the desire to once again make documentary movies, having already had a decade and a half years of experience in documentary production and television news.
Those naysayers who feel she's here for her political gains, may want to reflect on the BBC Hindi interview she gave over a year back in time where her central theme was to liberate the submissive Muslim women, who sort of don't have an identity of their own in a very country that uses the term secular and empowerment about as freely as one sneezes everyday.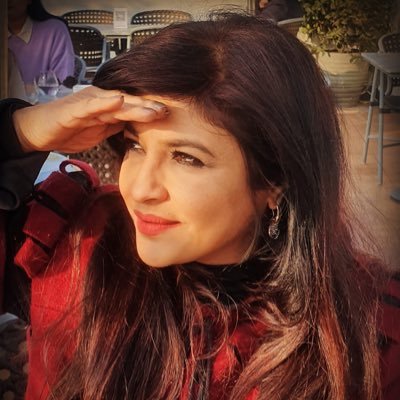 What truly makes Shazia a one of a kind is the fact that she doesn't behave like a politician even as to some, she's just an extension of her political party. Though, on the contrary, this travel freak is someone of utter simplicity who can easily take a joke on her own. Very free-spirited and bold, to the receptive mind, she's Janis Joplin's guts and zing meets Eleanor Roosevelt's charm and quips.
With a penchant to talk of all things under the sun, there's more to the girl often trapped in the cult of personality; she can talk to you for hours about Architecture, takes keen interest in the electric car revolution that India is swiftly moving toward and may know a bit more about Israel than just fashionables names of world's famous brands of Chardonnay.
And there's potent truth when she reasoned in the Ted talk- "As stereotypes govern your life, it becomes a never ending story. Change comes from a desire to break stereotypes! And must we remember, the smallest spark of anger can turn into a forest fire of change!"
To conclude, in an India that we all wish would change in so many ways, becoming the best version of itself, it's firebrand but purpose-driven figures like Shazia Ilmi that we must feel glad are around and leading by an example. Perhaps, it's best to note, her best is yet to come!