One of the most poignant yet disconcerting scenes from The Dark Knight Rises, another Christopher Nolan epic comes towards the end of the 2012-epic. It's where The Batman returns to Gotham in yet another bid to defy the destruction of the city he's been brought up in and served.
Upon his arrival right in midst of a skirmish executed by Bane, the evil mastermind, the two forces- evil and good- engage in a mini verbal duel before the actual fighting ensues.
Bane says, "You came back to die with your city," to which, Batman responds, "No, I came back to stop you."
Minutes after the brave declaration by the Dark Knight, the two engage in a fist fight, the ultimate winner of which is the Batman, who kicks and thuds Bane into a huge hall, throwing his kick right into the gut of the masked mayhem creator.
Upon falling, Batman rushes inside to the room to find his love interest Miranda there for aid. He immediately exclaims, "cover the door," screaming from the top of his voice as he interrogates the injured Bane, "Where's the trigger, you'd never give it to an ordinary citizen… where's the trigger."
Upon a few seconds' pause, the evil figure says in a hush tone, "I broke you!" And right after that, out of nowhere and perhaps much to the viewers' chagrin, Miranda herself stabs the Batman.
When she does it, she even says it loud and clear, "It's the slow knife that cuts the deepest!" Truth be told, as a Batman fan, not just a viewer so stunned by what's happening, you can't help but feel for the fallen knight. So stunned is he to witness what's just happened that he just can't fathom that the girl he thought loved him, turned out to be the one who actually hurt him.
But you know what! That's life! That is what happens. Whether it's that old wisdom recounted by Grandma or the classic Buddha sermon, truth is- "We are hurt the most by the ones we love or hold dearly."
Isn't that true?
If you were to make sense of what transpired in 2012's Batman epic, a movie that struck a chord with viewers even though it didn't bedazzle audiences like 2008's The Dark Knight, there's meaning to be found in the action sequence that can be perfectly placed on the cricket field.
All you have to do is to replace Miranda with Cricket South Africa. But more importantly, you have to place a certain Faf du Plessis in the place of the Batman and what you'll decipher from that point would seem so apt. So bloody apt.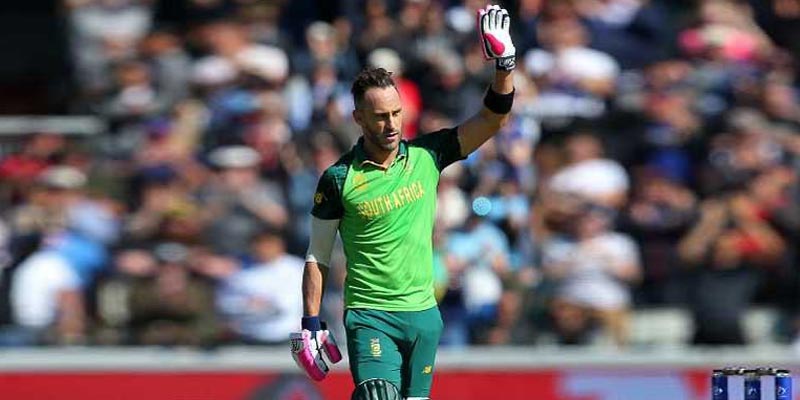 For truth is, it's the slow knife stabbed into to the back of Faf du Plessis by his love interest, i.e., Cricket South Africa that hurt him the most.
As a matter of fact, Faf du Plessis would be a man eternally gutted at the back of a decision taken by his Cricket South Africa that he may never get over it.
It's unreal. It's grief causing. Moreover, it points to a seemingly endless spell of disarray that Francois Faf du Plessis may never forget.
For a batsman whose T20 international credentials read- 1 century, 10 fifties, 1528 runs and an average north of 35, Faf du Plessis wasn't picked for the T20 World Cup 2022.
This is that format, truth be told, Faf was really looking forward to play. After scoring a fighting 199 in Test match cricket, circa 2020, post which he played only three more five-dayers, the right hander's focus was solely and purely on white-ball cricket.
Having retired from the long format only to focus on shorter forms, Faf du Plessis had made clear of his intentions to focus on ODIs and T20Is, both formats in which he excelled.
As a matter of fact, from the onset of 2017 until 2019-end, the latter being the year of his final ODI outing, Faf struck runs north of 60 in every single year.
During this time, not one famous batsman from the iconic trinity of Smith, Root and Williamson managed runs at an average higher than that of Faf du Plessis in limted-overs cricket.
Such was the magnitude of the Pretorian's form in ODI cricket. Faf was no slouch either in T20I cricket either; he scored 165 runs in 2020 at an average of 33, which, as it turns out, is his final year in the shorter format. And that's because, Faf du Plessis just hasn't been picked for national representation ever since.
That's even after scoring well over 1,500 T20I runs and at a career average of 35 and a healthy strike rate touching 136.
While the veteran of the sport would much like any passionate and honest cricketer would like to have ended his journey wearing South African colours in the approaching T20 World cup, he's been denied that chance.
That's almost like the Gotham city putting a bold and clear message at its very entry point that states, "No Batman allowed; trespassing would lead to serious ramifications."
Well, the "Faf" of the matter is that whenever there's been pressure on South Africa, Faf's mattered to the team. He was among the runs when his dilapidated side played India in India before the COVID era struck the earth and its denizens.
On an ill-fated tour to Sri Lanka, not long after that trip, Faf with his sixties and forties on tricky spinning surfaces grinded it out.
Moreover, it were Faf du Plessis' precious runs that mattered in the high-octane and ultimately, heartening semi-final clash against the Kiwis in the 2015 World Cup.
In the 2016/17, a time where cricketing discussion only (or predominantly) revolved around Kohli and Smith's batting exploits, it were knocks like Faf du Plessis' 185 in an ODI versus Sri Lanka that got South Africa into the limelight into what was, and perhaps still is, a cricket media world overly obsessive about the Indian and Australian batting star.
But nothing's quite as fascinating as the fact that Faf assumed captaincy during a period marked by strife and uncertainty in South African cricket. He led by an example, marshalled his troops and scored runs when it most mattered. In the 2019 World Cup, Faf du Plessis provided the lone century that came of the bat of any Protea talent; that too against a Lyon, Cummins, Starc-powered Australia.
And here he is- the very man who demonstrated valiance amid a time of challenges, without a spot in the very squad that would've liked Faf to lead by an example, since it concerns the T20 World Cup.
Anyone who said that life's not fair wasn't bluffing; it's not fiction, but the Faf of life. Ask du Plessis how it feels to be backstabbed by the very people you serve.