Despite the power it exudes and the sensational run of talents it unfolds, there's so much more to Indian Cricket.
It's a team that, we mustn't forget, plays cricket all-round-the-year. Surely, with that come multiple opportunities to show one's craft. But then managing talents and ensuring the best outcome is produced on the 22 yards is also no small a task.
And if there was a year that tested all of that, besides giving India a chance to exhibit its strength, whilst challenging the team across formats then it was 2021.
Yet, the story of Indian cricket this year will always be the tale of an inspired side that despite ups and downs gave us plenty to remember.
Critics, who derive pleasure in downing a team of enormous potential, will surely cite instances like exit in the 2021 T20 time and again.
It was a shocker, agreed. But also turned out to be a case where India would like to learn from.
But those who understand India's spirit and sense for competing against anyone under the sun, would never belittle the moments that defined the sport in 2021:
India breach the fortress at Gabba
Until 2020, Australia enjoyed unparalleled consistency at the Gabba, once famously called its fortress. But it was also because the likes of Pant, Gill, Thakur and Washington hadn't yet knocked on the doors of history; rather make that this famous venue.
Which is why for as long as Test cricket will be remembered, the series against Australia will be remembered too for time immemorial and in particular, the event at the Gabba.
A thriller. A date with history. The adjectives just run out.
You can hit an unbeaten 89 in any Test and it would be called a fine knock, probably nothing more.
But when you hit 89 and emerge unbeaten in the fourth inning of a Test with your team needing 328 to win against the narrative of half the prominent faces of your side out injured, including Kohli, you do the glorious; you touch the sublime.
You make history.
This is what Pant did as he struck that memorable, probably hair-raising knock, ultimately culminating in a boundary off Hazlewood to take India to a historic, goosebumpish, even unlikely win at the Gabba, an occasion that saw India breach Aussies' famous fortress.
But what was remarkable about the win was Pant leading the show with other youngsters with very capable willows playing the need-of-the-hour knocks. Gill made a brave 91, probably his coming-of-age knock while the inspired efforts of Thakur and Sundar stood out.
But what made this a truly unforgettable series win was the fact that this was India's second series win Down Under, the first coming in 2018.
It was a moment to remember, an occasion savoured by not only past, but also contemporary opponents of Team India. How often does that happen?
And probably that's also down to the fact that India put everything on the line to win, even their bodies.
Probably Pujara's critics who can't stand his presence right now in the side would do well to note that during his 314-minute-vigil at the crease, which led to a stoic 56, every single Aussie bowler aimed for his body, not just the wickets. But the man kept taking the blows to ensure India's flag was held high. As did Pant, at the other end.
KL Rahul lords at Lord's 
Either you gracefully caress the boundaries or you hammer the pulp out of the cricket ball. And when you do both by clubbing elegance with power, you become KL Rahul.
For someone who was India's only centurion at Lord's in 2021, Rahul truly redeemed himself this year having faced quite difficult summers in the past, especially when you think of the 2018 and 2019 cricketing summers.
Rahul also produced a glorious half-century in a T20I against the Kiwis at home earlier in November. But in England, he was a sight to behold at Lord's as he applied lordly elegance to stroke his way to a 129 off 250.
If there was one big highlight from the 2nd Test match at Lord's held in August, then it was Rahul's definitive century, a display of grit up the order.
He displayed the right blend of caution and aggression whilst embracing the hostility of Anderson's moving deliveries and the temerity of newcomer Ollie Robinson.
How Rahul's knock proved to be valuable was that in the very game, together, Kohli, Pujara and Rahane constituted only 52 runs between them. Rahul's batting average touched 40 as he struck 315 runs from just 4 games, an impressive feat.
India reach the finals of World Test championship
A Test match that should probably have seen India try way better and braver than they did to make a contest out of New Zealand saw Kiwis flying high.
But that was down to the fact that New Zealand played a whole lot better and perhaps more as a unit than the seemingly insipid Indian lot that lacked attacking instincts.
The weather-marred Test at the Rose Bowl saw lackluster batting from India's end. The most that the team managed was a lowly 217 and with it, lost early initiative that could've been used since the side batted first.
However, what's important is to appreciate the distance India covered to reach the finals of Cricket's one of a kind World Test Championship.
In the last 12-18 months, India beat England, Australia, and Bangladesh to register emphatic wins that eventually paved way to reach the big-ticket final stage in England.
It's not that India won't remember its shortcomings as evident in England's one-off Test final held in June. It'll learn from its weaknesses and approach the new edition concertedly. And a prudent start in that regard has already happened with the Kohli-led side thumping New Zealand to win the 2-match series 1-nil at home.
A year that birthed the legend of "lord" Thakur
From Brisbane to Kennington Oval (also known as "The Oval"), if there was one Indian cricketer whose exploits sparkled for the team everywhere in 2021- then it was Shardul Thakur.
A cricketer committed to his craft and someone who, over the course of the past twelve to fifteen months, has truly come into his own, Shardul Thakur's is a blossoming success story of the game.
He first struck a vital, even game-changing fifty in the Gabba Test, joining hands with Washington Sundar to offer valuable runs to his team (all of which came in a winning cause) and later, struck two magnificent fifties and took key wickets of Root and Pope at the Oval to ensure India were on top at the 4th Test in England.
An unassuming cricketer ever dedicated to the team's cause, flashy successes associated with all rounders with soaring resumes may not be Shardul's strength but his big hitting down the order and the ability to extract wickets when it seems all's quite tough make Shardul the lord social media has made him out to be.
In 2021, Thakur claimed 14 wickets from 5 games, playing key roles in beating Australia in Australia and England in England (4th Test), whilst his bat spoke for the quiet cricketer, culminating in 186 vital runs from 3 Tests, at a very healthy average of 37.
This year surely belonged to the man who persisted when the going got tough for India.
Many will cite his incredible hitting during that 36-ball-57 at England's fourth test and that 60 off just 72 as game changers that brought India to the cusp of a great advantage in the Joe Root-territory.
The year of Indian spinners
The spinners, if you were to think of it, have truly fought back in the game. And if there was a year that provided enough substance and stat to prove the fact, not a notion, then 2021 was it.
Among them, the famous spinning troika of Ashwin, Jadeja and Patel claimed 104 wickets.
That's a century of wickets in just 1 year of playing Test cricket together. Marked by famous spells whether at the Chidambaram stadium or at the Green Park at Kanpur to ultimately rounding off the year with a mega win at Mumbai, Jadeja, Patel and Ashwin proved themselves to be a thorn in the batters' path, those that challenged India's authority in the longer format.
2021 would also be recounted for being the year where Ravichandran Ashwin made life difficult for some of the world's best batsmen, whether Williamson, Root, Stokes or Smith to face his puzzling off spinners. He took, singlehandedly 52 of the 104 wickets the famous turners from India clinched.
If that's not a feat worth spinning around to, then what is? His best of 6 for 61 at the MA Chidambaram stadium was just as fine as his recent 4 for 8 at the first inning at Wankhede that comfortably thumped the clueless Kiwi batters.
But was that all?
What about Axar Patel's spells during the England Tests at the Ahmedabad stadium? The said series saw an unplayable bowling performance at the end of a cricketer who's been around ever so quietly but truly came into his own in 2021.
You know you are up to something special when you clinch 27 dismissals on your own inside a single Test series, especially with the backdrop of never previously being considered a strong Test cricketer.
Ravindra Jadeja too, meanwhile, upped the ante of excitement that usually surrounds him in Test cricket by contributing with both bat and ball, taking 16 wickets from just 7 contests whilst stroking close to 300 Test runs in the year.
His ability to make the most of wickets offering potential to spinners, especially slow left arm turners of the ball put him on a different pedestal of difficulty especially for batsmen who anyways consider scoring runs on the sub-continent a mystery.
Before Rachin Ravindra blossomed with his stoicism at Kanpur, it was all a Jadeja and Ashwin show at the Green Park, 2nd Test, a venue that didn't really produce any green pastures as for batters.
The Hitman executes a mega hit in T20Is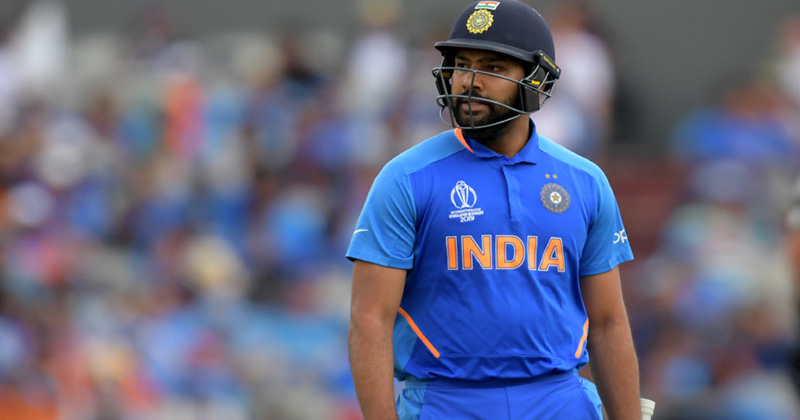 56, 55, 48, 56! And that too, at an average strike rate of 154!
You are a notable T20 batter if you hit the ball hard and then vanish soon after hitting two or more boundaries. But you are Rohit Sharma if these are your previous (or latest) four T20I outings in the game.
With fifties on the trot in the winning outcome (T20s) against the Kiwis at home, among the things that made 2021 the year of Rohit Sharma was his individual World Cup performance.
In the not-so-memorable series for his country, the Hitman ensured that he kept everyone on the tenterhooks, striking 174 runs from 5 innings at an exceedingly bright strike rate of 151. For a batsman who understatedly decorates the idea of hitting big, beautifying it with that very Mark Waugh-esque lazy elegance, Rohit Sharma is India's numero uno assassin in the shortest form.
His cricket, on the whole has grown too, ever since his formidable knocks against a clueless Faf-led South Africa in 2019 saw his rise in red ball cricket. Now all set to vice captain India soon to travel to the Proteas land, it can be said that it'll be all fire and fury for India's reliable opening batsman from Mumbai who amassed 424 very crucial runs for India in 11 T20Is this year.