If there was one season in Formula 1 that won't be forgotten simply because one just didn't know until the very final lap as to who'd prevail in the end, then F1 in 2021 was it. A season of immense daring from Max Verstappen and in the end, as one found out, a year where Hamilton, so often the frontrunner and the track position holder, came second.
Yet, what key moments made F1 in 2021 a truly unforgettable, even unfogiving, absolutely mad ride?
Let's fine out!
The Lion in Max Verstappen and its roar
The courageous man, who was once, a boy wonder in F1. The mighty Max. To some, Mad Max Verstappen. And now, after competing in what were 22 edge-of-the-seat, incessantly challenging, sometimes even toxic F1 Grands Prix in 2021, a world champion!
"Max Verstappen, you are a world champion, a world champion!"
Somewhere along the lines of reminiscing the 2021 title fight, these words of Christian Horner will truly ring in one's minds when remembering what was a lion-hearted effort by Max Verstappen in the just-concluded season.
Names, there are many. But where it comes to the flying Dutch, what must be said is that he'll be forever respected for being the only driver on the existing grid to have truly challenged Lewis Hamilton before ultimately edging him out.
And if there's any doubt then beyond the world title, there are several instances where Hamilton confessed to Max being in a league of his own.
Surely, he had a fast car and the fastest car in the majority of the season. But then so did Lewis and for several world championships he came to own.
There may not be as many fans of Verstappen as there are of Lewis with many resorting to the fact that he was and still is, edgy, rough, not too decent and all of that!
But just imagine what level of driving would he have had to do in order to come up trumps against a modern legend of the sport in Hamilton?
Those 10 race wins weren't birthed only at the back of a fast car. It required a certain amount of skill.
Not your usual stars: Perez and Bottas' efforts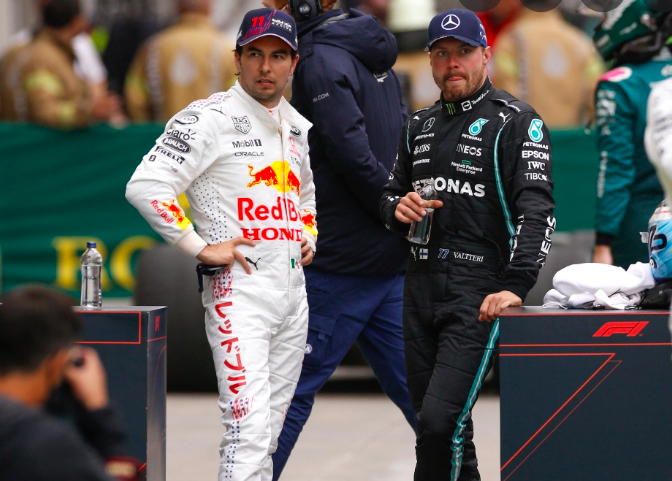 One of the biggest feats in 2021 for Finnish driver Valtteri Bottas, now Alfa Romeo-bound for 2022, was the fact that he ended with a hundred percent record in qualifying for Q3. Where does that amount of consistency come from, one wondered?
His famous win in Turkey, which came at the back of great race pace and excellent tire management on a tricky surface was a fine Mercedes moment. But one doesn't know whether Valtteri Bottas, the perfect foil to Lewis' aggressive and bold driving, was really appreciated for emerging third on the Driver Standings at the conclusion of the 2021 season?
Will he get his due?
Ditto the question for Sergio Perez of Red Bull, who much like Bottas of Mercedes, is the perfect team man as well as someone who quite like the Finn, took a solitary win in 2021. This came at the challenging and high-octane contest of Baku, home to the Azerbaijan GP.
While the race win may have been dramatic to some, what wasn't was the fact that Perez worked particularly hard at Mexico, his home Grand Prix, to take a valiant P3.
This would be the first time that a Mexican driver took a podium in front of home fans.
But the finest moment for the experienced driver was the fact that last evening, during the title showdown, he held back none other than Hamilton for two back -to-back laps with the idea of bringing Max Verstappen further closer to the great Briton.
Anyone thinking that perfect teammates don't really exist in F1 anymore, look at these two!
The horse pranced, and Ferrari arose!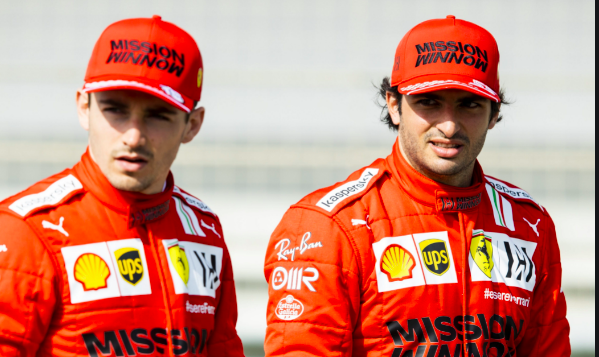 One of the perfect tales of F1 in 2021 season was also among its heartening ones. For a team that failed to even touch 140 points in 2020, and thus emerged with an embittered P6 on the Constructors, emerged third in 2021.
In doing so, Ferrari, the mega Formula 1 marquee struck gold at the box office, scoring 323.5 strongly collected points, at the back of Leclerc and Sainz working really hard.
But somewhere, while Leclerc did his best, scored two sensational poles at Monaco and Baku and even took a brave Silverstone podium, the real credit for Ferrari's big resurgence was down to the famous Spanish driver Carlos Sainz Jr.
Someone who was, until recently, a fan of Fernando Alonso, the scenes where Sainz overtook his hero, repeatedly, across different venues made F1 in 2021 a spellbinding show. Think Jeddah, for instance.
At Sochi, he overtook former teammate and good friend, Lando Norris for lead within seconds from the start and ended up right amid the battling duo of Hamilton and Verstappen who'd also be around him in the season-finale at Abu Dhabi.
A really fine driver who did put everything on the line for the cause of his team, it can be said with quiet confidence, much like what he himself possesses, that the best days of Sainz are in front of him.
Vamos, Carlos!
The Honeybadger's big moment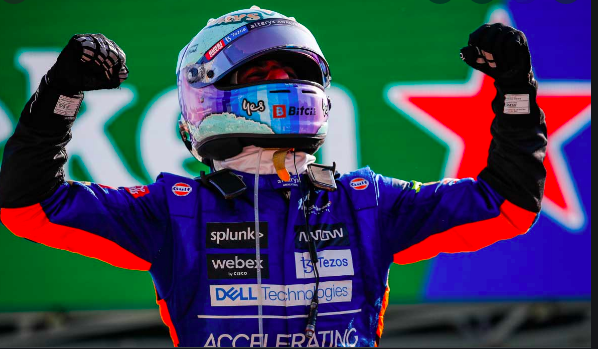 There are few drivers out there who are as loved as they are respected. It must also be said that it doesn't happen with too many of drivers that their victories are enjoyed by the wider F1-viewing public. Daniel Joesph Ricciardo is one of them, a man of great grit and skill, noboy's fool.
How impressive, one reckons, would have been that moment where Ricciardo, nowhere in form and pace when compared to teammate Norris, won at Monza?
As a matter of fact, did the man celebrated as the 'Honeybadger' himself see the win coming?
In taking the race lead from someone who's now a Formula 1 world champion and inside the opening lap, Ricciardo outsmarted Verstappen, a former teammate and didn't relent until the checkered flag.
Somewhere, starting Monza, it could be noted, Ricciardo's form returned but even then, the peak Danny-Ric, as some call him, was nowhere to be found. Maybe 2022 then?
The Ice froze, finally: Au Revoir, Kimi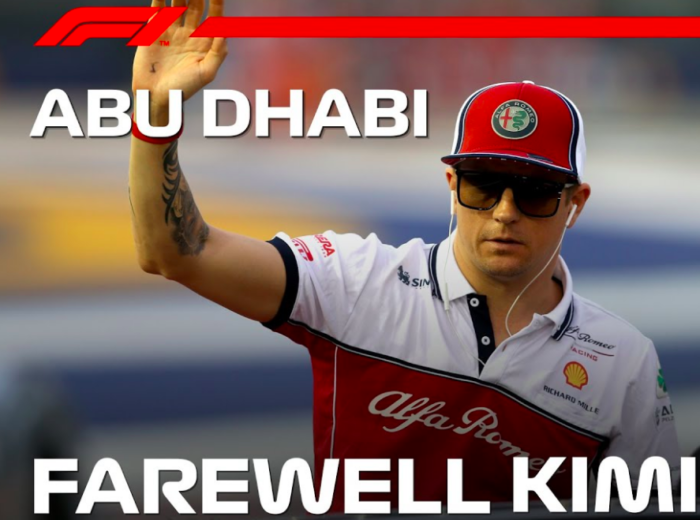 For as long as F1 in 2021 will be remembered, it will (also) be remembered, beside other things, for being the final frost of the Iceman!
In a season where a legend like Raikkonen was able to draw only 10 points, let that sink in, one feared his retirement, the final curtain call coming at the Abu Dhabi GP, was perhaps the right thing to do.
Was the team too drab, did the car really support a talent like Kimi Raikkonen? We all have our answers. So does Fred Vasseur, who should perhaps be questioned- but will not be- about the rather lame and insipid machine his outfit gave Kimi to compete with. It was an occurrence that even crushed the racing hopes of Antonio Giovinazzi, a fine talent.
While to many, Kimi shouldn't have continued in the sport for as long as he did but then didn't he always "Know what he was doing!"
For someone who set the then-fastest lap in the seven-decade history of Formula 1, the 1:19:119 at Monza, 2018 Italian GP, Raikkonen was 39 when he did the sublime.
For many who think his "Leave me alone" or "Gloves and steering wheel" videos are legendary, recollect the video, where at the back of his heart-stopping fast lap of Monza, a few summers ago, the Iceman's blazing speed left several commentators ecstatic and on the edge!
There were several things that he did even in the years of his decline that few would imagine a veteran of the grid to achieve, especially when paired with a dreary machine. And the stellar sixteenth to sixth at Portugal's opening lap isn't everything. He was 38 when at the 2017 Monaco Grand Prix, Kimi snatched the pole from Vettel whilst not having the fastest car that year.
He was absolutely fast and brutal that afternoon before being stabbed in the back by Ferrari!
At Brazil, 2019, he came fourth on a track that offered more pace to the Alpha Tauris and Ferraris. But then, he was Kimi "I-will-bloody-well-go-for-it" Raikkonen, wasn't he?
Still, Ferrari's last world champion, someone who's famous monosyllabic lines have sold millions of T shirts and enamoured, countless fans, F1 will miss his wry smile, patience to tolerate mediocrity and that no-nonsense attitude that cared a darn for anything that wasn't pure and hard-as-nails racing!
Bravo, Kimi. Forza, Iceman!