If anyone ever tells you that they do not absolutely love romantic comedies, they are big fat liars. Yes, there is no one in the world who doesn't love rom-coms except for those who actually have no connection with the entertainment industry and are bored to death in their own world. Romantic comedies are hands down delightful.
How many times they uplift your mood and even if you have suffered a painful heartbreak, rom-coms actually keep your faith in love and intact the hope that you will find that special someone. If not that, they make one hell of a choice for all those binge watch friends night outs. Huff! We can go on and on about how great rom-coms as the list is literally never-ending.
The happy endings of these romantic comic movies actually make us feel that no matter what, in the end, everything will work out just fine. Now that we have bragged enough about romantic comedies, here we have a list of rom-coms that are releasing in 2018 and if you are a fan then you must include them on your must-watch list.
1. Mamma Mia! Here We Go Again
Mamma Mia was one hell of a romantic comedy and finally, the second installment is going to release this year. MERYL STREEP just can't be forgotten but we think Lily James will do just fine in this one.
2. Every Day
Well, this one will make you feel a little overwhelmed so we suggest you either watch this one with all your girlfriends or entirely alone. It will make you feel better as soon as you finish.
3. Midnight Sun
Arnold Schwarzenegger's son is playing the lover. Yes, Patrick Schwarzenegger with Bella Thorne is bringing one hell of a romantic movie. It will remind you of classic rom-coms for sure.
4. Overboard
Can you ever miss a movie that has Anna Faris? You just can't. This one will keep you hooked after all the trailer seems intriguing as hell.
5. Fifty Shades Freed
Love doesn't hurt with a little bit of kink, does it? You have already seen the two installments of three and now the last one seems less BDSMly that previous ones. So more romance and less ouch!
6. Sonu Ke Titu Ki Sweety
How can we leave Bollywood out of the list? We know that director Luv Ranjan, makes the best romantic comedies and he is back with this one. Believe us you will miss out on a major watch if you don't go for this one.
7. Veere Di Wedding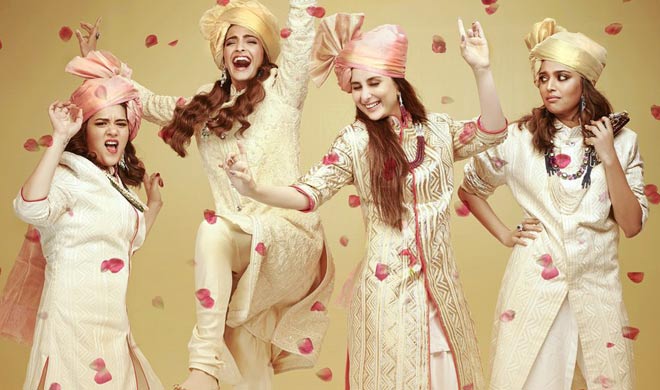 You know when you see four girls teaming up for a wedding that it's gonna be a full-on masala movie and if it's gonna be the comedy genre, it only gets better.
What are you waiting for? Make a list right now or update the already existing one.
Avni S. Singh