Tripling Season 2 is already streaming and if you haven't watched this brilliant masterpiece yet, you are missing out on many things. Every TVF fan was waiting for Tripling season 2 since 2016 when Tripling season 1 released and after 3 years the makers dropped the second season and we just can't stop drooling over it.
The first season won many hearts, so it was obviously not a piece of cake to match the expectations of the viewers in the second season but TVF has always known for its unconventional approach and they made sure Tripling 2 lives up to the expectations of every fan ever.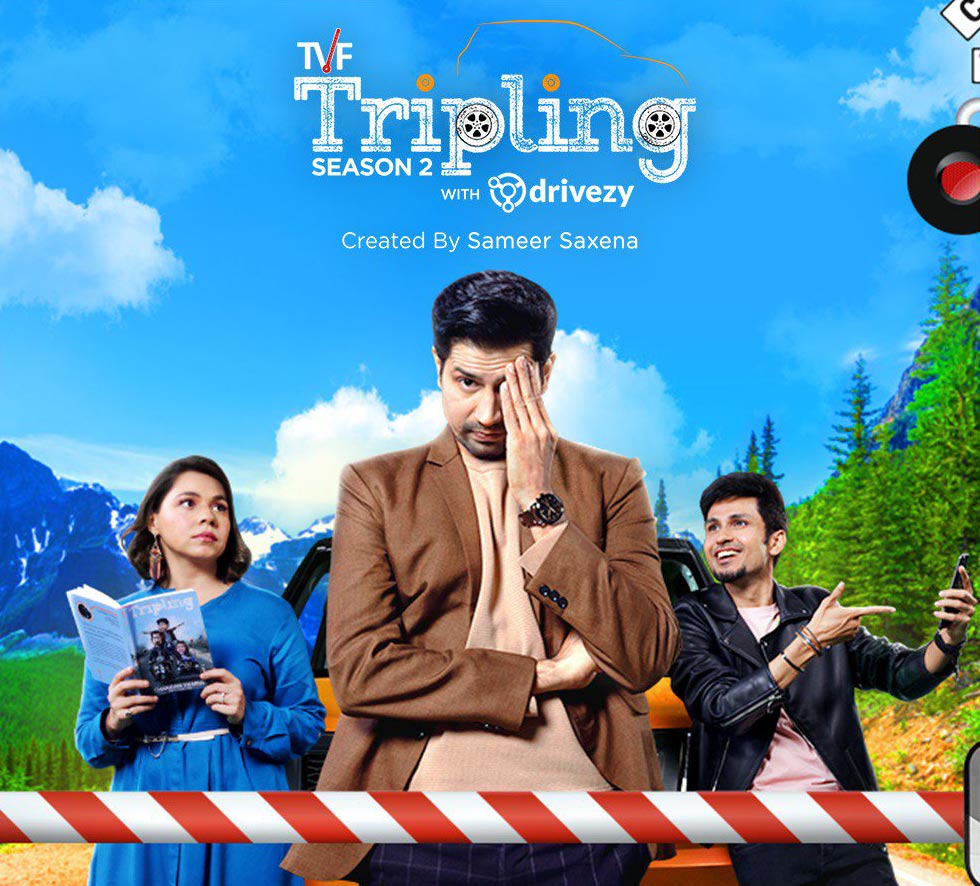 The first season of the show focused on the bonding of three sibling Chandan (Sumeet Vyas), Chitvan (Amol Parashar), and Chanchal (Maanvi Gagroo). The reunion of these three led to an unexpected crazy road trip where they find the answers to their current problems and learn some priceless life lessons. Towards the end of the first season, they sort most of their problems and part ways to find what life throws next. After such a soulful storyline, almost perfect acting and amazeballs drama, the makers made sure that sequel of the show creates the same magic as before. However, the brilliant team of TVF managed to do it and if you need to know how just read these five important points that will compel you to binge watch Tripling season 2 RIGHT NOW.
1. Steller Starcast
As we have already stated that Sumeet Vyas, Amol Parashar, and Maanvi Gagroo are the leading actors of the show. However, the second season of Tripling gets better as it includes a few talented names such as Shweta Tripathi, Gajraj Rao, and Kubra Sait. Kunal Roy Kapoor and Nidhi Bisht are also seen in prominent roles in the show. The blazing star cast of Tripling season 2 makes it better, crazier and all of them have projected their respective characters with such precision that every frame of the show leaves you awe-inspiring.
2. Compelling Storyline
The show has been written by Akarsh Khurana and Sumeet Vyas (Yes, he has co-written the second season). The duo was an absolute genius to come up with a storyline that includes all the adventures of season 1. Sumeet Vyas(Chandan) has become a writer onscreen for the show, who has written a book on his exciting get together with his siblings in the past. The book has seen a massive success but has affected the lives of his siblings in traumatic ways (especially Chanchal). Well, how Chandan reunites with his siblings once again to undo the doing of his book and how it becomes another unforgettable road trip is something that you wouldn't want to miss. Akarsh Khurana has done an exceptional job and you will not be able to stop yourself from praising the writer.
3. Exceptional Direction
Sameer Saxena who earned a lot of praises for his previous projects with TVF including Permanent Roommates, Tripling Season 1, Ye Meri Family, etc has done great work as always. The series has been shot in various destinations from Delhi to Jaipur to Lucknow to Kolkata to Sikkim. The director made sure that every character and scene shines on camera. Every frame of the show is a knockout. He made sure that viewers are able to grasp all the information easily so that they can connect with the series in a jiffy. Needless to say, his direction makes your eyes glued on the screen until the last episode.
4. Magical Music
You may have not watched the series yet ut, you really would have been living under a rock if you haven't heard about the music of Tripling season 2. The music director Nilotpal Bora is being applauded by every person whose eardrums has been tingled by the music of the series. The series contains 6 original tracks and 2 remixes. While every song has its own charm, two of them are gaining more attention than the others. A new age qawali Ishq Ka Hafiz, that has been sung by Nilotpal Bora is absolutely a breath of fresh air. Patang who has been rendered by Bora is also a soul touching number that will be included in your playlist as soon as you hear it.
5. It Leaves You Wanting More
We have already given you more reasons than you need to watch the show. However, we are not just leaving you hanging in the midst, so here are some pointers that will make you hop on and go for a road trip with your sibling right away (Just not before you watch Tripling season 2).
The show makes you relive your childhood memories with your siblings and leaves your emotions haywire.
The love story of Shweta Tripathi will leave you in splits as you do not see it coming. (You really need to watch it understand what we are talking about).
The dialogues of the show are oozing with madness and despite all the controversies shown in the series your heart feels warm and leaves a smile on your face.
The cinematography is so amazing that you feel almost there in the story living the life of the character.
Gajraj Rao's acting in the series is absolutely a treat to watch. You will be a fan by the end of the series.
Chitwan will steal your heart and you will long for more of him.
We bet that at the end of the series all you want to say or ask will be – When is the third season coming?