Avengers Infinity War will probably be considered one of the biggest movies of all time, the one that took dozens of movies and characters to come to life. Makers of Infinity War have described the movie as the biggest crossover ever, and while a lot of people made fun of it, the movie indeed is one giant roller coaster ride with all the characters and superheroes you've practically seen, all throughout the last 10 years of your life.
As big and interesting of a journey it was for the viewers, there's almost nothing that can describe the stature of this journey for the actors and makers involved in this project. Certain actors were in it from the starting while others joined the universe much later, but they are all bound with one love for the Marvel Cinematic Universe.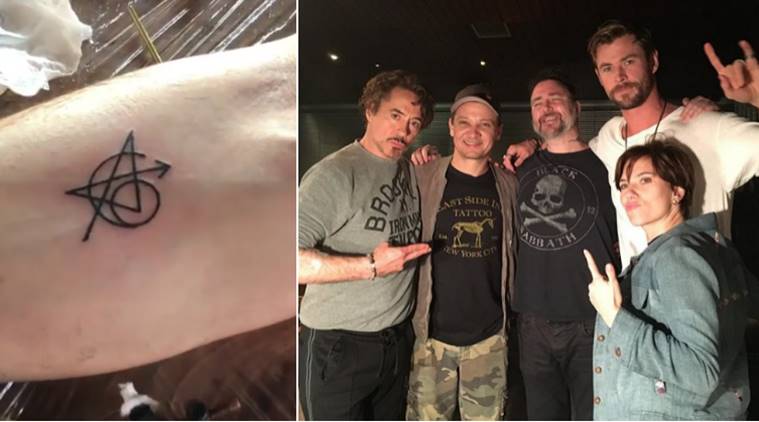 Since the release of one of the biggest Avengers project on April 27, the entire team involved in the project is having a great time. And, while the concluding big movie is in its post-production, gearing up to release in May next year, five out of the six original Avengers – Robert Downey Jr (Iron Man), Chris Hemsworth (Thor), Scarlett Johansson (Black Widow), Chris Evans (Captain America) and Jeremy Renner (Hawkeye) have got matching tattoos of the superhero team's logo as a mark of memory and to celebrate the latest blockbuster.
Robert Downey Jr. took to Instagram to announce that the stars of 'The Avengers' have gotten matching tattoos to commemorate their 10-year journey together. Downey told EW that, "Five of the original six Avengers got a tattoo. And the sixth was the tattoo artist, who gave it to five of us, the one who opted out is Mark Ruffalo. It was (Scarlett) Johansson's idea, and she and (Chris) Evans did it in New York. Then, their New York guy, Josh Lord, who is amazing, flew out to LA, he did me, did (Jeremy) Renner, and then we just bullied (Chris) Hemsworth into doing it, and he got it."
The tattoo this gang got was not just some random tattoo for the sake of it. The "A" in the tattoo resembles the Avengers logo, while the "6" signifies the original six members of the gang.
Here's all that the gang posted about their tattoo journey and how much they loved going through something like this.
https://www.instagram.com/p/Bie2hEIHnBG/?taken-by=robertdowneyjr
https://www.instagram.com/p/Bie3WhknTSQ/?taken-by=robertdowneyjr
https://www.instagram.com/p/BifcTVkHMpd/?taken-by=robertdowneyjr
https://www.instagram.com/p/BiVCJajBMTv/?taken-by=renner4real
https://www.instagram.com/p/BiVDRQXhGjw/?taken-by=renner4real
https://www.instagram.com/p/BihyLa2lGb4/?taken-by=joshualord
https://www.instagram.com/p/Bih0o4VFq13/?taken-by=joshualord
The entire thing is just too special to be put into mere words, for both the people involved in it and the fans who have grown up watching the movies and absolutely adoring them to bits.
Jyotsna Amla