Days of anticipation and festivities finally came to an end yesterday when Sonam Kapoor married her longtime bae, Anand Ahuja. The couple tied the knot yesterday morning in a traditional Sikh wedding and then finally had their reception last night at The Leela, Mumbai.
Their wedding reception was not only star-studded but also the brought out the wild and crazy side of Bollywood out on the dance floor. Everyone was dancing their heart out and sang on top of their lungs, in short, each and everything was absolutely perfect.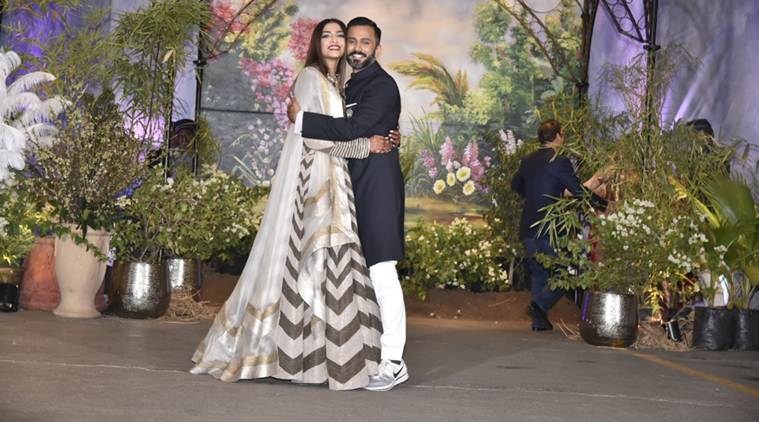 Salman Khan, Shah Rukh Khan, Ranveer Singh, Katrina Kaif, Jacqueline Fernandez, Kangana Ranaut, Kareena Kapoor Khan, Saif Ali Khan, Karan Johar and many others along with the entire Kapoor clan were there. While some gave exceptional dance performance, like the one by Karan Johar, others just did the best Indian wedding improv and made the entire function an event people won't be able to forget for a long long time.
The night had too many great moments, however, the one that stood out the most was the reconciliation of foe-turned-friends Salman Khan and Shah Rukh Khan. This duo gave one of the most power-packed dancing and singing performances at the reception and at one point even serenade Sonam's mother Sunita Kapoor with a Karan-Arjun song. Along with all that, Mika was the man who was singing peppy Bollywood dance numbers and keeping the party on their toes the whole time.
Check out the videos from the event and see for yourself.
1. Dancing on Tan Tana Tan.
2. Serenading the bride's mother.
3. This power-packed Trio danced on SRK's Koi Mil Gaya from Kuch Kuch Hota Hai and you can just see how tired, yet happy they are.
https://www.instagram.com/p/Biim46AnQuQ/?utm_source=ig_embed
4. They even danced on Ranveer Singh's music.
https://www.instagram.com/p/Biii8F-gO0A/?utm_source=ig_embed
5. Salman had the mic in his hands the entire night and he couldn't stop singing with Mika.
https://www.instagram.com/p/Biiijh6AqeO/?utm_source=ig_embed
6. Ranveer legit took the groom and showed him the world.
https://www.instagram.com/p/Biig4a0AAmj/?utm_source=ig_embed
7. One just can't keep Ranveer Singh off the dance floor.
8. Ranveer probably danced the most at this reception.
https://www.instagram.com/p/BiinIrkHMtZ/?utm_source=ig_embed
9. Two Babas together.
https://www.instagram.com/p/Biimq4HHQk5/?utm_source=ig_embed
10. Here's the young clan enjoying the night.
11. Karan Johar gave a dance performance on Prem Ratan Dhan Paayo.
12. And here's the chacha-bhatija Jodi.
13. Arjun is too excited about his sister's wedding and it can be seen in this video.
https://www.instagram.com/p/BiikJffADSK/?utm_source=ig_embed
14. Kareena-Karishma were hanging out with Alia.
15. Here's the couple cutting their wedding cake.
https://www.instagram.com/p/BiinjLLhtPQ/?utm_source=ig_embed
16. Anand Ahuja's friends apparently gave a huge performance at the couple's wedding.
All in all, it was a crazy night that the Bollywood would remember for a long long time.
Have a wonderful life to Sonam and Anand, and may every day of yours be phenomenal.
Jyotsna Amla