Vaisakhi festival is just around the corner and you know what that means, joy and enthusiasm along with some lip-smacking food to have with your near and dear ones. Those who don't know what Vaisakhi is and how is Vaisakhi celebrated, fret not we have all the information about this festival, Vaisakhi story and all the necessary and fascinating Vaisakhi festival information.
Vaisakhi is majorly celebrated in the northern region of the country, especially in the state of Punjab and Haryana. It marks the time for the harvest of Rabi crop which is one of the major crops the farmers in these regions harvest.
How is Vaisakhi celebrated?
Everyone is the villages dresses up nicely and proceeds to the fields where the entire village gathers to celebrate the Vaisakhi festival. Men and women put up folk dance performances, gidda and bhangra being the obvious favorites. Some even celebrate the Vaisakhi festival by taking an early bath in ponds, followed by a visit to a gurdwara or temple to express their gratitude and pray for prosperity.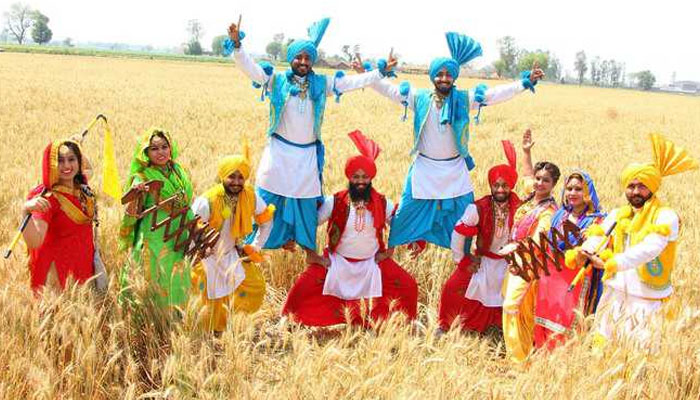 Various fairs are also organized during this time where people come with their families for the rides, games and obviously for the delicious food, along with few shops for people to shop from.
Apart from this, Vaisakhi is also celebrated as one of the biggest festivals by the Sikh community since it marks the foundation day of Khalsa Panth by the tenth Sikh Guru, Guru Gobind Singh in 1699. It also marks the Sikh New Year. Sikhs living in all parts of the world come together to pray and do the Vaisakhi processions.
Here is the Vaisakhi story and some crucial Vaisakhi festival information
The Vaisakhi story begins with the martyrdom of Guru Teg Bahadur, who was the ninth Sikh Guru who was publically beheaded by the Mughal ruler, Aurungzeb. This happened because of Aurungzeb who wanted to spread Islam in India and Guru Teg Bahadur stood up for the rights of Hindus and Sikhs and saved them which eventually led him to be a threat for Aurangzeb and his people.
After the death of Guru Tez Bahadur, his son Guru Gobind Singh became the next Guru of the Sikhs and the community.
Here are some of the traditional food items that you could try this Vaisakhi festival.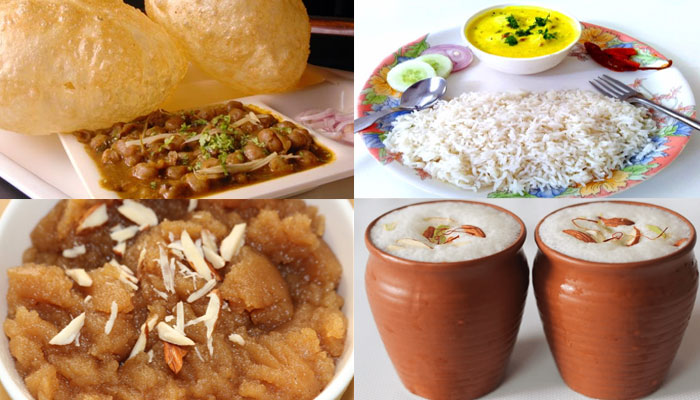 1. Chole Bhature
One of the most integral steps in how is Vaisakhi celebrated segment is definitely by consuming Chole Bhature as a breakfast or brunch option. It is an absolutely amazing and delicious breakfast item to emerge from up North and no one can deny the fact that it is also the best one. If you want to consume something with immense flavors then this is it.
2. Kadhi Chawal
Another great food item that can be devoured in lunchtime is Kadhi Chawal. Kadhi as curry is made in various different ways around the country but the Punjabi one is absolutely delicious and the best one out there. It's made from curd, gram flour and various spices are served with crispy gram flour and onion pakoras. Trust us, there is nothing much better than this one.
3. Kadha Halwa
Kadha Halwa which is also known as atta halwa, and is also served as prasad in Gurdwara, is one of the best desserts you can ever taste in your life. It is made in tons of ghee and with tons of dry fruits which makes it absolutely delicious and mouthwatering.
4. Lassi
No Punjabi festival is complete without a large glass of Lassi filled to the brim of it. Lassi is one of the most refreshing drinks to have on a hot summer day which makes its consumption on Vaisakhi even more prominent and great. Trust us, everyone in this world needs to taste a glass of Lassi at least once in their lives to understand its massive following.
These were all the delicious food items and drinks you can have on this year's Vaisakhi festival, along with some Vaisakhi festival information and how is Vaisakhi celebrated. Much like your Punjabi and Sikh friends, even you can celebrate this festival by going to a Gurdwara and then devouring these delicious foods and drinks.
Jyotsna Amla