While one huge chunk of Bollywood is gearing up for various pre-wedding and wedding ceremonies of Sonam Kapoor and engagement party of Isha Ambani, there are two International leading ladies from Bollywood that have given it all a miss. All for one of the biggest nights for Bollywood celebrities, the Met Gala.
Hosted by Anna Wintour at the Met Museum, it's one place where the best from the world come, decked in the most amazing and creatively amusing masterpieces by designers, aligning to a theme set by the committee.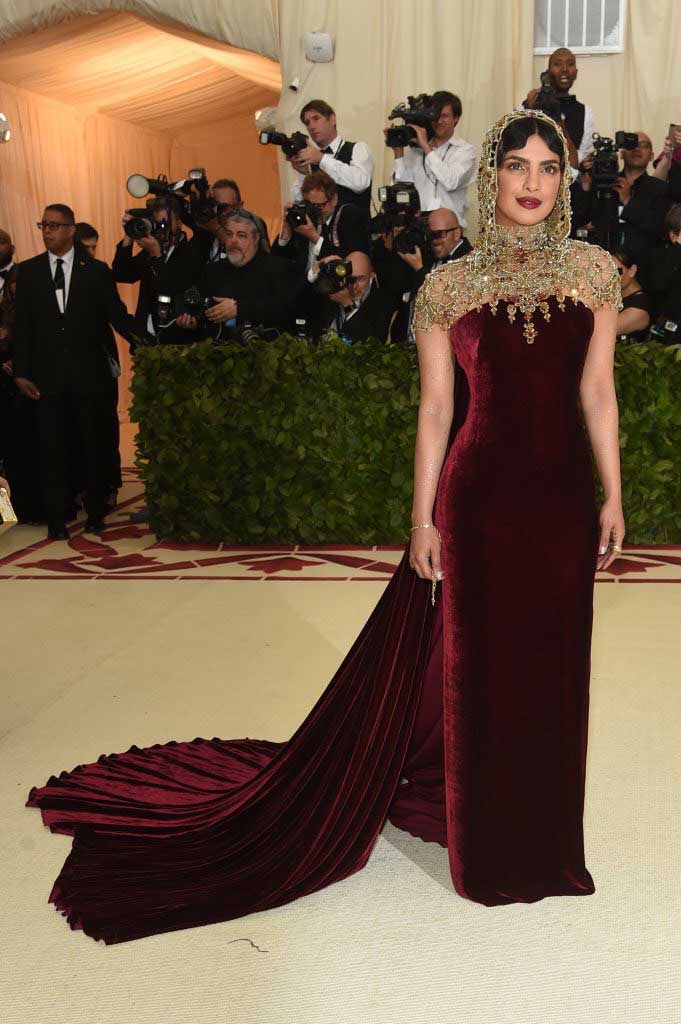 Everyone brings in their A-Game to the event and try to look as spectacular as possible, with literal months of preparations behind a single night. This charity event continues to grow every year in terms of celebrity count and creativity bombarded on their outfits, and we can't help but fall in love with at least 10 celebrities and their outfits.
Priyanka Chopra and Deepika Padukone were invited to the Met Gala again this year and they tried their best to make the heads turn with their outfits. Last year, Priyanka Chopra wore an extra extra long trench coat and instantly became a favourite of many, Deepika Padukone fell short of wooing the fashion gurus. Some even called her out for not aligning with the theme for the event, which is considered a very rude thing on both the designer and celebrity's front.
But this year, Deepika tried her best and while she wasn't once again able to make the mark and stand out, her contemporary Priyanka Chopra stirred quite a few headlines with her outfit. She looked absolutely stunning and completely aligned with this year's Met Gala theme – Heavenly Bodies: Fashion and the Catholic Imagination.
Priyanka opted for Ralph Lauren design again and she was looking nothing short of a goddess in both her dress and accessories.
According to Ralph Lauren's Instagram page, the hood of her gown was crafted completely by hand using Swarovski crystals, "meticulous beadwork, and over 250 hours of embroidery."
Check out the images over here:
https://www.instagram.com/p/BifwX1iBuSY/?hl=en&taken-by=ralphlauren
https://www.instagram.com/p/BifbLbkhQL2/?hl=en&taken-by=ralphlauren
Actress @priyankachopra looks dazzling on the #MetGala red carpet. #MetHeavenlyBodies #PriyankaChopra pic.twitter.com/4tXC5LUusw

— The Metropolitan Museum of Art (@metmuseum) May 8, 2018
Even Twitter agrees with us on the fact that Priyanka looked absolutely stunning in the outfit, here are some of the praises showered on her.
#PriyankaChopra @priyankachopra is our winner for best dressed tonight. Just wow #ethereal #metgala #eredcarpet pic.twitter.com/lqKBKmJzYT

— Hollywood Insider (@Hollywdinsdr) May 8, 2018
GODDESS!! 👑😍 @PriyankaChopra stuns in @RalphLauren at 'Heavenly Bodies: Fashion and the Catholic Imagination' 2018 Costume Institute Benefit Gala in New York City. #MetGala

Styled By @CristinaEhrlich
Makeup – @PatiDubroff#OOTD #PriyankaChopra #RalphLauren #MetHeavenlyBodies pic.twitter.com/BXjroSWtMi

— Preetham S (@PrithamSadashiv) May 8, 2018
Beauty and elegance ♥️#MetGala#MetGala2018 #PriyankaChopra #Rihanna #mileycyrus pic.twitter.com/1IrX6ePxSp

— Dr. Sám 💙 (@TheDrSammy) May 8, 2018
@priyankachopra looking gorgeous❤️💖😊 tussi chha gayi pc .. big hug 🤗 #MetGala2018 @TeamPriyanka #PriyankaChopra #katrinakaif #Bollywood #BollywoodNews #gorgeous #diva #pc #twitterqueen pic.twitter.com/3ZPfM6FzY5

— Bhavy Patel 🇮🇳 (@bhavyppatel) May 8, 2018
She always be the best 👑💅#MetGala #PriyankaChopra pic.twitter.com/VObyNa1Rgn

— ժ .🇮🇶 (@dx_Oo12) May 7, 2018
https://twitter.com/_ritz_01/status/993686557709160448
Damn son @priyankachopra #PriyankaChopra #ColoredWomen 😍 pic.twitter.com/dAFGP23DaL

— shir (@justshirr) May 8, 2018
The High Priestess. #PriyankaChopra #MetGala #METGALA18 #MetGala2018 #MetHeavenlyBodies pic.twitter.com/789sPrRMdq

— Lil' Goofy Vert (@lilgooofyvert) May 8, 2018
https://twitter.com/Saisailu97/status/993685094371033088
priyanka chopra is stunning. #metgala pic.twitter.com/Bd1O5yJxiH

— Emily VanDerwerken (@rednavylime) May 7, 2018
Priyanka Chopra is a beautiful work of art. #MetGala pic.twitter.com/drGyAEyTfz

— best of Priyanka Chopra (@badpostpriyanka) May 8, 2018
https://twitter.com/StacySuperDuper/status/993679995506712578
Priyanka Chopra looks stunning at the #MetGala, as usual! pic.twitter.com/TAtEQeOWbD

— Geeks of Color #BlackLivesMatter (@GeeksOfColor) May 8, 2018
What do you think about Priyanka Chopra's outfit for Met Gala? Is it worth the hype or no?
Jyotsna Amla