Over the course of the weekend, if there was one thing that united the world to appreciate for something special and remarkable then it indeed was the royal wedding. Prince Harry said the vows and married former-actress Meghan Markle from the states. Their wedding was absolutely beautiful and made the world aware how love is love and there's nothing more above that.
Prince Harry and Meghan Markle are one couple that had all the odds against them, yet they somehow made it all worked out in their favour. And, on Saturday, as the world tuned in to see this power couple saying their wedding vows, there was something extremely beautiful happening in the backdrop of the wedding.
The couple and the royal family decided to honour the late mother of Prince Harry, Lady Diana, one of the most popular women in the world. There were various instances through which this was done and each and everyone is absolutely beautiful.
Lady Diana was an important part of Harry's life and though he lost her at a very young age, he wanted to keep her and her memories close to the event. Here are four instances in which Lady Diana was honoured at the royal wedding.
1. Prince Harry hand-picked the flowers in Meghan Markle's bridal bouquet from his mother's private garden. The flowers consisted of some of Lady Diana's most favourite forget-me-nots.
Royal Wedding and Real life fairy tale.

Prince Harry hand picked flowers from his and Meghan's garden for her bridal bouquet.

A welcome break from all the negativity that surrounds us on a daily basis! #RoyalWedding pic.twitter.com/rwgoQAJcuS

— ✨~T~✨ (@tina_baines) May 19, 2018
2. The hymn chosen to be sung at the ceremony, 'Guide Me O Thou Great Redeemer' was one of Diana's absolute favourites. It was also sung at her funeral in 1997 and then again at her 10th death anniversary.
3. Lady Jane Fellowes, Lady Diana's sister, was chosen for the reading at the wedding. She gave the reading from the Song of Solomon and it almost invoked the presence of Diana at the Church. She was chosen for this task, because the princes are extremely close to her and her kids, since their childhood.
"Many waters cannot quench love, neither can floods drown it."

Harry's aunt, Lady Jane Fellowes gives the reading from the Song of Solomon.#RoyalWedding #HarryAndMeghan pic.twitter.com/GQytnZAyPR

— BBC (@BBC) May 19, 2018
4. Meghan Markle went ahead with Lady Diana's famous aquamarine ring, for her reception hosted by the Prince of Wales, and she looked absolutely stunning just like Lady Diana.
#RoyalWedding 💍 Meghan is wearing the emerald cut aquamarine ring which belonged to his late, beloved mother, Diana. Meghan wore the gem on her right hand as the couple made their way to their reception at Frogmore House. Just a note Kate has Diana's famous Blue Sapphire ring. pic.twitter.com/eUEGhyxVPM

— Cindy Kane (@CindyAKane) May 19, 2018
https://www.instagram.com/p/BjAP6EtlhQ3/?utm_source=ig_embed
Apart from all this, a seat was also left empty besides Prince William at the St. George's Chapel in Windsor, during the ceremony. People around the world were quick to notice this and immediately realised that it was done so for Lady Diana. However, as beautiful as the thought was, it wasn't like that. As per the Royal Protocol, the seat in front of the Queen is always supposed to be left empty.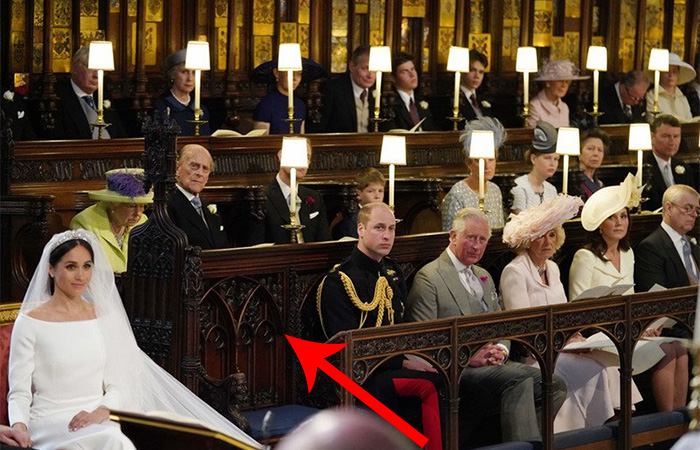 The boys, Prince William and Prince Harry lost their mother in 1997 and Harry was just 12 years of age. He struggled a lot with his mother's sudden demise which became pretty apparent in his behaviour, in his early 20s. But now, things have changed. Harry is a grown man now with an awareness of his responsibilities towards his country and the world. He indulges in a lot of charitable work, which played a huge role in his relationship with Meghan Markle who has a similar lifestyle.
Jyotsna Amla