Madhuri Dixit on Netflix? Well, is this for real? Can this ever happen? In fact, the question is, would such a thing have ever been possible? Who would have thought about it ever?
No, let's just put it the other way. Not because technically this may not have been a possibility, but because one may not have really ever thought about the possibility- say a decade or a decade and a half back- isn't it? Madhuri Dixit on Netflix would perhaps have not even been imagined by the very creative forces that are now bringing Madhuri Dixit on Netflix.
But just like – time and tide wait for none- with a bit of change and passing of both, one can experience a whole lot of fun.
But Netflix is about serious business isn't it, not so much about quirks and smart statement-forming! She was, is, and deserves to be celebrated as one of the original starlets and true divas of Bollywood, one liked as much as she is admired, one admired as much as she is celebrated.
Spending decades on the big-movie screen, in a career that spans decades and shines brightly on the massive success of films like Saajan, Khalnayak, Parinda, Dil, Hum Aapke Hain Kaun, Beta, and many other countless hits, Madhuri Dixit is back- not that she was ever gone; but in an avatar that not many would've imagined seeing Madhuri in, having grown up in the tantalizingly entertaining mid-80s and 90s.
Back then there was hardly any Internet. Back then, there was hardly anything as scope to enjoy the massive entertainment, including the sheer variety that one has access to in today's times- isn't it?
But soon, the famous Didi Tera Dewar Deewana starlet will be on the prefered platform of the contemporary era, if one might put it that way.
News confirmed that soon, not too long ahead in the future, Madhuri Dixit on Netflix will be a reality and it leaves us in as much thrill about the possibility of experiencing Madhuri in our favorite medium as it leaves us with sheer impatience.
So that told, what exactly is happening now? How is Madhuri Dixit on Netflix going to take shape; what show or program is one talking about and when will it be up and running?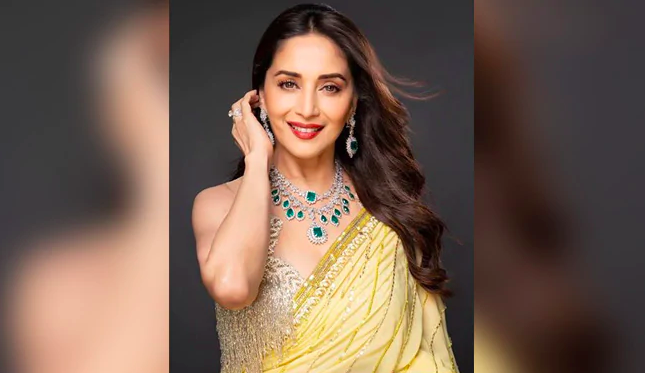 Well, worry not. We have covered it all for you. Here's what one needs to know about a show that may even leave you with a twinge of surprise:
NDTV quoted the following piece of information in connection with Madhuri Dixit's forthcoming digital debut.
The actress has earlier collaborated with Netflix for Marathi drama 15th August, which is her debut project as a producer. Now, Madhuri Dixit will star in a Netflix original. Announcing the news on social media, Madhuri Dixit tweeted: "So excited to be announcing my entry into the digital space! After the success of my first Netflix film production '15th August' and doing the voice of 'Nisha' from Mowgli, here's looking forward to another stellar show!"
It's also important to note that it's not the first time that Madhuri Dixit and Karan Johar have collaborated.
In addition to the above, NDTV also shared the following in its report of Mrs. Nene's entry into the captivating digital world:
Madhuri Dixit and Karan Johar have earlier worked together in Kalank, which also starred Alia Bhatt, Sonakshi Sinha, Varun Dhawan, Sanjay Dutt and Aditya Roy Kapur. Apart from Kalank, the duo have collaborated in the past for Yeh Jawaani Hai Deewani, Bombay Talkies and Dil To Pagal Hai.
That said, it ought to be asked- aren't you excited already?