Right from our childhood, we were taught that farmers are the ones who are the real bread-winners of this country they're the bread growers without whose contribution we can't survive even a single day. However, as important as their job is, the farming industry as a whole has been going through severe situations today. Farmer suicides are on the rise, their rights have been hampered, big corporations are consistently trying to belittle and benefit from their losses, and so much more. A lot of these issues have been picked up by the filmmakers in history and time and again they've delivered masterpieces in the face of Indian films on farmers and their struggles.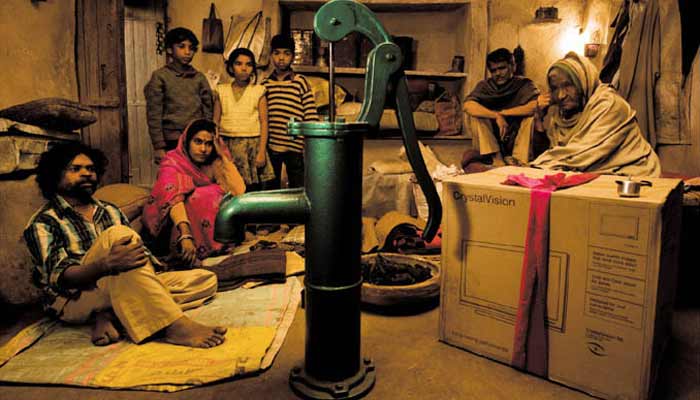 Jai Jawan. Jai Kisan has been an eternal slogan to show respect and gratitude to our farmers, right from our roads to film screens. But somewhere in the race to be technologically advanced we have forgotten about them. The urban Indian today, can no longer relate to the problems and sacrifices of a farming family, which is coupled with media's hypocrisy and our country's general neglect towards the same.
Apart from mainstream films like Lagaan, very few can name or even remember the last movie they watched which was based on an agricultural narrative. Hence, we decided to list down some of the best and highly acclaimed Indian films on farmers and their struggles that have been produced in the country.
*Please note: We are not rating these films in any way or form but just listing them out.
7. Do Bigha Zamin (1953) – Movies About Farming
Released in 1953, Do Bigha Zamin is still considered one of the most prolific creations of the Hindi film industry. The basis of the film is on Rabrinath's Tagore poem named "Dui Bigha Jomi". In the movie, we go through the life of Shambhu, a farmer whose life depends on his farmland, however, due to some circumstances he now has to travel to the city and find means to collect Rs 235 to save his land from the zamindar.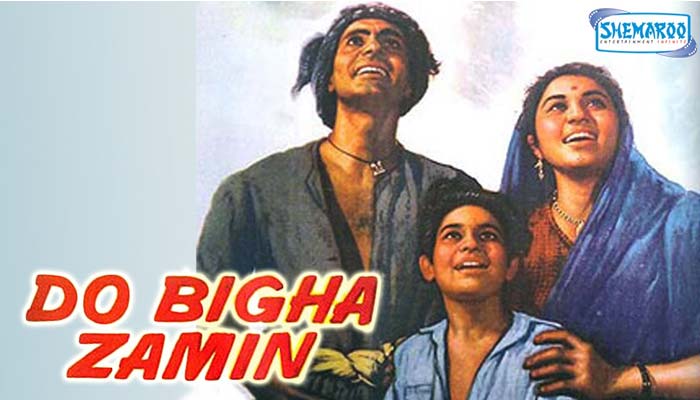 With a realistic and relatable stance, even today, the film is nothing short of perfection. Directed by Bimal Roy and starring Nirupa Roy and Balraj Sahni, this Indian film on farmers became the first Indian film to win the "International Prize" award at the coveted Cannes Film Festival.   
You can watch Do Bigha Zamin: YouTube – Shemaroo Channel
6. Manthan (1976) 
Directed by Shyam Benegal, Manthan is one of the most important films in the Indian film industry. Produced and backed by 5 lakh farmers, who donated Rs 2 each, Manthan still remains one of the biggest crowd-funded film projects in the world. The film is about the farmers of a village in Gujarat who have never been paid their apt dues for the production of milk.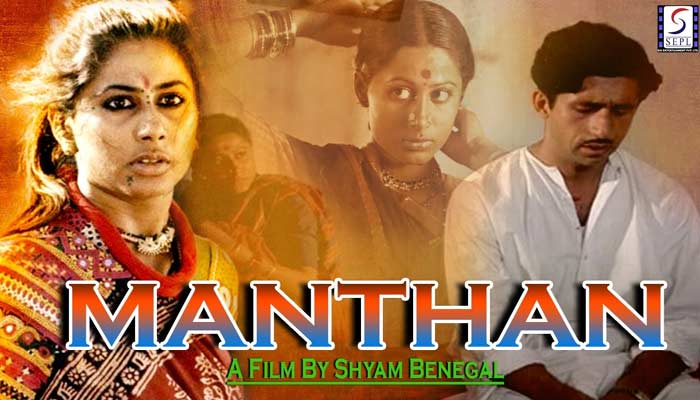 What follows next is the arrival of a doctor in the village who helps these farmers to navigate through the hierarchy by opening their own milk corporation. If you think you've heard this story somewhere, then you're right, the film is based on the real-life story of Dr. Varghese Kurien, who was the man behind the success of Amul. The film stars some of the finest actors of the time including, Smita Patil, Amrish Puri, Girish Karnal and Naseeruddin Shah. Manthan went on to win the National Award and was also India's official entry to the Oscars that year.
You can watch Manthan on YouTube
Suggested Read: Bollywood Movies On Rare Diseases That Will Educate & Move You
5. Kadvi Hawa (2017) – Movies About Farming
This is the newest addition to the Indian films on farmers' list, which many still don't know about. The film stars Sanjay Mishra and Ranvir Shorey who leave you with a lot of think and overthink about. The film is about a blind farmer from a village where farmer suicides are every day new, due to no rain in the last 15 years.
The film shows the reality of today and how climate change is a real thing affecting thousands of farmers everywhere. While not many have seen the movie, it certainly is a hit among its viewers who have described Kadvi Hawa as a no sugarcoated truth about farmers' lives today.
You can watch Kadvi Hawa on: Zee5
4. Peepli Live (2010) – Indian Films On Farmers
One of the best satire films of all time, Peepli Live is a must-watch for everyone who enjoys satire and is a fan of great film writing. In this film, we go through the life of a character, Natha, who decides to announce his suicide due to lack of money to save his farm and family. What follows this announcement next is a whole lot of drama in politics and news media.
Peepli Live not only shines a light on the serious issue of rising farmer suicides in the country but also reflects the media's undying race to gain TRPs out of any subject, which sadly is still seen and relevant today. Produced by Amir Khan, the film is a glowing example of how a great script does not need a big star, but rather great actors to stand tall. Directed and written by Anusha Rizvi, the film stars Omkar Das, Raghubir Yadav, and Nawazzudin Siddiquie in crucial roles.
You can watch Peepli Live on Netflix
3. Upkar (1967) – Movies About Farming
Another gold in the Hindi film industry was based on the Jai Jawan. Jai Kisaan slogan and also gathered immense support from the government and Prime Minister at the time. The film is about Bharat, a farmer in rural India, who loves his land and farmland.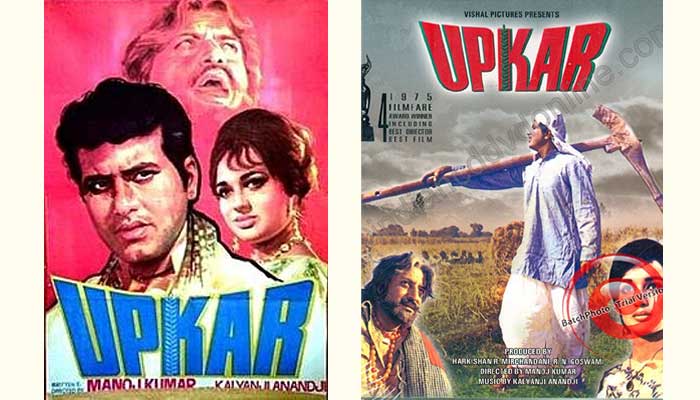 While you know about the movie or not, we all have grown up with a very popular song from the movie – "Mere Desh Ki Dharti" The movie is all about navigating your life through one's traditional ideals and the ever-growing western influence. The film was directed by Manoj Kumar who also went on to star as the lead of the film, along with Asha Parekh, Prem Chopra, and others.
Watch Upkar on Zee5
2. Gabricha Paus – Marathi Cinema (2009)  – Indian Films On Farmers
Indian film industry comprises of various regional film industries too and an addition to these spectacular Indian films on farmers comes from Marathi Cinema. While the film is based on a very serious and difficult subject, its treatment has been very subtle and almost humorous in certain places.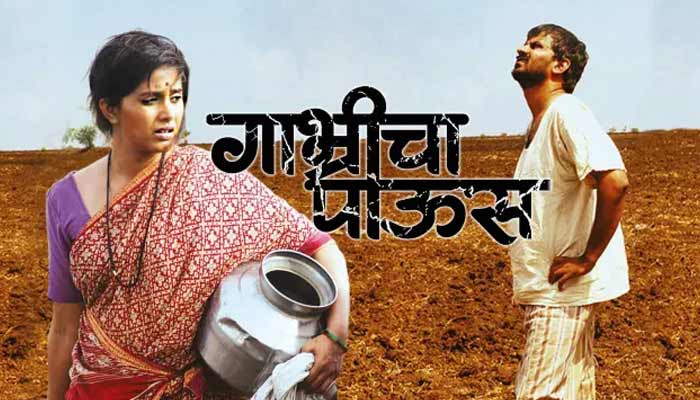 The film is based on the life of Kisna, whose family is trying to keep him happy and not alone at any time since the farmer suicide rate in the village is growing every day. They fear that Kisna might not also take a similar step. This is another one of the films that will push you to think hard and long about it. The film stars Girish Kulkarni who delivers a phenomenal performance in the same.
Watch Gabricha Paus on: Disney+ Hotstar
Suggested Read: Study Proves That These Are The Scariest Horror Movies Of All Time
1. Nero's Guests – Documentary (2009) 
If you're someone who finds documentaries a little better than usual films then Nero's Guests is certainly one of the best Indian films on farmers that you should watch. A hard-hitting documentary covering the lives of farmers and how it is manipulated by different financial laws, governments and corporations for their own benefits.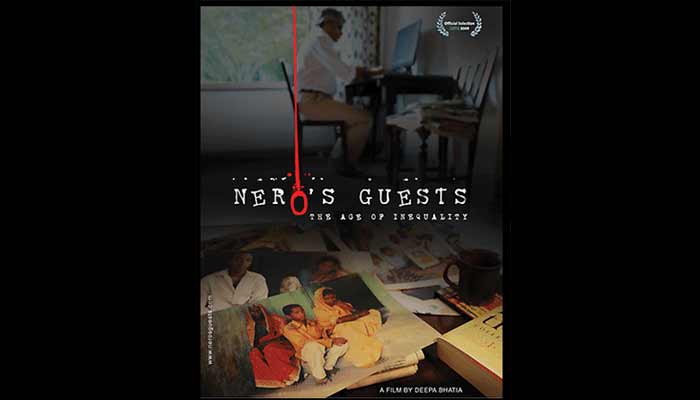 The film revolves around the growing inequality in India's agricultural sector and how farmers are at the forefront of it, suffering the most. No matter what idealogy you belong to, we would request you to certainly watch this documentary once and understand the growing indifference being put into force every single day.
You can watch Nero's Guests on YouTube
These were some of the best and most underrated Indian films on farmers that you should watch. There are tons of other films on farmers too, including Mother India, Moti Bagh and others, that have brilliantly encapsulated the life and struggles of a farmer in our country. Sadly, very little has changed since the 1950s for our farmers, a large chunk of our farmers are still fighting for their lives.