Laughter is the best medicine!
Am sure all of us have heard this saying either by our doctors or our compadres or even our family.
Still, with our sedentary lifestyle, we are more than happy consuming the other form of medicines either for blood pressure or diabetes or thyroid or any other lifestyle disease.
The question that beckons is when was the last time, we truly left all our inhibitions behind and just laughed?
It would be hard to remember, wouldn't it?
Well, one such gentleman, the best vaudevillian of his time was the Indore born Kumar Pallana, who through his dialogues, acts, mannerisms would surely tickle your funny bone.
Such was his presence, that a small appearance in a movie or on the stage was reason enough to indulge in some healthy laughter.
Having moved to Dallas, Texas in 1946, Kumar started his career with being a plate spinner and a juggler on the Mickey Mouse Club.
Kumar then got the opportunity to meet Director Wes Anderson and renowned actor and comedian Owen Wilson at his son Dipak's cosmic shop and impressed with Pallana's comic acumen, Wes cast him in a host of movies, the likes of Bottle Rocket, Rushmore, The Royal Tenenbaums and The Darjeeling Limited.
What's more, Variety, an American Entertainment and News platform labelled Kumar as an 'Anderson Stalwart'
For me, there are 3 iconic roles that I remember this humourist for:
Pagoda in the Royal Tenenbaums – Boasting a stellar cast of Gene Hackman, Owen Wilson, Luke Wilson, Gwyneth Paltrow and Ben Stiller to name a few, Kumar as Pagoda held his own as the butler and sidekick to the central character played by Gene Hackman. His mannerisms and dialogues in the movie were one for the ages and truth be told my laughter flowed like a river looking at this great man in the movie.
Gupta Rajan in the Terminal – A Tom Hanks classic, the Terminal had Kumar as a janitor at the John F Kennedy airport who has illegally migrated to the US after committing a murder in his home town Chennai. Again, his act in the movie to help Tom Hanks through his tumultuous stay at the airport is worthy of praises galore and the dialogue 'Do you have an appointment?' to which Tom Hanks says 'Tuesday' and the reply is 'I hate the Tuesday' is simply iconic.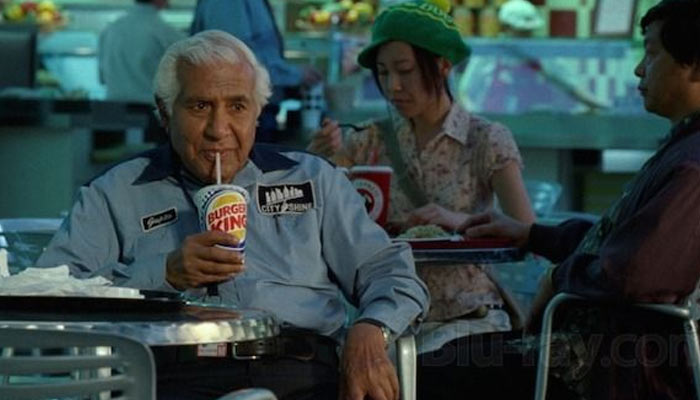 What's more, his juggling plate act when Tom and Catherine Zeta-Jones are out on a date at the airport is funny beyond belief.
Himself in the short movie 'Waiting Room'– while doing a forward bend, Kumar injures his back and comes to visit the doctor. His wait in the waiting room is epic with different characters bothering him and the receptionist's loud laugh is catastrophically funny. Everyone is getting their turn but him and a kid who has spilt his cars on the floor makes Kumar trip and fall and, in the process, miraculously as he gets up, his back is fine. Finally, the receptionist calls his name and to her astonishment, he is happily singing and dancing on the parkway outside. You just have to see it to laugh your wits out.
A true comic legend, Kumar Pallana has also made an appearance in Bollywood, playing the coast guard in the Ranbir Kapoor, Priyanka Chopra starrer Anjaana Anjaani.
His death at the age of 94 in 2013, was more than a loss to the film fraternity world-wide.
Truth be told, he has always made me laugh whenever I have seen him on screen and from the bottom of my heart I salute him for being a fine actor, an even better comedian and most of all a good human being.
Also Read: Salute To America's Favorite Son: Tom Hanks
So, if you plan to make laughter your medicine, I truly urge you to watch Kumar Pallana at his best!
Respect and nothing else from a fan!