Usually, when one hears the name Steven Seagal, it's mostly in co-relation to wham-bam Hollywood movies. The sound of cracking bones, smashing of mirrors, slithering down of cars, an ostentatious takedown of villains using legendary martial arts moves- that's what Steven Seagal is all about and has been about in the past.
He's been doing and succeeding in action movies long before John Wick even arrived.
But of late, there was a bit of a lull surrounding Steven Seagal. Everyone wondered where the famous Hollywood action-star had been?
There were reports that Steven Seagal had quit Hollywood altogether and had moved into a tranquil place for himself in Japan or something. This is unless one forgets that Seagal also has a partly Japanese side to him, as his first wife, Miyako Fujitani hailed from Japan.
But back to where the focus is. Steven Seagal is back from his self-imposed state of exile. After years of playing some soft music- yeah, he sings too- the famous Under Siege star is donning the headlines, finally.
And it appears that the famous critic of Jean Claude Van Damme has found himself a diplomatic role for the greatest opponent of the United States of America, i.e, Russia. Having recently been appointed as the special envoy to the US, in order to maintain humanitarian ties between Washington and Moscow, Seagal finds himself donning some diplomatic Kimono, a refreshing change from the usual.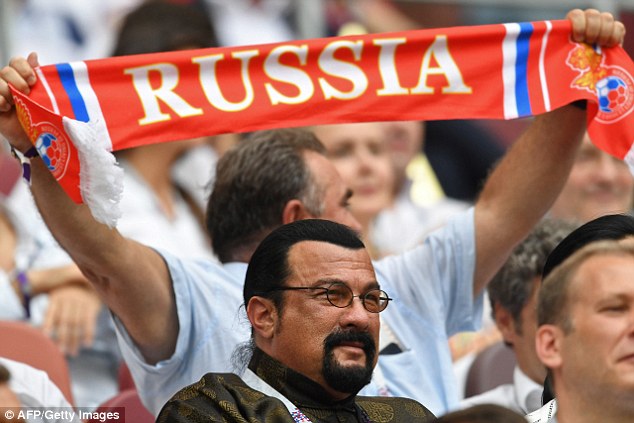 Isn't it?
Now, what is rather interesting is that the actor has been a close aide of Vladimir Putin for quite some time, finally a Russian President who's managed to foster a 'normal' working relationship with a US President.
Under his new role, the Martial Arts movie-star would be guiding the Russian capital Moscow on how to maintain peaceful, cordial and regular relationships with its close rival, a city that's said to be a nemesis of sorts; Washington.
Humanitarian ties are, after all, a close link between two opposing sides in the contemporary structure of the world. Aren't they?
In that regard, it ought to be said, that Steven Seagal's appointment also makes sense. Here's why. Having reigned supreme in the top-echelons of Hollywood during the 90s and the early 2000s, the action star acquired cult-fame that at its peak ensured that his name reverberated across different geographies, not restricted to the United States alone.
When he was at his peak, the now rotund Seagal enjoyed massive fanfare in countries like Japan, Belgium, South-east Asia and even Russia. And ever since Obama administration has been on its way out, Putin has been looking rather curiously to ensure a way to continue the channel of communication in some regard with his arch-rival, the United States.
Who can possibly be better than Seagal, with both the USA and Russia reserving a special fondness for Martial Arts?
Earlier this week, famous UK-based tabloid Daily Mail published a detailed account of what transpired to be Seagal's actual role in his capacity of Russia's envoy. The statement reads that Seagal's portfolio in the unpaid position would be to 'facilitate relations between Russia and the United States in the humanitarian field, including cooperation in culture, arts, public and youth exchanges.'
The appointment- lest it is forgotten- comes at a crucial time where Russia has been blamed by US intel agencies of covertly manhandling the US election results that brought current president Trump into power.
And there's more. Steven Seagal, who sometimes appears on Russian state TV to talk about his views and career, was cited by Kremlin-backed TV station RT as welcoming the appointment. So, the question is, can the noted action-movie star do his own earnest bit in keeping some form of communication going with Russia?