That charming face, the brooding personality, the deep, melancholic eyes, the stylishly held cigarette and as seen in many a halcyon snap, a man walking with raised collars amid rains with carefree exuberance! James Dean was a phenomenon.
He was no star kid. He had no connections with any super dads or anything of that sort in Hollywood. There were no Gurus out there for him. Yet, there haven't been many who have been able to even stand close to the league of James Dean.
In a way, the man responsible for popularising denim and suave Levis jackets, James Dean is bigger in demise than he was when alive.
There are handsome men. There the charming ones. And there are those who are a bit of everything and trendsetters, above anything. At his peak, women quite honestly submitted them to him. He was unforeseen. Like a comet blazing in the evening sky. There's never been another quite like the great James Byron Dean.
In all probability, there won't be any who'll even come close to the legendary Indiana-born Hollywood hottie.
The famous "Rebel Without A Cause" star was meant to scale many a peak in the salubrious world of Hollywood before a fatal accident in a sports-car, ever his favourite passion, cut short his life and drastically so.
Recently, some rare pictures pertaining to James Dean's fatal car crash were sold and boy, did they fetch a crazy number or what?
Born in 1931 and dead already by 1955, James Dean in his tragically short life- no more than 24 years- became a household name in the dizzying world of Hollywood. His loss was one that was met with acrimony, pain, and suffering.
The common verdict was that had he gone on to live and at least done a dozen-odd films- instead of just the three he was able to star in- it is said he would've cut short the sweltering of many Hollywood A-listers.
His untimely demise, Dean racing in an ill-fated Porsche was covered widely and even served as a reminder to the slack, reckless, unsatisfied youth about the perils of flirting with mortal dangers such as high-speed racing, thus imbuing a lesson about just how precious life is!
Those James Dean car crash pictures- hitherto unseen and unreleased to the public glare- have fetched a crazy sum of $22,498 at a recent auction that took place in the United States. There were all of 30 original, glossy, previously unreleased pictures that captured various angles of the wrecked Porsche speedster in which Dean raced for the last time, never suspecting that the doomed ride would end a career one had great hopes for; one that had only just begun.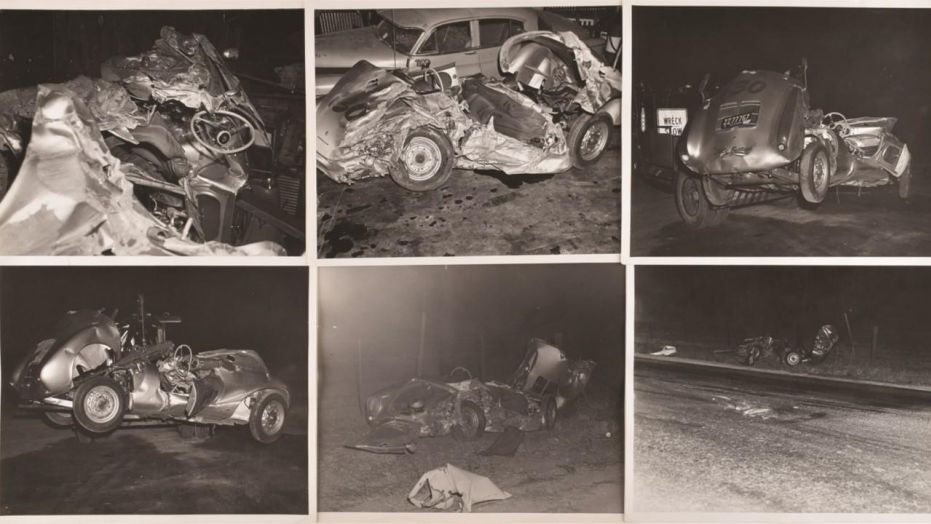 According to an elaborate report published in Fox26news, it's worthwhile to note the following:
The photo collection had 12 overhead views of the junction of Route 466 and Route 41 in San Luis Obispo County as well as a total of 18 'ground level' photos, the RR auction says.
That told it's hardly a surprise that even the pictures related to James Dean's car crash have fetched such a high sum of money. One wonders what might happen if someone were to release previously unseen snaps of his life, one spent romantically and joyously with splendorous women of his time.