Howdy Fellas? How was your Holi? Well, I know that most of you still got colors all over your face since yesterday was one hell of a colorful bash but do you know that it wasn't only India or eastern countries that were drowning in the bright and happy colors of Holi? Yes! Even the western part of the television world got a taste of this magnificent festival and guess who did that?
Our very own Priyanka Chopra! The now global diva was in New York and she introduced the people to all the bright shades of Holi and we just can't stop feeling proud and happy. Well, she walked on the set of Jimmy Fallon's show in a slay-ready black dress and sooner she and Fallon both were looking like a bright happy colorful canvas.
The Beginning:
Black, Bold And Beautiful:
That's What We Were Saying:
Can You See How Happy She Is?
Looks Like They Both Had Fun:
They Both Can't Get Enough Of Colors: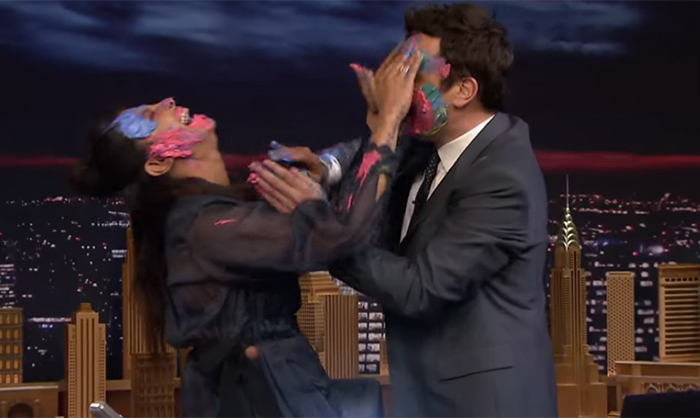 Falloon Was Redecorated:
Here Is The Video For Proof:
This Tweet Sums It All:
This was so fun @jimmyfallon my fav part besides ur shocked face after I got u wit a big blob of face paint was @theroots playing #rangBarse

— PRIYANKA (@priyankachopra) March 14, 2017
Looks Like Her Team Got The Splashes Of Colors Too:
Festivities Doesn't Understand Boundaries:
Great Times Captured:
Dear Priyanka, You Manage To Put A Smile On Every Face Around You And We Just Love That!