Well, as far as tourism is concerned, it actually makes up 12 percent of the Thai economy. But one wonders what might have been its contribution to the Thai economy back in 2000? Wondering why this random question, all of a sudden?
It's pretty simple. There's a Leonardo Di Caprio connect to this one.
Back in 2000, Leonardo Di Caprio was, in a way, responsible for upping the ante of Thai Tourism. All he had to do was to shoot an incredibly successful film in the famous Buddhist country. It was known as The Beach.
And as the story goes, "The Beach" indeed have a beach at the epicenter of its uncanny narrative that told a tale of a group of hippies who visit Thailand for a recreational holiday but end up settling down in a secluded beach that, according to them, is their version of what is meant by 'paradise.'
The film was so popular at its time and continues to be, to the present day that one can easily find a lot many tourists visiting Thailand with a hope to discover that famous 'beach' as shown in a movie that's now become a Di Caprio classic of sorts.
The only thing is that the Maya bay- which happens to be the recreational paradise that caught everyone's fancy- is shutting down now. The only good part behind this rather somber news is that the beach is shutting down temporarily so.
In fact, so popular is the Maya Bay, that on an average, around 6000 people walk up to this sandy paradise tucked in the heart of Thailand; a part of the country checkered by clear-blue waters. 2000's The Beach added more fuel to aggravating the tourism fire in a part of Asia where tourism is only increasing in double digits where contemporary records stand.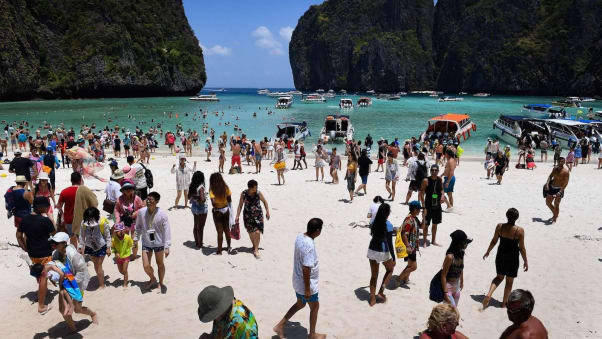 But along with a constantly burgeoning rate of tourism comes it's own set of challenges: how to people manage when the numbers so constantly run out of one's hands? Maya Bay is being shut down so that its natural eco-system can work up a solution and return to a state of normalcy.
In a bid to salvage the beach's coral life, the destination was shut down for a spate of four consecutive months. And now it appears as if some more withdrawing from public visitation is needed in order to completely resuscitate the beach to its former and full glory.
News coming in from the vantage point in Thailand said the following:
"We need at least a year or even up to two years or maybe more for the environment to recover – this includes the coral reefs, mangrove, and the beach."