The last film where two of the most gorgeous Hollywood actors came together was Dracula. Keanu Reeves and Winona Ryder are a house on fire, believe it or not. And it's not just the avid on-screen chemistry that the duo shares but the camaraderie they bring off-screen and in their personal lives that makes the two a standout.
And that said, the pairing of Keanu Reeves and Winona Ryder is amongst the finest on-screen collaborations one's come to see. It's perhaps in the same charismatic league as that of a Denzel Washington and Julia Roberts, Leonardo Di Caprio and Kate Winslet, Catherine Zeta-Jones and John Cusack or you could say, Tom Hanks and Meg Ryan.
Together the duo was seen promoting their upcoming flick 'Destination Wedding,' an upcoming
On the one hand, you have the very ageless, graceful, charming Winona Ryder- an actor who's probably as intelligent as she's pretty. And then, on the other hand, you have Keanu Reeves- Hollywood's tireless and ageless action-movie star and someone who's forayed into possibly every single genre there is, including comedy, science fiction, action-adventure, costume dramas and simply, dramatic films based on individual-driven performances.
What is interesting about Keanu Reeves and Winona Ryder-starrer Destination Wedding is that the film brings together two actors rumoured to have been dating in the past after a span of nearly two decades.
In their last on-screen collaboration, Dracula, blood was shed, tears were drenched, emotions stirred and loss of lives ensured. This time, however, Keanu Reeves and Winona Ryder are all set to reprise their chemistry, previously seen in charming commercial success- Dracula- in a canvass that's painted with different colours.
Starring as a rather off-beat couple, Keanu Reeves and Winona Ryder will be seen romancing one another in the yet-to-be-released Destination Wedding, a romantic comedy that is as different from a Keanu Reeves film as is probably John Wick from Siddhartha.
On the other hand, the glorious Winona Ryder, 47, about six years younger to her famous on-screen pair, Keanu Reeves will be making a comeback to the romantic genre, having done plenty of sci-fi in her memorable Hollywood career.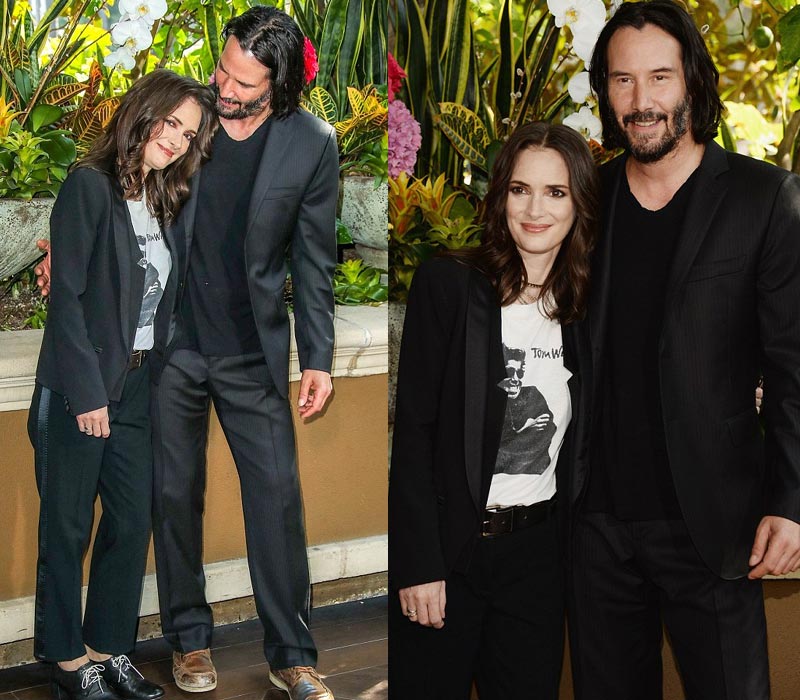 While the duo was seen dressed in complimenting outfits, giving a homage to each other's affable personality, Winona in an interesting mish-mash of a blazer and trousers with a simple white-T underneath and Keanu in his quintessential blazer and rustic shoes avatar, one can't simply wait to embrace the heartening romance of the two on the big screen. After all, it isn't always that one gets to see Hollywood's John Wick eschew rip-roaring action sequences, ditch the guns and rifles and opt for a plunge into some romantic entanglement.
Of course, there are no prizes for guessing why this is such a fantastic thrill. After all, it's not every day that one gets to see the former rumoured couple interact with one another amid a charming backdrop of California's serene wine country embracing live and all those things in a format that's tapered with humour, some slapstick, romantic interventions and a hell of a good laugh.
And that told, here is what has made the upcoming film promotion rather interesting is that Winona feels that she is actually married to the famous Matrix star. Having exchanged nuptial vows in the 1992 flick Dracula, Winona feels that the reason she's married to Keanu is probably that of having said 'I do' in front of a real priest used for filming a particular portion of the epic 90s thriller.
Whether the two are an item or not, we can speculate endlessly, but there's hardly a doubt about Keanu reserving a special place of his on-screen opposite following his pretty silence on Winona's claim about their 'marriage.' Well, could it also be that Winona is doing all of this in a cute move to spice up the film's promotion? How does it matter? You should simply book yourself a comfy seat in the theatre to embrace Keanu Reeves and Winona Ryder in their soon to be released Destination Wedding.