Here's a simple, undiluted piece of truth, probably something not many would disagree with. The Matrix did to the genre of sci-fi what Titanic did for Romance or what Charlie Chaplin's movies did to comedy.
At its peak, back in the heydays of the 90s, few movies were as engrossing as utterly thrilling as The Matrix series, starring Keanu Reeves. It appeared that together with 'Trinity', 'Neo' entangled the world into a complicated maze that few understood and even fewer were able to get over.
It was big. It was a mega-hit. It was rewatchable. It was groundbreaking. And now, over a decade and a half after one saw everybody's favorite Keanu Reeves feature as Neo in The Matrix Revolutions, the third flick in the legendary series, finally, the news that all have waited for all this while is here.
The Wachowski sisters have confirmed that The Matrix 4 will be made with none other than Keanu reprising his role as Neo Anderson. Perhaps, it could be said that few pieces of news in the irrepressible world of Hollywood carry such excitement and panache as the announcement of The Matrix 4.
Lana Wachowski, who penned the trilogy with sister Lilly, has written the script for The Matrix 4, alongside Aleksandar Hemon and David Mitchell.
A film that made its name for combining the thrill of sci-fi and the spine-bending stunts of martial arts warfare, The Matrix trilogy flexed its muscles against some of the biggest movies ever made in Hollywood. It has since then emerged as somewhat of a cult movie.
It may not be entirely incorrect to suggest that it did to Keanu Reeves' career what the likes of Top Gun did to Tom Cruise, Forrest Gump did to Tom Hanks and The Gladiator did to Russell Crowe.
At a time where Hollywood was dominated by the two Tom's, and the likes of leading A-listers such as Harrison Ford, Jim Carrey, Bruce Willis, Robin Williams, along came Keanu Reeves parking himself to the forefront of everyone's attention.
What lies ahead, therefore, can only be expected to raise the bar in the genre of action and thriller cinema.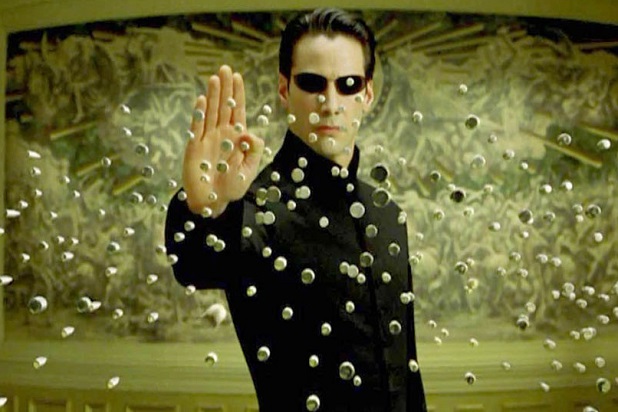 Here are some more interesting details about the forthcoming The Matrix 4:
Co-writer Lana said she is delighted to be working with the original cast members again, saying in a statement: "Many of the ideas Lilly and I explored 20 years ago about our reality are even more relevant now. I'm very happy to have these characters back in my life and grateful for another chance to work with my brilliant friends."
One honestly can't wait to see Keanu pull up some new punches as he returns to arguably the greatest movie role of his career, long before John Wick arrived; a time where, as a deadbeat computer hacker, he embarked on a puzzling daze that couldn't have been named better than the Matrix.
What's also interesting is to speculate whether the old cast and crew will return to recraft roles that they aced with perfection. For instance, will we get to see the lovely Carry Ann Moss return as Trinity?