It's not always that a man's charm and looks afford him sobriquets of respect and a greater mention than his female co-stars. In a Hollywood, that's either mad about success, style, fame or class, Jude Law happens to be a rarity in the sense that he possesses all of the above.
Does he not? When was the last time since an Alain Delon or James Dean that one saw a man as beautiful and accomplished on the big-screen as Jude Law?
He may have been married to Sienna Miller or Sadie Frost some time back and may have had pint-sized relationships with so many matinee idols, but it appears that Jude Law has given his heart out one more time.
So the question is, who is the lucky girl this time around?
It turns out that a girl 14 years younger has charmed Jude Law, perhaps a man who, it may not be wrong to call a fashionable playboy or a hopeless romantic.
Phillipa Coan is 31 and is based in England, United Kingdom. An academic, Coan, who happens to be a psychologist and has been practising in the UK for a bit.
Daily Mail, among the leading English dailies reported on the matter and shared the following:
Jude law and Dr. Phillipa Coan have married in London. The bride and groom were spotted as they arrived at the Alfred Dunhill members club after getting married at Marylebone Registry office, where they enjoyed a wedding reception with close family and friends.
Jude certainly wasn't shy about his 'secret' nuptials. There was a hint of the peacock about him as he emerged from his marriage ceremony at London's Marylebone Town Hall on Wednesday wearing an eye-catching £840 Boglioli corduroy suit, striking Burberry blue-tinted sunglasses, and conspicuous £200 teal suede lace-ups and a battered vintage fedora hat. His new wife looked stunning in a ruffled cream mini dress and towered above her husband in nude heels.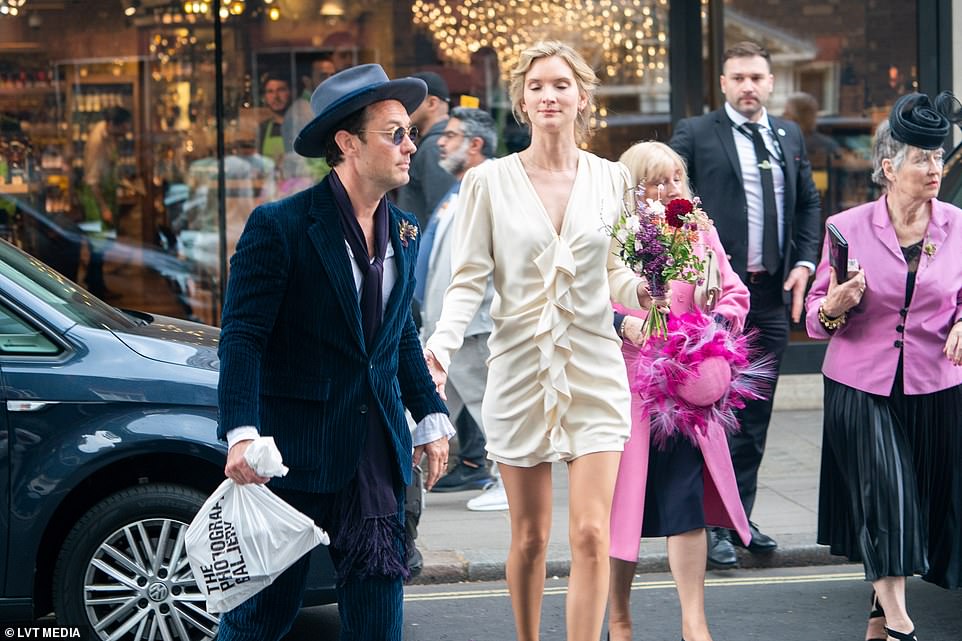 The couple's body language, too, didn't always appear to fit the traditional expectation of newlyweds — at one point the bride and guests trailed behind the star as he hopped, bearing a plastic bag, into a chauffeur-driven Range Rover. But the pair are said to be potty about each other, and there is an expectation that he plans to add to his brood of five children by starting a family with Phillipa.
But above all, it's rather interesting that Jude Law, well a man who any would date given a sense of timelessness and beauty that he so naturally possesses, decided to get married when just a short while ago he was found chatting up a Hungarian Playboy model who he happened to have just met in the middle of a street, convincing her to exchange numbers with him.
Back in the day, when in his late twenties and early thirties, Jude Law had quite a reputation, it's worthwhile to note.
Daily Mail, that carried out the report of his marriage also happened to share the following:
When married to first wife Sadie Frost, he was part of the notorious 'Primrose Hill Set' — a group of celebrities who lived in the North London neighborhood in the Nineties and early Noughties, who had a reputation for drinking, drug taking . . . and bed hopping.
All that said, what's important is to remember a timeless quote: "a thing of beauty is joy forever!" Is it not? So for as long as Jude isn't complaining, how on earth does it matter as to who, in his life, did what to whom? So long as you are smiling Jude, the world will be your playground. Congratulations to you and your wife!