James Corden's net worth is $12 million according to Celebrity Net Worth. He was born on the 22nd of August, 1978 in Hillingdon, London. He is a British comic actor, singer and the host of the popular late night television show 'The Late Late Show with James Corden'.
James Corden is a British actor, comedian and talk show host who was born in London, England. Today, we know him as the host of the show 'The Late Late Show with James Corden' which airs on CBS. His worth as of 2019 is approximately $12 million dollars.
EARLY LIFE:
James Corden was born to Malcolm and Margaret Corden. His father was a musician in the Royal Air Force band whereas his mother was a social worker. He was brought up in Buckinghamshire and has 2 siblings-both sisters.
CAREER:
While working for small roles in different projects, Corden gained popularity for his role in 'Fat Friends' which was a popular British drama series. Another project he wrote and jointly created was the romantic sitcom 'Gavin & Stacvey' which landed him a BAFTA for playing the role of Gavin's pal. In 2010, he hosted a show 'A League of Their Own' which was a British sports game show.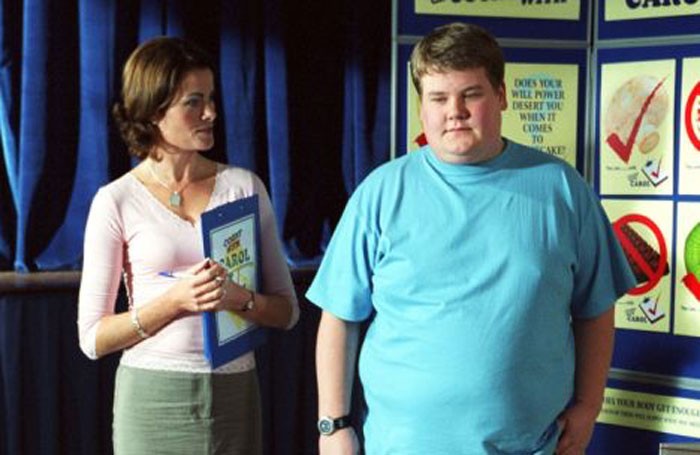 James Corden's breakthrough came when it was announced that he would take over as the host of 'The Late Late Show' which immediately raised his profile in the United States as now he became a household name. A segment from his show 'Carpool Karaoke' which first saw Adele as its guest boosted the viewership of the show. His success as a TV host got him roles in high profile Hollywood movies and also lent his voice to several animated movies. He was made the Officer of the Order of the British Empire(OBE) in the year 2015.
Following are some of the highlights in James Corden's career:
Fat Friends (British drama series,2000)
Gavin & Stacey (sitcom, 2007)
A League of Their Own (British sports game show,2010)
The Late Late Show with James Corden (TV talk show, 2015)
QUOTES OF JAMES CORDEN:
"It doesn't help anyone to judge their happiness or career by looking at where others may or may not be. Dad said it best: 'All the time you're looking left and right at other people, you're neglecting what's in front of you. If you focus on looking straight ahead, you can take the odd glance at the future.' He's got a way of saying things sometimes that just puts everything into perspective." – James Corden
"The difference between doing something and not doing something is doing something." – James Corden
"There is really no one who hasn't made mistakes in their career. I'm always shocked that people would be so surprised that I might make mistakes. Martin Scorsese has made mistakes – why can't I?" – James Corden
Life Lessons from James Corden:
Be comfortable with who you are.
James Corden has made it big but isn't afraid to show his negative side like for his singing abilities. The audience in his show reciprocates equal love because he makes feel them like he is just like one of them. The viewership of his show is because of the connect he makes with his audience by simply letting them be.
Show your admiration.
Despite being the host, Corden still behaves like a fanboy whenever his favorite celebrity comes up. He shows his admiration for them without filter without having pride in being the host or whatever. It's heartwarming to see when someone is no filter.
SUMMARY
James Corden is presently the host of one of the most viewed talk shows, 'The Late Late Show with James Corden'. He is married to Julia Carey and they have 3 children together. His net worth as of 2019 is $12 million dollars, out of which only $5 million dollars are from his show, the rest are from his other projects.
| | |
| --- | --- |
| Net Worth | $12 million |
| Age | 41 |
| Born | 22 August 1978 |
| Country Of Origin | Hillingdon, United Kingdom |
| Source Of Wealth | Artist |
| Last Updated | 2019 |