Pop music has idols. It always has. It always will. But perhaps few are able to match the astronomical fame garnered by someone like Justin Bieber or Ed Sheeran in the contemporary culture. In the past, the world's seen the likes of Madonna, Michael Jackson and in the times before- the legends like Elvis and The Beatles.
But when it comes to today, few are able to match the fame commanded by the famous "Sorry" singer. And well, where Justin Bieber's current life stands, there's hardly any reason to be sorry whatsoever.
Having just announced his long-speculated engagement on social media, life, for now, it seems, has come a full circle for the pop music idol.
In love with his fiance- the very beautiful Hailey Baldwin- for the longest time, the duo hadn't yet made any formal announcements of their relationship status in any capacity.
This was until July 9, 2018, when arguably the most vibrant news in the pop music world made its way. Justin Bieber and Hailey Baldwin engaged- that wasn't just lip-service, rather the headline imprinted in every paparazzi-ridden tabloid or fashion/lifestyle journal.
And in making no bones about her 'happening' status either, Hailey Baldwin was quick to take to the social media to announce about her engagement to an 'incredible' Justin Bieber. One can only wonder how madly must this news have sent the pop culture fans and the music-lovers in general into a tizzy?
There's always a moment to cherish- arguably, in the same breadth of anticipation and rush- as the celebrities themselves. And why not, it must be asked? After all, how will it define the sheer passion that fans have of their idols? Isn't it?
But while the news surrounding Baldwin's engagement to Justin Bieber may surely be celebrated in the couple's respective circles- involving friends and family- one's not really sure if all girls would've taken this in the right sense. How many hearts, one wonders, must Justin Bieber have broken, confirming news of his impending wedding? Those girls, the top-tearers, the screaming fans, the mad hippies, the party poppers and all of the lot would've been in despair and of some serious thought.
Few other contemporary pop stars command such a heavy legion of fans around the world as the American pop singer-cum-performer. And that leaves us to ponder about what's going on in Hailey Baldwin's mind?
Apparently, there's a serious condition that the famous Baldwin member of the family has kept ahead of the couple's wedding. Can you take a guess at that? Need any clues? Well, all that can be said is that it relates to the famous face of Justin Bieber. So, let's not anticipate or debate any further. Here's throwing the towel onto the floor.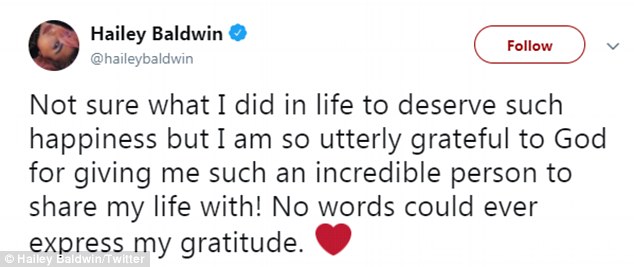 This may, in fact, sound funny to read but in no way compliments the mind-space of Baldwin. She's so particular about Justin Bieber's face that at no cost does she want him to keep a moustache during their wedding. Believe it or not, that is for real. And that's precisely the condition that Hailey Baldwin has kept in front of Bieber for his consideration.
Now engaged and soon to marry, will the marriage actually take place is the famous pop-star were to sport a moustache? Funny as it may sound, for Hailey Baldwin- there's nothing more important than this prior condition.
On a more serious note, however, it must be contended that where other couples often struggle to make relationships work, going to all possible lengths to keep the sanctity as well as the sanity of their relation intact, would such a minuscule aspect of life even matter in something as defining as marriage?