Some call him temperamental. Others call him moody. Most call him a brilliant actor. But here's the truth.
Christian Bale truly iconizes the meaning of what it means to be a shape-shifting superstar. From being skinny to his bones in American Psycho to being flat-out fat in American Hustle, Christian Bale has also brought out the finely balanced act in the Christian Bale-directed Dark Knight trilogy.
Where other actors follow a method acting format, Christian Bale acts through each limb, ligament, muscle, and bone of his body. In fact, it may not be entirely incorrect to suggest that acting flows in those throbbing veins.
And now, after having done a series of interesting and diverse characters as seen in flicks such as Knight of Cups, Velvet Goldmine, Out of the Furnace and having been arguably, the best Batman one's seen, there's a new film that's unfurling a shape-shifting avatar of the famous English actor.
Starring in Ford V Ferrari, an interesting flick in which the former Caped Crusader plays a very different role when compared to his last on-screen avatar as the former American Vice-President Dick Cheney, Christian Bale seemed rather different, and if it could be said, unusually lean.
Well, let's just understand the fact that there are things some can do and there are things that only a Christian bale can. Isn't it?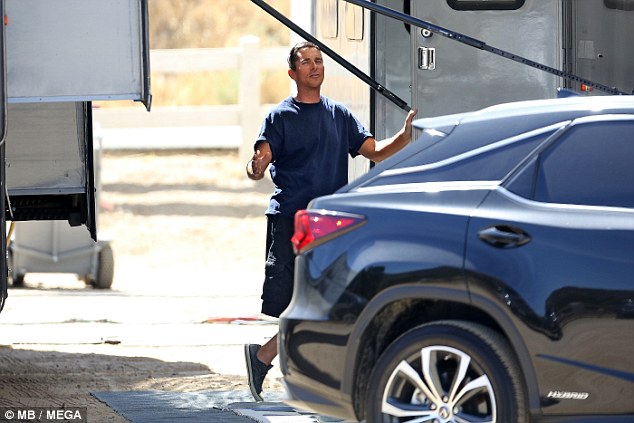 Dressed in a navy-blue casual T teamed with shorts and sports boots, Christian Bale was carefree and seemed nonchalant in the shoot of his upcoming film. If there's a movie that's really being anticipated big time, then it's Ford v Ferrari.
And in case, you were wondering just how much weight did Bale lose for this movie role, then here's what you ought to know.
In fact, take a guess? Well, it's 40 lbs. And it's not something that one can manage with great ease- isn't it?
Some interesting pictures of Bale as captured from the last year show him in a rather chubby avatar when he was clicked wearing black shorts. So now, when one compares that image to the one where Bale appeared lean, the difference is quite spectacular and all too noticeable. Perhaps it also seemed that Christian Bale enjoyed filming this movie because he sported a smile, not the most usual occurrences for him whilst being on a movie set.
Now, a question remains. Just how does Bale manage to lose all that body weight? Well, can you believe the reality that exists behind his perplexing transformations?
It's a matter of fact that Christian Bale- to this very day- hasn't ever visited a doctor, dietician or even any nutritionist, for that matter- in order to both trim down and put on a few extra pounds. If that's not incredible, then one wonders, what is?
Famous England-based popular culture media outlet Daily Mail reported the following where it came to Christian Bale's future role in the much-awaited Ford v Ferrari:
In his latest film, Ford v. Ferrari, Bale plays a mechanic alongside co-stars Matt Damon, Jon Bernthal, Caitriona Balfe. Now, the thing is, just how much excitement will this cater to fans who haven't, to this day, seen Bale portray a mechanic?