Israel, the Jewish homeland, is often hailed for being the land of innovation and pathbreaking discoveries in myriad spectres such as defence, science, technology, computer engineering and even, agriculture.
There are not many countries, after all, that can grow a fruit even despite it being out of the natural season or climate, excel in drip irrigation, flex muscle and flair in both landmark aviation achievements and in often lesser-valued vocations such as farming.
Not a day goes by in Israel in absolute peace given the constant surrounding conflicts. Not a day goes by in Israel minus some thrill and mojo. Israel is like a complex maze; often misunderstood and often restricted to the controversies it attracts thanks to being constantly straddled in the geopolitical chaos of the Middle East.
But there's more to Israel than just cross-border tensions, the ever-rising threat of embracing even more turmoil than what it is amid currently. Israel is the land of hope and often unsung enigmas that are catering to the glam quotient of Hollywood.
Forget Scarlett Johanssen for a while. Ignore Mila Kunis if you can. If there's a Jewish beauty who is truly on top of Hollywood's list of the famous and the beautiful then it's none other than the Wonder Woman, aka Gal Gadot.
For starters, it must be said that in order to conquer Hollywood and make Israel's vibrant presence felt in the movie business, the important Middle Eastern country has sent in Gal Gadot, one of its finest. Isn't it? Also, if you come to think of it, you'd find that there's always this extra bit of an allure attached to women who hail from the intriguing geography of the world; from places that have been marred by war, surrounded by conflict, but countries that are sort of, rising from the ashes.
There'll perhaps always be a fleeting sense of charisma attached to Israel.
Men love Gal Gadot. Women love her too. Both, interestingly, want to be like her. Adults feel they should cut a figure or physique- depending on who you are- just like her. In perhaps the exact same instance, she can both inspire and intrigue.
Women, they say, are at their best when they uniquely align beauty with intelligence. Well, given Gal Gadot has served a compulsory stint in the Israel Defence establishment automatically marks her in a league that concerns mental aptitude and also physical rigour.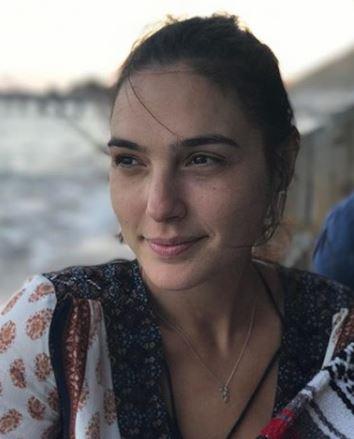 At 33, Gal Gadot is neither too young nor exactly a massively experienced star in Hollywood. What this does is that it gives her a chance to once again go for the very best, having little record of failed chances or mishits in the starry world of Hollywood; one that is quick to pounce on a growing star and equally open to bring down established A-listers in the wake of anything even remotely remorseful.
What she is, however, is this ideal blend of a woman who possesses as much restraint as vulnerability, something she beautifully brought to the screen as the Wonder Woman. She was both, a physically intoxicating wonder in the film jut as well as being a charismatic woman essaying brute power and simplicity- all at the same time.
One's honestly not sure if there would've been another actress who would've possessed the same physical and emotional attributes to essay such a demanding character- as challenged by physical rigour as driven by a human touch- as what Gal Gadot brought to the screen.
Possibly, the only other example as an alternate choice for playing Diana- the role that shall forever be considered as the greatest for having shaped Gadot's growing career is perhaps a Charlize Theron, provided the South African actor would've essayed the lead role in a much younger age.
If there was a movie role that truly gave Gal Gadot a real slice of Hollywood's peak and what it is to experience or stare down the world from that dizzying height, then it was in Wonder Woman.
All that told it could be argued that what makes Gal Gadot in a league of her own is that she never quite sees too aware of just how famous she's become. Perhaps, there's this great emotional victory of sorts at deliberately underplaying one's own wins in life. So if you're doing this intentionally Gal, then, well, you should be proud of yourself- for having kept it too simple.
What also adds to her growing enigma is that there's no record or trace of anyone in her immediate family has been in Hollywood. Wondering how this is helpful? Well, to put it simply, it immediately expunges the risk of bringing a needless layer of competition with one's own family as often seen being encouraged openly in the showbiz under the garb of it being 'healthy competition.'
Another thing that is quite commendable about Gal Gadot is that just as marvellous as she looks on the screen whilst playing a character, she's equally fit and driven to remain so in her personal life. In some ways, there's hardly much difference between her on-screen avatars and her off-screen presence.
That said, let it be asked someday, just how many women behave or think like that, right? Here's arguably the most decisive cog in the wheel that works tremendously in Gal Gadot's favour.
Not many are actually aware of her relationship status. Well, let there be no confusion of any regard whatsoever. If you've been or are a die-hard fan then probably, you don't need to be tutored. In the past, it's been written speculation about whether Gal Gadot is married also or not.
To put an end to those rumours, let it be said that Gal Gadot has been married for years. She is, in fact, a mother of two gifts that she'd dare never trade in any condition. She's a mother to two cute daughters. She was also immediately asked to join in the star-spangled cast of Justice League where she, for the first time, shared the massive screen-space with not only Batman (Ben Affleck), Superman (Henry Cavill), but also with the likes of Aquaman, and other characters.
Few actresses just act well. There are those that happen to be, quite simply, good looking. Gal Gadot is an enigmatic compiler of two distinct traits. She was elected Miss Israel back in 2004. Modelling and ramp walking have for long been her constant companions. This means that looks have often been her forte and right from the initial stages of this remarkable journey to popularity in the West.
Moreover, she's also blessed with a flawless skin, that suits the bill for magazines that run on the prototype of the next-perfect cosmopolitan woman; someone who plays three sets of tennis but also enjoys cardamom tea, someone who excels in both Yoga and Pilates, someone who likes blogging, kite surfing and scuba-diving.
In the long and short of it, Gal Gadot quite simply exemplifies that woman who can willingly turn herself into an aspiring painter's muse as also the most intriguing artist with the graffiti spray can in her hand.