The Titanic star Leonardo Di Caprio can be proud that his fan following is quite like the size of the ship- humungous, to put it simply. Today, Leonardo Di Caprio is amongst the few names in the film world that is as loved as it is respected. And perhaps, his popularity is only bound to go northward, especially after conferring of a strange kind of honour upon the star.
It's both funny and whacky to note that recently, Leonardo Di Caprio got a beetle named after him. He could now humour him to think that a real living species of a beetle was named after him. It's rare and doesn't happen all the time. This is both thrilling and worthy of some dialogue as well as attention. We are in an age where Hollywood stars being named after something elemental, cocky isn't that surprising, truth be told.
For instance, did you know that Tom Hanks was named after an asteroid? That's a rare distinction in itself, isn't it? At the same time, one has to regard Leonardo Di Caprio's latest feather in a hat. The fans loved the fact that after years and years of trying and going empty-handed, Leo won an Oscar. And truth be told, The Revenant only feels like yesterday, doesn't it?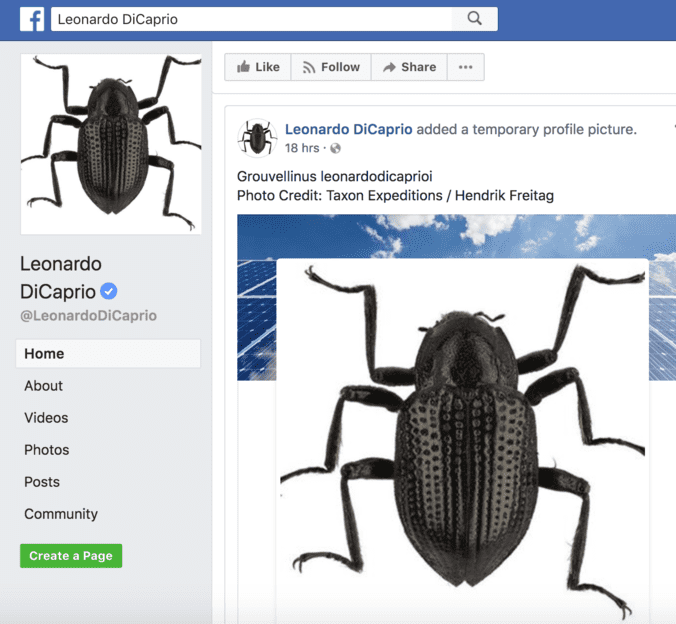 A question, however, may hit his critics? What has Leonardo done to afford himself the vaguely appealing honour? They might be asking themselves, why should Leonardo's achievement be celebrated? Well, here's an answer and you don't need to be an Einstein in understanding it either. Among the most clear-headed stars of his generation, Di Caprio has made a name by attaching himself to honourable and distinct projects. The same bloke who was adorable but cutely flimsy in What's Eating Gilbert Grape became a shining beacon of romance through Titanic.
He went on to topple seemingly unshakable subjects so etched in serious narratives by opting for titular parts in J. Edgar Hoover and previously, the Aviator. He even gave someone like a Tom Hanks a run for his money when he did Catch Me If You Can with him. From 2002 onward, he's only grown in strength and confidence. To have someone like his cerebral talent- one who's no stranger to studying botany, the environment and of course, climate change- it's hardly a surprise that they just named a living species of the Malaysian Water beetle after Leo. This is only the beginning of things to come, one may concur.
But quite frankly while many would call the act of naming an insect after him as to be making his hat too big for his own head, it just seems fine. Leonardo, in his seemingly unstoppable surge to attach his name to intense subjects that dominate our lifespans, from outside the context of entertainment, deserves to be credited. And for starters, the man behind the warm smile has only accepted the newfound recognition. After changing his Facebook snap for the image, trading places with his new subject- the world seems to have got Leo's nod of approval. Grovellinus leonardodicaprioi seems to be an interesting beginning.