Perhaps there's a reason in finding that not many teary eyed tributes are splashing news world-over in remembering Audrey Hepburn. Let us be honest. Would we all have had the courage or heart to see the diva at 89? A thing of beauty, they say, is a joy forever. Lest it be forgotten that it's one thing to be a ripe, dove-eyed beauty, and something quite other to fight the annals of time or the harrowing passages that announce themselves in our lives through wrinkles.
And perhaps it's both fitting and meaningful to find that even today, nearly since three decades of her departure, most vignettes of Audrey Hepburn capture her essence through young, flowery images ravishing this one of a kind beauty. There's not even the tiniest hint of any irony to find that one of the most good-looking women of all times was at the peak of showbiz during arguably Hollywood's most commanding era: the golden age.
The 50s and 60s were a time where a Peter O'Toole would overpower the noise in backdrop through his penetrating eyes. It was a time where a Natalie Wood was learning how to separate boys from men. This was an era where James Dean was only just blossoming. It was a rare period in movie business' history where both men and women- it could be said- were engaged in a titanic battle for the supremacy of beauty. You just couldn't tell who added more to the timeless fabric of cinema: was it Gary Cooper with his rustic charm or was it Grace Kelly with her cotton-soft beauty to die for?
And adding more flair to this great period in Hollywood was a diva who you'd wait any day for time immemorial to have some "Breakfast at Tiffany's" with- Audrey Hepburn. Born at Ixelles, Belgium, growing up in England, reaching peak fame and her calling in Hollywood, California, nestling for peace in Switzerland where she passed away, there's perfect meaning to find Audrey Hepburn loved by the world. In an age where Hollywood was trying to allocate a simmering beauty to its enchanting romantic sojourns; vehicles thrusted by the presence of stylish and unforgettable faces- Audrey Hepburn added a flick and curve of style hitherto unseen and rarely ever matched since in the movie industry.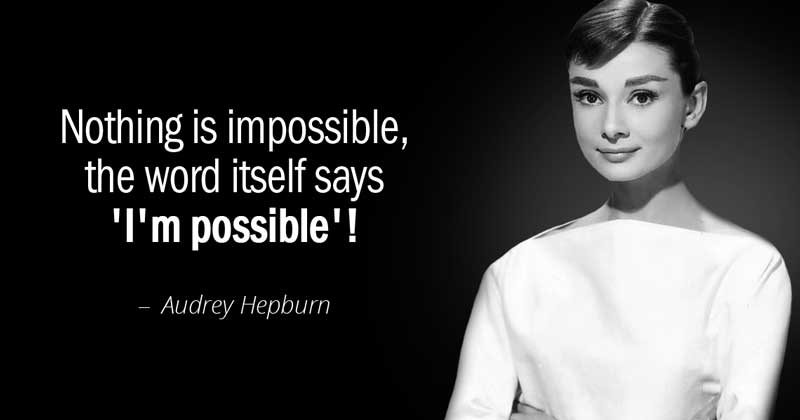 She wasn't just a beautiful face. She was full of life and grace. Her find was, perhaps just what Hollywood had needed having swayed audiences in a lifelong affair through timeless stars like Katherine Hepburn and Grace Kelly. Audrey Hepburn was more than another jovial find that Hollywood was romancing in an age whose very fabric was laced by love. She was a sensitive, caring and a compassionate actor who was drawn by a natural flair to stand out on the big screen.
Some of her timeless performances in Breakfast at Tiffany's, Roman Holiday, My Fair Lady mark her presence as an intelligent curious person who was blessed with those bedazzling looks. But in Hepburn's case, you felt, her beauty was also largely intrinsic- it was inwardly driven. She had plenty of both- the impulse that defined young, naive women of that age and the charm that would make men grow weak in their knees.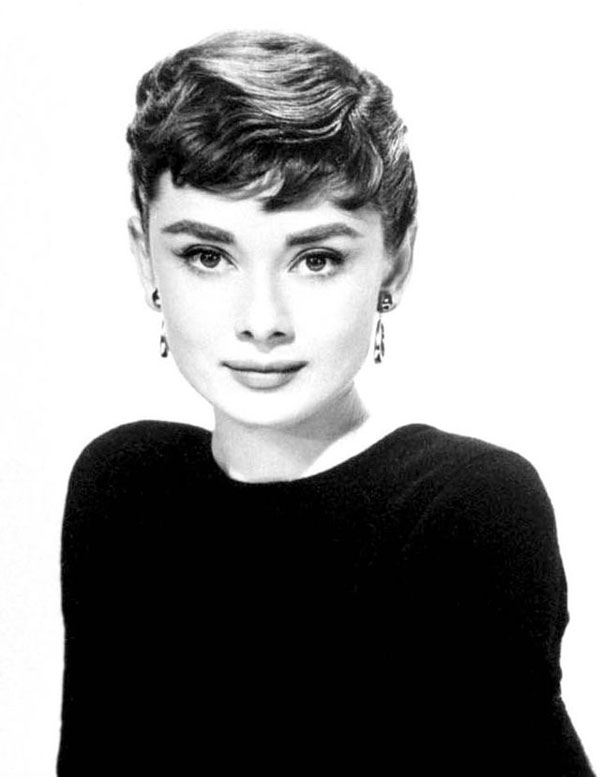 Not many in Hollywood, having set the screen on fire advocated or enjoyed resting their attention elsewhere. But not everyone was Audrey Hepburn. In the latter half of her career, particularly in her waning years as the fragrance of youth was being overshadowed by the changing vagaries of time, rather old age, Audrey Hepburn moved to feeding starving people. On one of her visits to Makale, Ethiopia, she was moved by the travesty of people, touched by the suffering. She wanted to make this her next major priority in life- to feed the underprivileged- and she endeavoured herself to walk a noble path under the auspices of UNICEF.
Actors and stars there've been many. But only a few have touched lives beyond limited ways of seeing and believing. Hepburn was as noble a soul as she was beautiful and as drawn to life as she was humbled by urge to contribute to it. We can be glad that in her there was a soul ever beautiful but never unwilling to embrace the ordinary.