There's this beautifully inexplicable charm to the famous singer Mika. He's been here in Bollywood and been doing his bit for quite some time now. His true essence comes from singing lively, thriving and very powerful numbers.
His voice is such that it resonates with both the loved birds as well as young, party-going lot. You can instantly break into a dance move of sorts even with the mere sound of Mika hitting you from a distance.
In a lighter vein of thought, it may not be too off the hook to suggest that where his voice stands, on its own, he's somewhere in a league of his own, one where you cannot match the sonorous meets melodious sound that his vocal chords generate.
And that said, there may not be too many facts about Mika to say or suggest other than to quote that he is a charismatic singer. Isn't it? Or, there may not be other facts about Mika other than saying that he's given to Bollywood a bold and a highly individual spark. Perhaps this is what we all think?
Well, probably eight in ten people would just feel this and offer this explanation. But well there's obviously a lot more to this iconic singer from Punjab than meets the eye. And strangely so, not a lot many even care to look beyond what lies in the famous "Lag Gaye Chaar Sau Chaalis Volt" singer's life.
So worry not anymore. We got that covered for you here. Find out some interesting facts about Mika here:
Who does Mika like to sing the most for?
This remarkable singer who took his time to settle down before unfurling one mega hit after another has covered a lot many songs. In a decade-long journey in Bollywood, where he's truly found his cult fame and status, Mika's gone on to sing for superstars Akshay Kumar as well as everyone's favourite Khan, 'Bhai' Salman Khan.
But that told, a question offers strikes the minds of hundreds of thousands of Mika fans. Just who does this versatile singer like to sing the most for?
Well, while Mika maintains his love and affection for every single Bollywood actor who he feels privileged to have sung for, his favourite actors remain Akshay Kumar and Salman Khan to this very day.
For a singer whose numbers are neither exactly into the realm of beat-boxing, not completely into a party trance mood, Mika's success is an indication that if one backs himself to go the long way, then, success, wherever it may be, will not evade the person who tries.
A song that's often forgotten for earning Mika great fame
While we all know that this unique singer arrived in 1998 in Bollywood where merely upon completing his first solo single- Saawan Mein Lag Gayi Aag- made him an overnight sensation, at around the same time, there was another number that gave Mika's star a lot of twinkles.
If there were a truly unsung number from Mika's life that augurs an equal celebration for being responsible for giving Mika a lot of fame then it's the often forgotten "Ishq Brandy."
This was a catchy song marked by a distinct hypnotic rhythm that gave one an idea about the singer's true versatility. Ishq Brandy Chadhi Chadhi, was among the few initial hits that carved Mika's path initially into the mainstream music genre, then, heavily reliant on solo-albums.
Mika loves to lead a high-flying life
One of the finest or nicest things about Mika is that there's nothing hidden or ultra-secretive about the singer. He loves to lead a nice life backed by all the comforts of the modern world. There's nothing doing away the fact that he likes a good drink, loves to fly in his personal jet, enjoys going on a great holiday and like most young successful artists, enjoys the company of his friends.
If anyone actually wished to understand the real Mika then perhaps a mere look at the singer's account on Instagram would give a sufficient idea.
Mika happens to be a big animal lover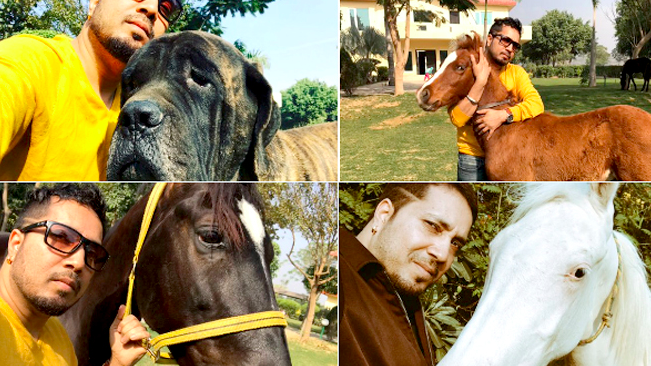 We have seen what kind of lives our Bollywood stars lead and also what fame often does to people, often taking them a tad bit downhill.
But when it comes to Mika, it cannot be denied that while he surely has had his share of controversies- for instance, the kiss gate controversy a few years back- he's also a man of some heart.
Back in his native Punjab, he's known to be charitable and hospitable. But then, that's common for artists with a lot of money, isn't it? But what truly sets Mika in a league of his own is that his love for pets and animals is such that it often finds a generous mention on most of his Insta updates.
He not only loves dogs, of which he owns multiple breeds but is also a huge fan of horses. Some of his most fun-filled images show Mika posing with dogs and horses and that's actually a recurring phenomenon in his life. How cool is that?
He gets trolled often and doesn't make a big deal of it actually
The show must go on! Now well, this could, in fact in a lighter vein, be taken to showing off or something, if you thought about it. Mika a bit of an indulgent character in the many vices of life, well some that we know and some we do not know, is known to lead a great fancy life. And that's fine in his own right because at the end of the day he is doing whatever he likes to do on his own, in his own capacity.
But then, there are also some instances where he gets trolled for doing certain things that may not actually be all that cool, particularly if you were a more conscientious personality.
Mika's quite the opposite. For instance, recently he openly flaunted that in a fully sold-out concert in Dubai, he had booked himself an entire 1st class in an aeroplane. And not only that, he went ahead and posted a video of the same on his Instagram account.
It got him trolled and some openly made fun of him. And well, not that Mika gave a flying fish for it.
What is Mika's Gurgaon connection?
Every possible singer before actually making it big in the professional journey that actually sees them occupy the highlight in the starry world of Mumbai. And Mika's journey too took him to the commercial highs of Bombay. But before all of that fame that embraced him, he took, like most rising artists performed and sang in numerous concerts all around the country.
Implicit in this journey was his powerful nasal-twang driven performances that struck a lightning bolt in distinctly different destinations such as Delhi and Haryana. In fact, to this day, Mika admits that it was he who made the trend of concerts in Gurgaon such a thing. He, to this day, maintains an office in Gurgaon's Sector 45.
While he loves to visit his farmhouse, that he has set up close to the Damdama Lake, he has also set up an office-cum-guest house in the Millenium City called Gurgaon. It's a place that he often frequents despite having moved to Mumbai.