Esha Gupta and Padmavati, both sound completely irrelevant yet somehow people managed to connect the dots between these two. Apparently, Esha Gupta went to the launch of "Mrinalini Chandra Candy Crush" jewelry launch collection in Mumbai. She was giving her media bites when out of nowhere a journalist decided to pop up a question about the recent facade of Padmavati. She asked what does Esha has to Say about the recent death threats to an actress who is one of the top stars of the country.
Initially, the actress refused to talk about anything else than "Mrinalini Chandra Candy Crush", however, she gave a statement that people who proffer the rewards on actress's death are merely seeking to get some fame. No one focuses on the real social issues like safety of women and rape. No one speaks up to put a ban on anything when rape happens, as it is not that important for them but, a popular movie can get them into the limelight and that's what they are gaining out of it.
Of course, since it was a statement on Padmavati, which is undoubtedly a raging topic in our country these days, media houses covered it. Among others, Republic too shared an article reporting the incident and explaining exactly what she spoke, however, the channel put up a caption that made people troll Esha Gupta and for all the wrong reasons.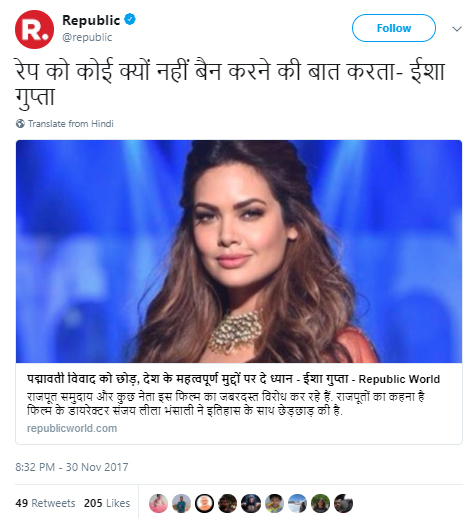 The caption was intriguing, however, the Twitteratti made no effort to get to the whole story and did what they do best. Assumed a whole different story and started shaming her. The entire confusion would never exist if people would have read the whole article, instead, people got outrageous and bash Esha Gupta. After the first hate tweet was done, a lot of people followed suit. Spreading hatred and calling her dumb for stating something that was not her words. Looks like some people just don't care to put some sense when they take a stand. Exposure to Social Media had probably made a few of them, naive.
Here is how they spread fume on Esha Gupta.
1. Blind Faith In Societal Believes Leads You To State Such Harsh Things About Women!
2. Such Statements Without Even Reading That Whole Piece!
3. Exactly, So Why Didn't You Bother To Get To The Whole Issue?
4. Is There A Ban On Reading Too?
5. Well, Only If You Bothered To Read The Full Article Or Watch The Video, You Would Have Known.
6. It Was Harsh And We Bet She Didn't See That Coming!
She finally cleared the air, owing to her unabashed personality, she had too. She stood firm in her opinion.
(VideoCourtesy:BollywoodHungama.com)
It's time that people understand, reading a sensationalized headline could lead them to believe something that does not even exist. Just take out 5 minutes to get it all and then judge. A genuine opinion is worth more than these pseudo and desperate attempts to shame a Bollywood celebrity.