Dhinchak Pooja, the cringe-sensation, who has been releasing songs on 'popular demands' and forced us to question ourselves that what has happened to the internet these days? While the world is becoming weirder with every passing day, be it the new elected leaders or their policies, Youtube, on the other hand, has given us another reason to feel low as hell due to the rise of cringe-pop stars like Dhinchak Pooja.
Does she have talent? No, absolutely Zero. Is she a marketing person? Oh hell No!! Does she gives us some intellectual stuff to think about? A big No. However, Dhinchak Pooja has taken over the Internet by becoming a Youtube sensation overnight. As of now, she has more than one million subscribers on Youtube and millions of views on her videos from Selfie Maine Le Li Aaj to Swag Wali Topi and to the newly launched Dilon Ka Shooter.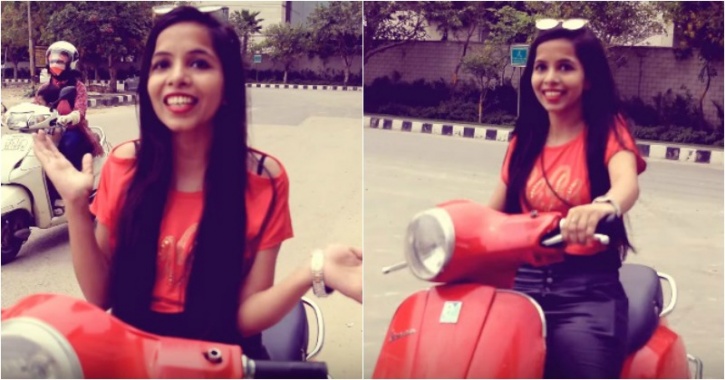 While 'Dilon Ka Shooter Hai Mera Scooter' will make you give "Selfie Maine Le Li Aaj" a Grammy, the song is taking the social media by storm and even if you want to ignore it, your Facebook wall might have been filled with people trolling her on the latest release, making Dhinchak Pooja a hard to ignore personality.
But we have a message for Dhinchak Pooja fans, 'It's going to pass'. It seems India's new YouTube sensation struck a wrong chord (metaphorically) with the Delhi Traffic police as a Twitter has pointed out that Dhinchak Pooja wasn't wearing a helmet while riding her 'Dilon Ka Shooter'.
Mohit Singh, the Twitter user tagged the Delhi Police and Delhi Traffic Police and wrote that this woman is creating a havoc by singing in the area and she is not even wearing a helmet while driving a scooter.
While we were yet to come to terms with Dhinchak Pooja's 'Dilon Ka Shooter Hai Mera Scooter', we would like to give Mohit Singh a huge round of applause for being sane in her presence, which by far, we have failed to do.
He tweeted
@dtptraffic @DelhiPolice आपके संदर्भ में ये मोहतरमा बिना हेलमेट स्कूटर चला रही है और ख़ूब शोर करके गाने गा रही है । pic.twitter.com/osz56KsSpM

— Mohit singh (@mohit_news24) June 27, 2017
Delhi Traffic Police gave a quick reply to Mohit Singh and assured him of a strict action
Thanks,kindly tweet with date,time and exact place so that necessary action can be taken.

— Delhi Traffic Police (@dtptraffic) June 27, 2017
जहग सूरजमल विहार समय दिन के 3 बजके दस मिनेट दिन 24 जून 2017 धन्यवाद

— Mohit singh (@mohit_news24) June 27, 2017
Thanks,action will be taken.

— Delhi Traffic Police (@dtptraffic) June 27, 2017
While this is certainly a funny fiasco, Dhinchak Pooja should have been more careful. However, another thing that struck to our mind was her rising fame. She has become a public figure now and maybe, we want it to remain a maybe, she has a loyal fan following consisting of some who take her as their idol.
Whatever the case might be, whether the Delhi Traffic Police will actually take action against her not, we can't ignore the fact the 'Dilon Ka Shooter Hai Mera Scooter' has been a great success and this fiasco might give Dhinchak Pooja the same negative publicity that has made her a celebrity today.