Shah Rukh Khan is the living example of why Bollywood, quite like cricket, is a parallel religion in India. Thankfully, on this occasion, it's a religion that brings people together and doesn't divide them.
But that said, probably everyone concurs that Shah Rukh Khan is the king of romance.
Not many would dare question his standing in the contribution to the romantic cinema so to speak. Those who veil their insult to him, mocking him in the guise of mimicking him cannot belittle the entertainment he has rendered to a cinema-craving India.
Nine in ten women, who've grown to movies like DDLJ, Kuch Kuch Hota Hai, Darr and have embraced a new-look Shah Rukh as seen in films like Dilwale, When Harry Met Sejal, Jab Tak Hai Jaan would agree it's hard to imagine Bollywood without Shah Rukh Khan.
After all, he was the Veer who convinced Zaara, an entire Pakistan and cross-border tensions to make amends with love. After all, there would have been no Karan without his Arjun and no fear in movies like Darr, even if that meant overpowering the other through love.
Few can pull off things the way Shah Rukh Khan can. So much so that a popular literature attributed to his Bollywood journey heaps lavish praise, stating, "Shah Rukh Can."
But all that told, is Shah Rukh Khan only a romantic hero? Is he just this great, undefeatable anti-thesis to hatred? Could it be that there's more to Shah Rukh than just running around women draped in red sarees, making love as the autumn leaves fall and making violins play on their own?
And, therefore, could it be that we've underrated and undermined at times a man who's successfully punched above his weight in trying to expand his acting graph?
If you saw 2004's Swades, then probably Shah Rukh chastised the intellect of all those who limited his craft to just romance. If you saw 2004's Swades, you would've noticed the burning zeal of one of Bollywood's acting mainstays to divert his energies elsewhere: toward resuscitating the state of affairs in a tiny Central-Indian village.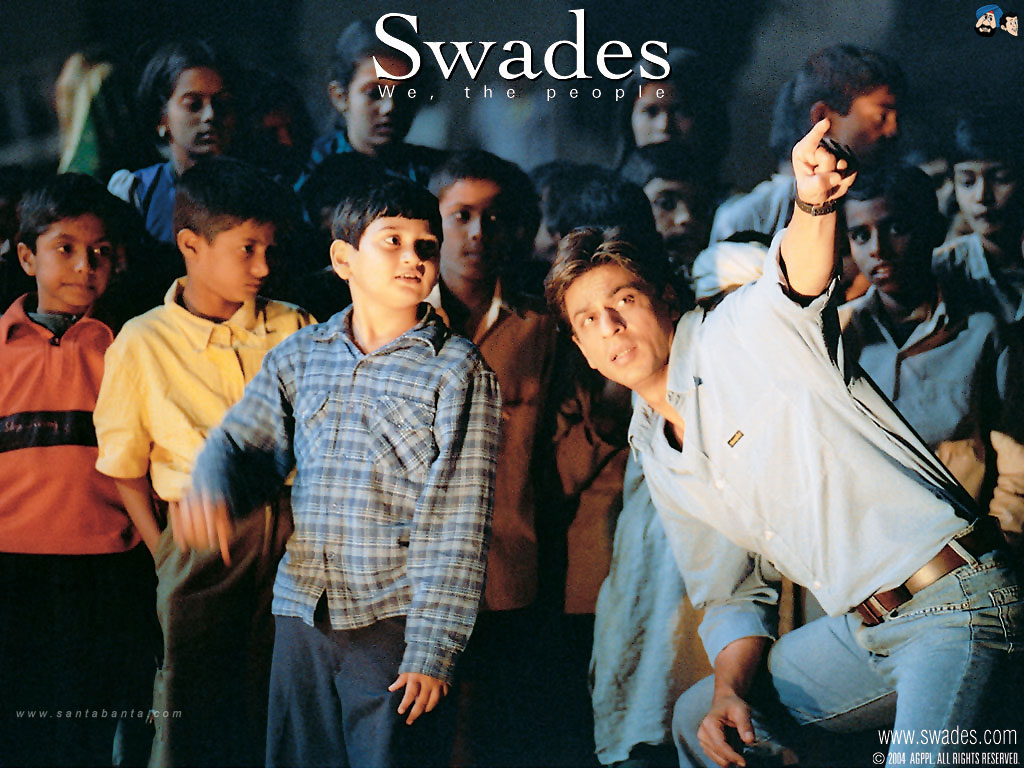 If a Bollywood critic, film appreciation student, cappuccino-sipping or wannabe YouTube star saw Shah Rukh as Mohan Bhargav attempting to revive the waning fortunes of a village "Charanpur" minus electricity in an earnest bid to cleanse a society caught up in a patriarchal mindset where every day is about the fresh fragrance of manure, smoking pipe, oiling toddlers in broken houses and semi-ready huts where none knew the meaning of the Internet, then they would've noted a different Shah Rukh Khan.
Shah Rukh wasn't bejewelled in velvet pants, flamboyant glasses or doused in outfits that camouflage humans with supermodel attires in a Milan or Berlin.
This was a white trouser-blue shirt Shah Rukh. This was Shah Rukh minus the rose in his hand but one with oodles of familiar self-confidence.
This wasn't a Rahul ready to give his heart to any girl willing to grow weak in the knees. This wasn't a bling-wearing dude dashed in dark shades and sipping vodka with overzealous chicks. Shah Rukh was reticent, restrained and somewhat reformed in Swades, a sad box-office failure amid a time where the Delhi-born actor was being confined to a romantic curvature.
As the NASA professional who returns to the village of his humble beginnings to convince his former caretaker to return to the US with him but stays back in the bid to galvanize a rural sleepy town with development, Shah Rukh struck the bull's eye.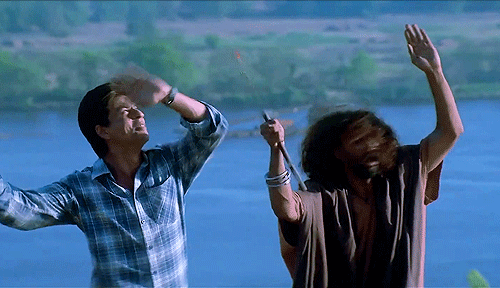 The quiet innocence, simplicity and very modest cinematic harvest that Swades reaped culminated in a Shah Rukh keen to redeem his cliched self by trading places with an honest self-made man of courage whose real triumph in life was helping others. If you haven't seen Swades till now, probably a good idea to see Bollywood's Rolls Royce traversing across a path in a local train, bullock-cart and a bright white caravan.