It's rather disconcerting and strangely so that so many of Bollywood actresses are often under-appreciated as actors. While it is true that Bollywood is changing as an industry, with there being more talent available in all aspects of film-making, the scene hasn't quite changed for the actresses.
And let us not confuse ourselves here. There's no denying the prowess of one of the world's largest film industry ever. India has catapulted to the attention of the world not only due to the facet of women running in red chiffon sarees in Switzerland but also because of its ability to engender creativity from subject-driven movies that either excel in movies based on children and storytelling woven around patriotism.
Today, a multiplex audience may also be the ones that are in mainstream urban cities and those that are catching up fast with the usual frontrunners- Delhi, Mumbai, Bangalore and Calcutta.
Thanks to the likes of a PVR and Big Cinemas reaching pretty much every last mile of town in a country where the love for films binds a country as beautiful as the love for cricket- cinema is increasingly drawing power among people.
We no longer find strange brows and flummoxed looks turn up with the mere mention of arthouse cinema and terms like that. The rule seems to have become simpler. You make a good movie, it's going to be appreciated, regardless of the genre.
Which is probably why the cinemas were all packed when Phillauri arrived in the big-screens and so did Salman's Bajrangi Bhaijan- both catering to different audiences but one joined by a common love for cinema.
There's no doubt that nearly every Friday, on the box office, there's the birth of new scripts, diverse film locations, interesting character-driven plots. But what hasn't changed is in some regard to Bollywood actresses.
One still finds the fans and critics and general opinion-givers of Bollywood restricting the role of women in Indian films. One doesn't quite understand how but still, to a good extent, Bollywood actresses are regarded as good-looking and hot and charming but aren't necessarily extended the respect they so deserve because of their acting talent.
This leads us to a question that can no longer go unquestioned. Is it time that Bollywood actresses should get the credit where it's due: acting potential?
That being said, which are the top 5 Bollywood actresses that are often under-rated as pure actors?
Aditi Rao Hydari
One of the most unquestionably charming faces of Bollywood, Aditi Rao Hydari's career boasts of both glamorous and acting-driven roles. Whether you saw her in tiny no-brainers like The Legend of Michael Mishra or more mature content-driven films such as Bhoomi, there's no denying her acting talent.
Soft, subtle and not one of those 'in your face' actresses, Aditi Rao Hydari has plenty of acting talent that perhaps goes down fighting for attention in front of her obvious charm in front of the camera.
While her claim to fame may not have been the strong and emotionally-charged performance in Bhumi, where she played the titular role of the innocent Agra girl raped multiple times by an evil muck of the city, her emotional torment was pretty much the highlight of the film that also failed to earn Sanjay Dutt the respect he deserved for playing the strong father to Aditi.
So, can Bollywood change the treatment it is extending to Aditi Rao Hydari?
Neha Dhupia
Well, truth be told, if there's one daring actress and also a versatile one at that then it's certainly Neha Dhupia. It's in some ways strange that what catapulted Neha Dhupia to the attention of the cinema-going world, probably not merely restricted to India alone, was a rather controversial remark that she'd said a few years ago: Only Sex and Shah Rukh Khan sell in Bollywood.
And at the same time, it highlights the uncanny truth of our times. But let's not forget we are in an age where the meaning of the term 'Bold' is often confused with dropping clothes as per the 'requirement of the role' in front of the camera. Proving this notion wrong and not playing by the conventional roles, Neha Dhupia, through a rich vein of versatile characters that draw strength from inner-confidence and self-conviction has gone on to register a lot many memorable performances.
If you saw her opposite Vinay Pathak in Pappu Can't Dance Saala as the ebullient but struggling dancer in Mumbai, Mehek or in Irrfan Khan-starring Qarreb Qareeb Single as one of the actor's past flames, you'd realise that Neha Dhupia epitomizes the driven and confident modern Indian woman; who can be aggressive and understated in changing vagaries of time. Perhaps it's time that Bollywood hailed Neha's versatile acting graph.
Sonali Bendre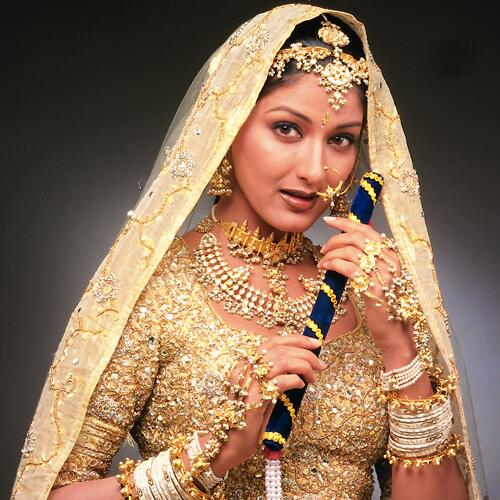 Before Sonali gradually drifted away from Bollywood and began doing far too few roles than what one would've liked, she was once the charming and smilingly beautiful Preeti in Suraj Barjatiya's Hum Saath Saath Hain.
The quintessential hottie of the nineties was perhaps never given the respect where it was due. She was amongst the few actresses who was as beautiful on the screen as she was confident in playing understated but melodious characters on the screen.
One of the things that one didn't quite appreciate about Sonali Bendre, the familiar voice behind the recurring Sarfarosh dialogue 'Don't Mind' was that she always had a beautiful voice that lent an extra bit of charm to her characters.
Let's face it- whether she played the suave doctor to SRK's Aman in Kal Ho Na Ho or some other part that was as graceful as the leading lady behind it, we didn't quite appreciate Sonali Bendre's true potential.
Sonakshi Sinha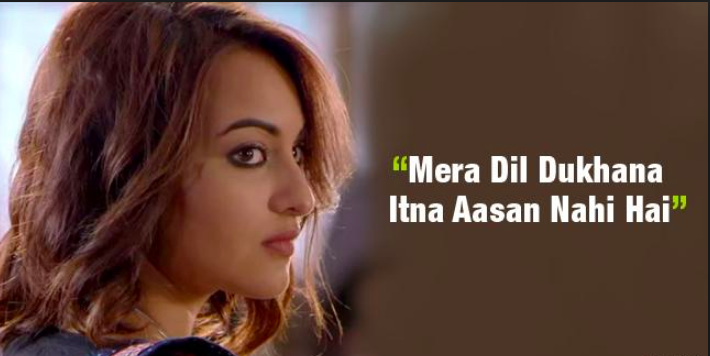 She may still be young and may still be busy finding herself in the starry-world of Bollywood that often struggles to understand what 'good' is a woman-dominated role even in this age, but Sonakshi Sinha is a very respectable actress. And definitely, someone who deserves all the attention that never quite comes to her craft and stays glued to her flawless skin and the celebrated surname, a powerhouse in Bollywood.
She was one of the charming yet possibly culpable murder victims in the mystery plot Ittifaq. She was also the gutsy butt-kicking Akira, a role that should've really told all those who remain forever in awe only of Deepika and Priyanka that there are others names to reckon with too. And pretty much whatever Sonakshi Sinha has done post-Dabangg is worthy of being respectful. The only question is, will she get that regard?
Diana Penty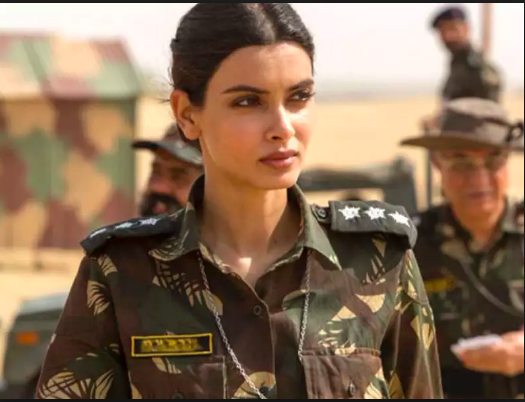 A tall, confident and charming girl in Bollywood that's standing the risk of being dubbed as another 'chic' or a 'hottie'. There's so much innocence and such firm honesty about Diana Penty that deserves and beckons to be respected in about the same way in which her male co-stars get painted.
Since Cocktail, although a film that brought out contrasting shades in Penty's Meera- one moment flimsy, the other confident, one-moment somewhat withdrawn and the other, the 'live it up' girl, almost every Diana Penty role has since been as different as are oranges to Watermelons.
She was a brooding journalist focused on human rights abuses in the severity of jail treatments in Lucknow Central. In the same role, she went from being strictly a professional into being an empathetic individual, who cosied up to Farhan's role.
In Parmanoo, she was a fiercely determined operative involved in the secret nuclear testing of India's atomic ambitions. Her role didn't get the praise the same way India's unique achievement did back then from a largely stunned world that perhaps hadn't expected the country to pull out an ace. Diana Penty was purely Joie de Vivre in Happy Bhaag Jayegi.
Not even in the wildest dreams of her critics would she have been able to carve such a fantastically mad-cap comic person. If there's an actress that is here to stay and should get more applause than she does then it's her- Diana Penty.