Life's pretty interesting. When you open the doors to one person, just about any can walk in. But its this call that you have to make and you must. For honestly, no one else can do it for you and none ever may!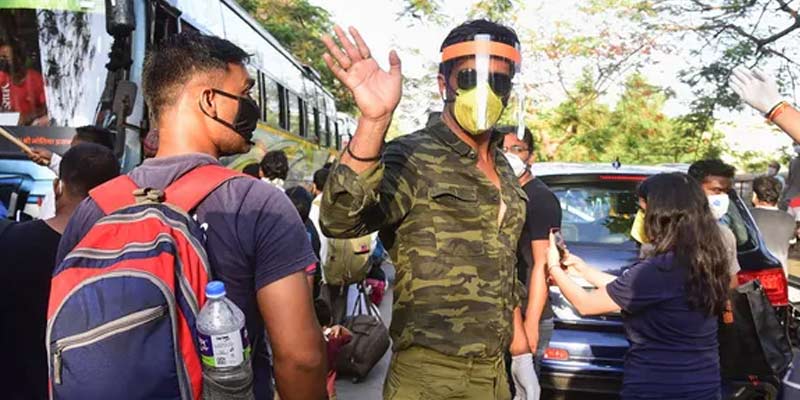 So a few hours back when Sonu Sood decided to help the migrants stuck in Mumbai but wanting to get away to their hometowns during such a moment of travesty, there were two things that the famous muscular actor did.
On the one hand, he did do his bit to address the plight of those who are under severe emotional and physical stress. For as it is, not many are actually standing up during these times when whatever one does for the underprivileged (or those from weaker sections of the society) is insufficient but priceless.
But on the other hand, he also raised a sort of hope for others to reach out to him during this grave time.
And guess what?
The latter is exactly what has happened to the famous Happy New Year actor within hours of his video helping the migrants (with food and ration delivery) got viral.
It now appears that hundreds of thousands have begun to reach out the brawny actor, who's also modelled in the past. And just what are they looking for?
Well, financial support and other forms of help during a time so dire where migrants are quite simply walking down (endlessly long paths) to reach their hometowns, leaving behind cities and townships that employed them but have fallen on tough times.
That being said, here's what Sonu Sood is actually dealing with:
Recently, the Dabangg actor who shared his contact numbers on social media for help has been bombarded with thousands of messages which are coming to Sonu for help. The actor shared a small video on his social media where she showed the number of messages that came flashing on his screen one after the other.
The Simmba actor took to his Twitter handle and shared a small video, showing how thousands of messages of people trapped in lockdown are reaching out to the star for help. While sharing the video, Sonu updated the people by saying that he is receiving everyone's messages from a fast speed. He along with his team are trying their best to help everyone. He also apologized to people for missing out on any message. 
And that being said, this is pretty much the dilemma.
How many and frequently can Sonu Sood help? While surely, given the circumstances we are in, truth be told, just about any form is help is precious, the larger question certainly is- is it feasible for one single man to help a large aggrieved lot by himself (or on his own)?
Surely, that can never be any easy – can it?
So while he definitely has set an example for the others to follow, who despite being a privileged lot, may not be doing or doing enough even to stand up for the others, how far can Sonu Sood go to console the affected?
He's proven himself to be a brave, caring, and compassionate man.
Just the kind of qualities that are so needed during these desperate times where while we are feeling 'bored' and 'caged' restricted in the four-walled comfort of our air-conditioned homes surrounding with all amenities of a steady luxury-filled life, there are countless individuals who are practically getting sun-baked walking up to their deaths on stranded evil roads (where indifference runs amock).
Suggested Read: Deepak Dobriyal Explains Why He Couldn't Be Part Of Salman's Radhe