Abhay Deol is the current talk of the town as yesterday, the actor took a bold stand against everyone who promotes the concept of fairness and then professes to be a non-racist in India. Abhay didn't spare his fellow actors and called out many famous names in Bollywood who did adverts for the fairness cream and posted their endorsements on his Facebook page.
Now, all the other actors maintained silence and spoke nothing but Sonam Kapoor (Who was the part of the series Abhay posted), couldn't keep her calm. She went too far and did something which wasn't expected from her (At All).
Abhay Deol's Post On Sonam Kapoor Wasn't Aiming To Disrespect Sonam, He Was Clearly Speaking About The Cause.
But Miss Kapoor Took It To Heart And Speaking Through Twitter She Played A Personal Card, Where She Posted A Picture Of Abhay's Cousin And Said That He Must Have Forgotten Her.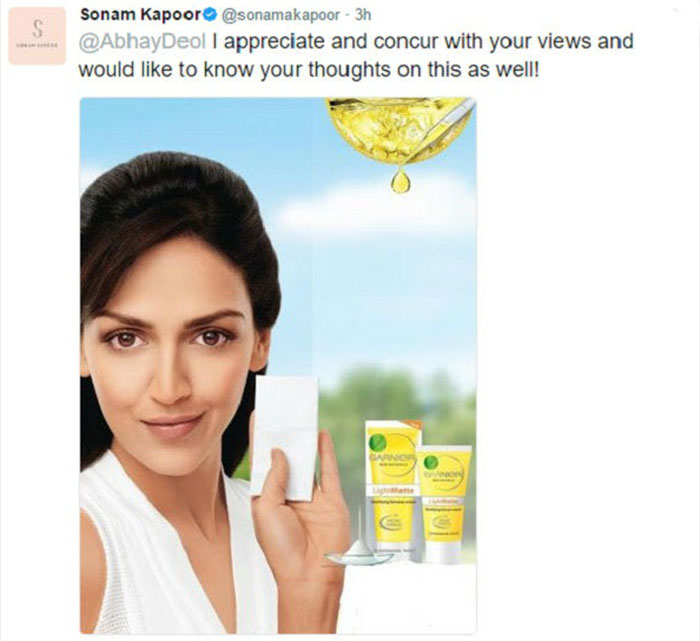 To Which Abhay Deol Replied Subtly:
Is wrong too. For my views read my post. https://t.co/Jw9CNINd6t
Well, Sonam did realize, she made a mistake and then confessed that she was too young to understand the 'ramifications' of the campaign.

But as we all know twitter never leaves a conversation like this to go by so easily. Her dig on Abhay not only introduced her to the wrath of twitteratti but she also had to delete her tweet.
Here is how twitter reacted:

1. The Biggest Question Of The Day! 
@AbhayDeol Why did you delete your tweet @sonamakapoor ? Felt ashamed that your personal attack was so uncalled for?
2. She Should Have! 
@AbhayDeol If @sonamakapoor had the patience to read your post she wouldn't have jumped the gun and dragged family in just for the sake of argument
3. Well, That's True!
@AbhayDeol Only if @sonamakapoor would have taken 5 mins to read your views instead of wasting her time looking for a pic to prove You wrong:.
4. Wrong Indeed!
@AbhayDeol It's wrong on her part to bring this personal matter to discussion on twitter.
5. Well Said! 
@AbhayDeol @sonamakapoor ppz stop playing this cheap card of dragging others family by going in past . What abhay said implies for all .
6. That's One Hell Of A Supporter! 
@AbhayDeol @sonamakapoor Wow what a way to justify it Sonam …… dragging family in it ….. it still won't make you & others right
7. Is She? Really?
@AbhayDeol @sonamakapoor is a kid! Personal attack wasn't called for, open ur eyes n see what u r endorsing 4 money n tie up wit international brands!
I Guess She Should Have Read The Post Before Coming After Abhay, But What's Done Is Done.