" Tell them not to grieve for me, for am not yet done,
Tell them to shed no tears in my passing, for I shall stay even when I am gone"
Should death be always trailed by a prolonged state of mourning? Traditionally- there's an unsaid rule of sorts- that Bollywood and the world around it follows in the wake of a celebrity's passing. We mourn the loss. We shed tears. We immediately identify a sense of vacuum that presides over a person's passing.
When the evergreen Dev Anand passed away- they gathered in London and sang, "Abhi Na Jao Chhod Ke, Ke Dil Abhi Bhara Nahin". What a befitting way to acknowledge a spirit as resplendent as Dev Anand, isn't it?
Now with Shashi Kapoor gone- should we gather and heighten emotions with gloom? Or would we rather resort to remembering arguably the most debonair of all Kapoor's with a noteworthy lyric, " Tera Mujhse Hai Pehle Ka Naata Koi"!
Great men, it is said, leave behind plenty to mourn their loss for. But, icons- souls that are beyond the reach of a 'great'- beckon to be celebrated.
We mustn't mourn Shashi Kapoor's passing. We must surely celebrate his life.
Any other facet of remembrance- would in Shashi Baba's case- imply dullness. This would be- the romantics and poets amongst us might agree- a terrible salutation for a man who celebrated life and lived each part well- with absolute honesty and utter sincerity.
Coming from a legendary family- a scion of Bollywood, the first family if you like- where Raj Kapoor stood for constructing colossal pieces of cinema and Shammi stood for milestone entertainment (and enormous handsomeness, of course) Shashi Kapoor essayed passion and refinement with absolute ease.
There was no pretence about Shashi Kapoor. Few men went about doing their cinematic duties with such pious devotion, yet remaining sagely aloof from shenanigans other than Shashi Baba- a phrase fondly used to describe the pleasing gentleman in his heydays.
Where the legendary Vinod Khanna stood for rustic good looks, the great Dharmendra personified rustic handsomeness and Dev Anand bedazzled all with his debonair looks, all it took Shashi Kapoor to diminish boundaries between him and his fans would be that electric smile. It was pure. It was genuine. Above all- he was full of it.
You couldn't be blamed for thinking that given his rose-petalled softness and silken touch- had he been a musical instrument, Shashi might have been a violin. But so handsome a violin would he have been that you would be its muse. It would essay your tune. If it were ever possible to contain the irresistible Kapoor in the vignette of a musical genre, then it would have to be Jazz; easy going, ever-lasting but, fulfilling.
Nearly every dialogue delivery by this milestone man- responsible for hits like Junoon, Trishul, Kabhi Kabhi, Jab Jab Phool Khile- was met with a cosy smile.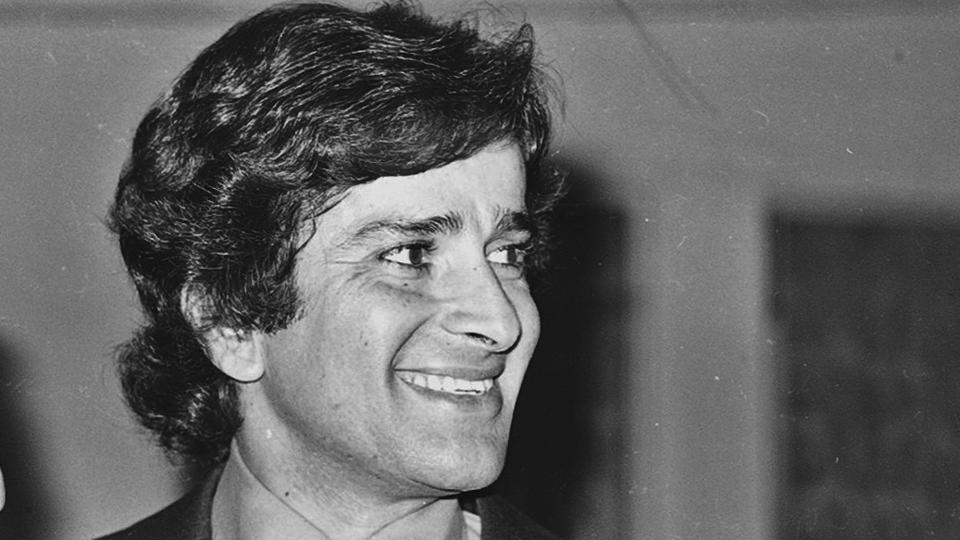 So utterly uncomplicated was Shashi Kapoor's craft, that even when he chanted the most serious, dramatic dialogues on the screen you couldn't distance his wide-eyed charm. It was as if a joy tide of energy met at every instance- a brooding intensity.
For the most part of the 1970s- whether one saw Shashi Kapoor in Patanga, Chor Machaye Shor, Sharmeelee or Deewar- redoubtable classics of their time- the man behind these cinematic masterpieces remained etched in public imagination as an honest hero. Shashi Kapoor was a star; a true blood-eyed lover boy, minus the cosmetic add-on's one finds in today's soapy love dramas.
Dramatics weren't for him. Theatrics or tantrums never defined him.
Perhaps that might be the reason one never quite found dollops of lavish literature penned on this true thespian of the Indian film industry. For that it what it was referred to before it became- at the height of its commercialisation- Bollywood.
You would hardly find any controversies about Shashi. They were content in writing about his beautiful smile and amiable personality.
He had never attacked anyone seething in anger. Nor did he ever punch a struggler or a helper in a semi- drunk state in a party slam. Where the 60s and 70s were about celebrated pieces of cinema that were smooth and touching akin to a piece of poetry, they were also very much about hefty grand celebrations. But this Kapoor kept the wits about him and conducted himself in pure gentlemanly fashion. Gossip magazines didn't get stuff to paint him in murky colours for he had never unleashed himself on glowing pretty young things, who often become hapless prey to the cantankerous beasts of Mumbai.
What else would consolidate this claim other than that of Sharmila Tagore and Shabana Azmi- Shashi's leading heroines of the 70s- speaking of his kindness and sheer cinematic immensity when Filmfare bestowed upon him a lifetime achievement award in 2010.
It was, of course, a moment of immense heartbreak to have seen the yesteryear's icon sitting helplessly on a wheelchair, mumbling words that neither his admirers could fully understand nor something he might have remembered after a brief moment of time.
After all, in Shashi Baba's sensational personality- lay our answer to the swagger of James Dean and the sexiness of Alain Delon.
In that precise moment- when one gazed upon layers of wrinkles and an aching, helpless body befuddled on a wheelchair as opposed to imagining his overpowering youthful exuberance- it became even more clear that we are all powerless in front of the changing vagaries of time.
All have courted an appeal of immortality in the court of time but the verdict has often come down declaring everything is temporary, after all.
From that moment on, it became clear that all references to this great Kapoor for times to come would be through sepia-tinted glasses, deftly touched by a twinge of nostalgia.
It only seems fitting to imagine Bombay of the sixties and seventies with the coy smile and boyish charm of this great Kapoor being an anchor to revisit those highly uncomplicated times. Shashi Kapoor's enigmatic simplicity and great suave signify that not all of Bollywood was only about Mr. Bachchan's legendary films and acting masterpieces at that time.
It reaffirmed a bold statement albeit with effervescence that something as kind and noble as a radiating smile could light up movie sets and break box office into a tizzy with memorable hits such as Jab Jab Phool Khile, Fakeera and, Aa Gale Lag Jaa.
Therefore, to make our eyes swell with teary breakdowns wouldn't be the finest mark of remembrance of this great son of India.
Even Shashi Baba himself wouldn't approve of this testament. Had he been around, he would want one to humour him. Say with a warm, cozy embrace; always with a smile, never sullen.