You might hate Shah Rukh Khan's films or love them, but there's no denying the fact that he is one of the wittiest and fun to watch person. All of his interviews are filed with a real and original portrayal of him which is not at all fake, something that a lot of celebrities carry with them. Another thing about Shah Rukh Khan that makes him one of the best person to look out to, is that he is a completely self-made man. The now Badshah of Hindi film industry, was once an outsider who knew nothing about films. He saw and has been through a lot which is no surprise for anyone.
His struggle is an optimum piece for his motivational talks and everything about the steps of his career is gold for the beginners, who also want to be like Shah Rukh Khan in their own career. Plus, he doesn't shy away from the quality of his work. While many, kind of hate Shah Rukh Khan's self-obsessed-actor nature, he doesn't absolutely care about it. All of these qualities definitely make him the man befitted for giving a TED Talk. And, he rightly did so.
Shah Rukh Khan gave his first TED Talk at Vancouver, Canada. There were a lot of things that the Badshah of Bollywood talked about, from his struggle to basically being completely self-obsessed, as a movie star should be. He talked about the loss of his father and how much difficulty, Humanity is finding in order to sustain itself at this point of time.
"You can use your energy to spread the darkness of destruction or you can use it to spread the joy of light to millions." @iamsrk #TED2017 pic.twitter.com/SOIytaFhiE

— TED Talks (@TEDTalks) April 28, 2017
"Humanity is a lot like me. It's an aging movie star, grappling with all the newness, wondering whether she got it right." @iamsrk #TED2017

— TED Talks (@TEDTalks) April 28, 2017
Shah Rukh also went on to talk about the diverse change in time, he recalled how when he was young, apple was a fruit and not a multi-billion dollar company founded by Steve Jobs. This is something that he finds difficult to keep up with. At one point he also said, "I started to feel that I couldn't be who I wanted to be or say what I actually thought. And humanity at this time completely identified with me. Both of us were going through our midlife crisis. Humanity, like me, was becoming an over-exposed prima donna. The whole world and all of the humanity seemed as lost as I was."
"We had expected an expansion of ideas and dreams; we had not bargained for the enclosure of judgment." @iamsrk on the Internet #TED2017

— TED Talks (@TEDTalks) April 28, 2017
People present at the TED Talk have said to have a gala time during Shah Rukh's piece which had everything one can expect from a good speaker. This TED Talk is actually the beginning of TED Talks India where people can come out to speak and share their ideas and thoughts while speaking in Hindi.
TED curator Anderson has described TED Talks India to be one of the most ambitious television projects for the organisation, to date. He expects the project to reach millions of people, and the episode will begin airing later this year. TED has collaborated with Star India for this project.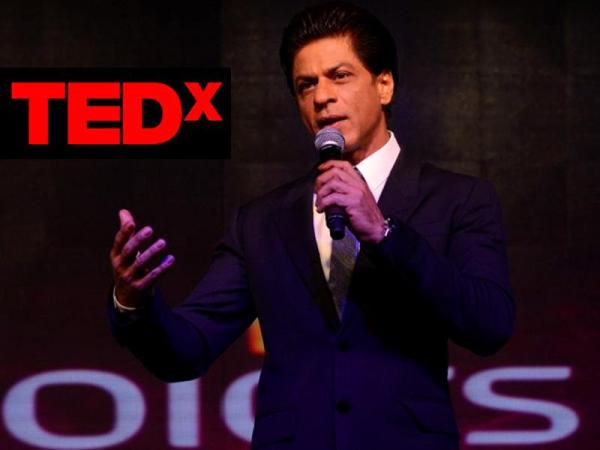 The video of Shah Rukh Khan's TED Talk will soon be released online and people are already expecting it to go viral. Many have also considered the video to go on to become one of the best ventures on TED Talk. We can just wait for the arrival, until then, here are some snippets from the TED Talk night.
"I want to tell the other @TEDTAlks speakers – they paid me for this and they're not paying you." Great @iamsrk irreverent humor #TED2017 pic.twitter.com/vdH20wsepQ

— Cindy Gallop (@cindygallop) April 28, 2017
What a dude @iamsrk really is. Smart, charming, funny, inspiring. #TED2017 pic.twitter.com/y00XcTORnc

— kevinchesters (@hairychesters) April 28, 2017
https://twitter.com/SRK_signature/status/857775037079846912
https://twitter.com/daveyalba/status/857763277719257088
.@iamsrk is charming the @TEDTAlks audience the way he's charmed the whole of India and the rest of the world. #TED2017 pic.twitter.com/2HpE9JV3df

— Cindy Gallop (@cindygallop) April 28, 2017
28th April 2017
Jyotsna Amla