Shah Rukh Khan, the king of romance who literally owes his popularity to all those 'madly in love' characters he played at the beginning of his career. Whether it was the rebellious spoiled boy in Deewana who falls in love with a widow or an obsessed lover who follows, terrorizes Juhi in Darr. All his characters displayed various shades of love and that's how he became the most romantic hero of Bollywood.
One can't deny that he has earned this title and most of the movies back in the 90s made perfect sense. However, the times have changed and so are people. The characters that he played 2 decades back would not be same today, hence we decided to reimagine the characters and storyline of his 3 such movies.
Are you ready to take a stroll with a twist?
1. Kabhi Haa Kabhi Naa
Shah Rukh Khan played the role of Sunil who is basically a loser. The friend-zoned member of a trio love triangle Sunil, Anna ((Suchitra Krishnamurthy) and Chris (Deepak Tijori), always stays as a happy-go-lucky person. Sunil tries to make Anna fall in love with him but fails miserably and in the end because of him Anna and Chris get married. After she gets married Sunil finds a girl and stays happy.
Our Version:
That was the original timeline. However, what if Sunil existed in this decade. First things first, he would have proposed Anna way ahead in life rather than dropping signals here and there. Even after being friend zoned, he would have accepted the fact that Anna is out of his league and he should move on; basically waiting for her to get married and then finding a girl doesn't make sense. If it has to be someone else- sooner the better.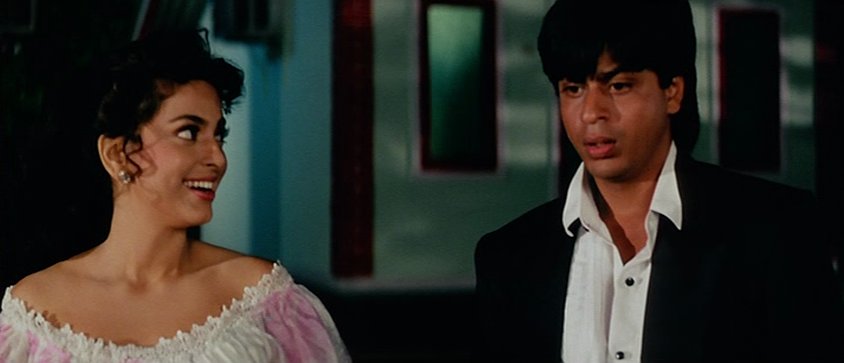 He would stop hanging out with Anna and Chris because no matter how we well pretend, it hurts to see the love of your life with someone else romancing around.
When Anna needed emotional support after being rejected by Chris' family, Sunil was there. He would have consoled her and taken things under his control, rather than waiting for Chris to come back and steal her again.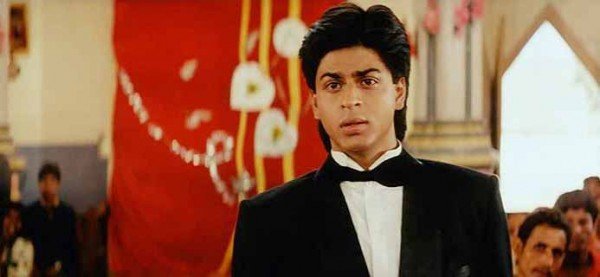 Sunil would do anything than taking Anna back to Chris to get married to him because we are all selfish and there's a minuscule chance that we find someone with whom we want to spend our entire life. Who would leave that to chance?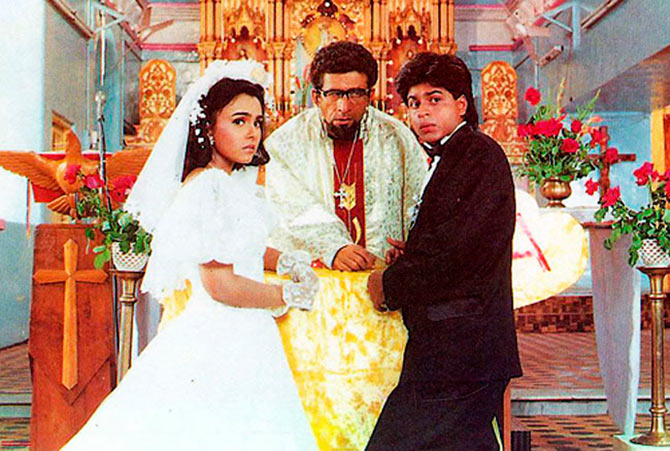 Although, Shah Rukh played his version of Sunil exceptionally, considering the fact that he played Don, he would have played our version perfectly. What Do You Think?
2. Deewana
Shah Rukh appears in the second half of the movie as Raja after Ravi (Rishi Kapoor) has been declared dead and his wife Kajal (Divya Bharti) has moved to a new city with her mother-in-law. He is a spoiled brat and rebellious son of a wealthy businessman. Raja accidentally hits Kajal's mother-in-law and meets Kajal. Love on the first sight comes true for Raja and he confesses his feeling to Kajal. She refuses explaining she is a widow, however, he persuades her mother-in-law. He gets married to Kajal after leaving his wealth and starts from scratch. Rishi Kapoor makes a comeback and Raja finds out about Rishi and Divya Bharti. However, Rishi decides to leave with his mother so that Raja and Kajal can live happily after but dies in the end while saving Raja.
Our Version.
Raja may have been a Delhite who would have been as rebellious as his original version. He would have convinced Kajal to marry him easily as in recent times widow marriage is a common phenomenon and being loved is a privilege.
He would have never left his wealth as his father would have gladly accepted Kajal, thanking his stars that Kajal is a girl. Raja would then live happily with Kajal.
Even if Ravi was back, Kajal and Raja would have moved on and made amends; because once Kajal fell for Raja and fell out of Ravi there is no point in rekindling. Even Ravi would take time to get back to his career and start a new life rather than trying to push his luck with Kajal because that guy just cheated death. You don't get it all in one life, and because he already was attacked by his evil uncle, he would have made sure that he got him arrested so that all of them could have lived happily ever after.
3. Darr
So original story gave us Shah Rukh as Rahul who is obsessed with Kiran (Juhi Chawla) but she loves Sunil (Sunny Deol) the macho Navy-Marine Commando officer. Rahul's love for Kiran is unconditional although in a creepy way because he keeps stalking her. Kiran gets strange phone calls, gifts and portraits of her, she gets scared. Sunila and Kiran get engaged but Rahul tried to kill Sunil and misses the shot. Sunil & Kajal get married but Rahul being blinded by love cause more distress in their life. Sunil on his honeymoon finds out that Rahul is one who has been stalking Kiran, he confronts him and after a dramatic fight, Rahul gets killed by Sunil.
Our Version:
The only complain a girl has in recent times is that she doesn't get as much attention as she deserves and a guy like Rahul who is probably born to love Kiran would have filled her heart with joy.
Rahul would not hide behind creepy phone calls and confront Kiran. He would confess his love without sinking in the fear of rejection. Of course, Kiran would have enjoyed the attention and jiggled two guys.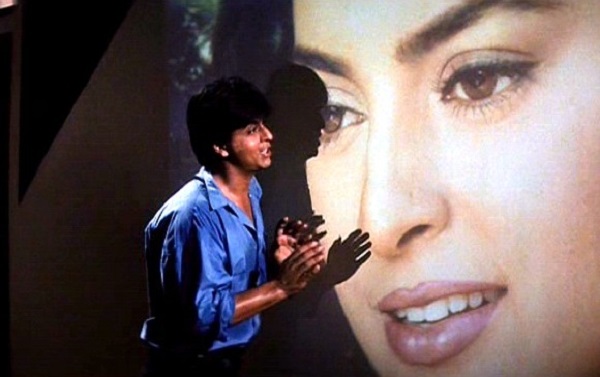 All those paintings and gifts would have worked like magical spell and rather than creepy it would have been a romantic gesture every time and considering Rahul belongs to a wealthy family; Sunil was a Navy-Marine Commando officer but Rahul's father was Sunil's Captain, she would have opted to marry Rahul.
Sunil would have admitted that Kiran can no longer be his because Rahul would never stop singing Tu Hai Meri Kiran and Kiran would have been on the 9th cloud for having a husband who literally worships her.
All of these characters will be praiseworthy characters even with a twisted version because let's admit it, no one plays a lover better than Shah Rukh Khan. We love you SRK!
11 December 2017
Avni S. Singh