Shah Rukh Khan is a rock-star. All this while we've been thinking of him as a romantic great of Bollywood- right? But guess what, not every rock-star needs to strum a guitar to be one.
Not Shah Rukh Khan, who recently swept people off their feet, in what turned to be yet another excellent exhibition of grace and wit, as only he could've.
We know him for being this great romantic lead who when appears, provokes the most dormant or untuned among musical instruments to produce hypnotic rhythms.
In fact, Shah Rukh Khan is someone who both- women and youngsters, adults and kids- admire and like.
And giving a glimpse of just why he's so highly cited, SRK – as he is popularly called- presented an instance of the wicked wit, wisdom and astuteness that make him second to none in the fluffy world called Bollywood.
Here's what happened.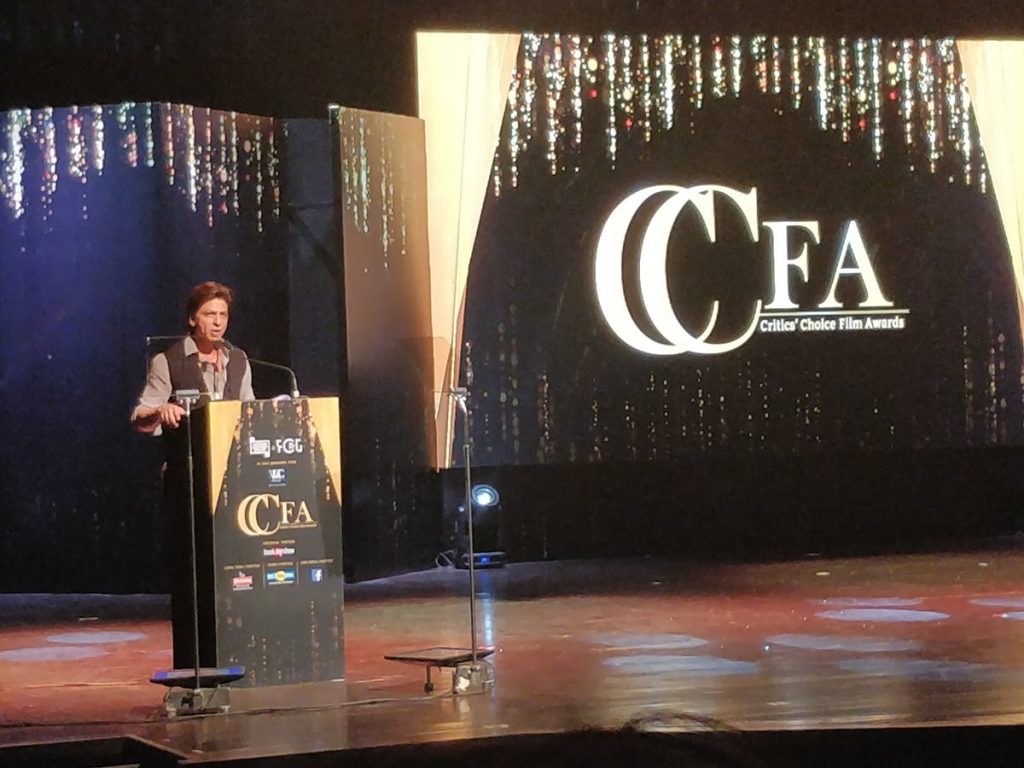 At the 2019 Critics Film Choice Awards, Shah Rukh Khan was the guy you wanted to be and therefore, basically, a figure of envy.
Of late, being subjected to a lot of critical comments about the kind of films he's been doing and their eventual fortunes- such as Fan, Zero, When Harry Met Sejal among others, which well, weren't blockbusters or game-changers in Hindi cinema, so to speak- Shah Rukh Khan, instead of losing his cool, gave some befitting responses.
The mega-star responsible for the successes like Veer-Zaara, Kuch Kuch Hota Hai, Dilwale Dulhania Le Jayenge among the many, was candid and his quick-witted self.
Here's what the Delhi-born superstar had to say at the recently-concluded Critics Film Choice Awards, 2019:
"We filmmakers have fought along to give more credit to constructive and jaded ideas. We search for art, we search for form without the essence of the stories. We find logic and disregard the free-spirit of story telling. We have to remind ourselves that truth is formless, only untruths are formed. We as film fraternity have to be truer to ourselves, to the stories we set out to tell. So I request all my critics friends here, please don't be like us Bollywood film stars, and get carried away by what Bollywood succumbed to many years ago – the star system. The star system cannot be the only way of summing up films by our critics. 3 stars, 3.5 stars, 3 and a quarter stars, 5 stars….It's a film, not a hotel for God sake. With critics sprouting all over, film critic is becoming an endangered species. Please let it not get replaced by consumer service…"
The above told, there's a reason why they call Shah Rukh Khan pretty much a no-non sense kind of an actor. And here's the thing about him. He says what he feels like and more often than not, doesn't act beyond the reel life. He isn't unlike others in his trade who sugarcoat things, double-talk or pretend to be someone or something that they are not.
Little wonder then why Shah Rukh's epic speech at the 2019 Critics Film Choice awards simply rocked the show!