He is called the king of romance. And that's nothing new. He still makes women grow weak in their knees. And he still inspires the romantics who firmly believe in the power of love in an age where often holding back and not showing feelings is the norm for there's always the digital mediums to express it.
And that said, knowing the penchant of Shah Rukh Khan to make others around him so comfortable, the man who thinks from the heart and doesn't think for a second before being there for his family, it was only natural to hear some heart-melting words from the Baadshah of Bollywood's romance.
These being in connection to a latest social media post that appeared on the famous Chak De actor's page, in connection with his doting son AbRam's drawing that, believe it or not, is among the most simple yet beautiful expressions a son could have for his father.
So now you might be wondering, what is it after all that got Shah Rukh Khan talking with profuse passion?
So here's what you ought to know.
In a recent cute cuddly drawing made by little AbRam, Shah Rukh Khan's third son, aside Aryan and Suhana, there was a simple sketch wherein the avid kid has depicted his loving father 'smiling' while he himself is next to King Khan.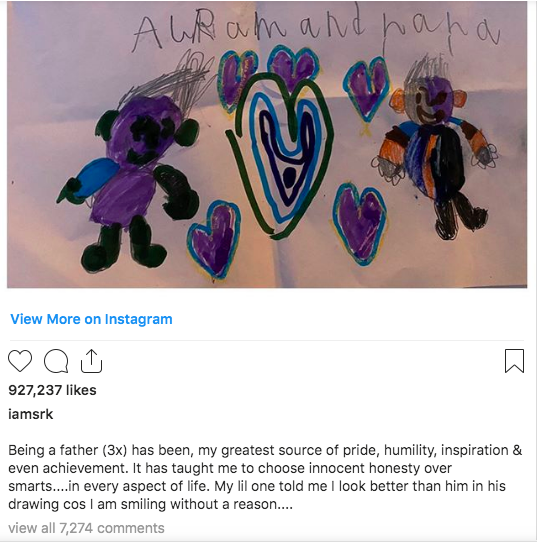 But that's not all? After all, what's so special about it?
In AbRam's own words- and these being poignant for a little one- shared that his father "looked better" and as Shah Rukh Khan himself put it, "because I am smiling for no reason!"
Now one wonders, isn't that immensely thoughtful and intelligent coming from a little kid who's no more than a 6-year-old school-going youngster?
Anyone thinking that the kids cannot emote feelings or understand things meant for people much elder to them could be taken in by a sheer surprise given the warmth in AbRam's words- what do you think?
Truth be told, there's this compelling sense of emotion and not just that, but emotional intelligence about AbRam that makes this father and son duo so utterly adorable. What do you think?