Shah Rukh Khan is the one man who can make the violins play themselves and put pianos and guitars function on autopilot. There is no melody made on earth that cannot function on his tunes and no girl anywhere in India that he cannot make grow weak in the knees.
He's not just the king of romance; he is the definition of romance. He is not just the Bollywood superstar called the king of romance, but an adjective of a star besotted with celestial powers of fame.
It honestly doesn't get bigger than this for Shah Rukh Khan. But recently, instead of his face adorning a new Bollywood film poster or an upcoming film release- as is often the case- there was a rather strange location that was glowing with Shah Rukh Khan's face.
And do you know what that was? Well, as it turned out, it was, in fact, a police poster that was decked with the cut out of the man responsible for megahits such as Dilwale Dulhaniya Le Jayenge, Dil Se, Veer Zaara and many others.
And this, of course, led to a series of questions. Everyone seemed to wonder- what was the poster-boy of romance doing on a poster that wasn't Bollywood but rather- that of the Indian police?
Well, in case, you have already scratched your head a great deal attempting to unlock a suitable answer, then you need not worry anymore. We got this covered here.
So it turned out that none other than the Assam Police used the famous signature shot of the famous Indian actor- with his arms wide open- to send a message for the civilians urging one and all to "adhere to the laws on the roads and respect the law."
While the message was conveyed rather creatively by the Assam Police who put it out on popular social media micro-blogging platform Twitter, it also got to the man himself. Well, who else- but Shah Rukh Khan himself.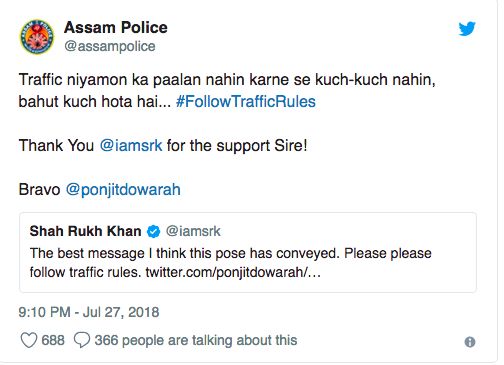 The famous romantic star got the hang of the message and liked it and even expressed his appreciation toward it.
In case you were looking for the actual wordings of the Shah Rukh Khan police message then find it here:
On Thursday, Jalukbari Assistant Commissioner of Police, Ponjit Dowerah, posted a graphic on his Twitter handle with the message: "The universal pose of @iamsrk has touched all down the ages, but please read the message also #FollowTrafficRules @MorigaonPolice @Darrangpol @cachar_police @KamrupPolice".
The Assam police also followed it up with another excellent message. Basing it on the famous romance flick, a timeless hit at that- Kuch Kuch Hota Hai- the police carried out another poster that carried the following important address.
"Kanoon aur Niyam ka paalan karne se kuch-kuch nahin, bahut kuch hota hai."
If you follow the traffic rules and law, many good things happen! With a simple and endearing message expressed toward one and everyone about following traffic rules and law- the Assam Police has hit it spot on with this one.
Haven't they? Well, of course, when the man who himself inspired the message approved it then why wouldn't it be a success?