Perhaps, the difference between Aamir Khan and John Abraham is about the same difference that's between Test and T20 cricket. On the one hand, you have sheer rigour and intensity, on the other, you have flair, exuberance.
And implicit in both versions of the sport is entertainment. This is something that abides the viewer to the game, the same way Bollywood impacts the film-lover.
But when it comes to movie franchises, films continue to entertain one and all the same way a cricket contest does. Say, a film after another like a franchise T20 contest.
And can things be any lame when they have a certain John Abraham in the midst? Moreso, can things be any mediocre or lame when John Abraham takes over a critical movie that had Aamir Khan in the first place?
Nearly two decades back in time, there was this great movie called Sarfarosh. An earnest young man, driven to end cross-border terrorism, there was pretty much everything in it, including romance, action and drama. Sonali Bendre made a lasting impact in the cinemaholic's mind the way Aamir Khan's intensity did.
John Mathew Mathan did a wondrous thing to Indian cinema when he came out with Sarfarosh, among Aamir Khan's most-loved and widely-followed movies. Now, nearly two decades later, the news is confirmed about Sarfarosh 2. This one is going to have everyone's favourite hunk John Abraham in it.
Can things be any more exciting? After the critical reception of his last release, Parmaanu, yet another movie centred on national affairs, in fact, that being a true story, John Abraham will be essaying the role of a youth driven by nationalistic fervour in Sarfarosh 2.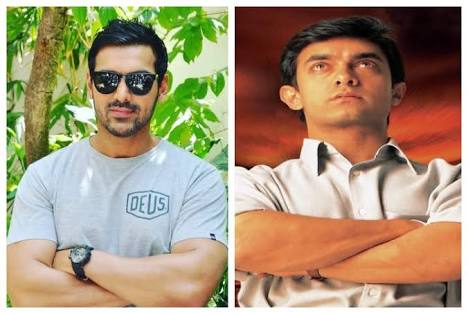 One simply can't wait to see two things in this regard. First up, that how will the story-line of Sarfarosh 2 be any different from the first flick, this being no remake of the first one.
Next up, will John's character mirror the characteristic intensity, drive and seriousness that Aamir's restrained performance in Sarfarosh depicted?
Supposed to be a sequel to the earlier and original Sarfarosh, this one will also have lots of action and adventure in it, it is believed.
Recently, actor John Abraham was also quizzed about his feeling about replacing Aamir Khan, rather fitting in the great shoes of one of the country's favourite actor, to which the tall, former model replied, "I'm very excited to play the role and am a great fan of Aamir."
Popular news outlet NDTV also published a report on the developing story, suggesting:
Confirming reports about his new film, John Abraham was quoted by news agency PTI as saying: "John Mathew Matthan and I are co-producing the film. We are still working on the script but yes it's happening with me. We plan to go on floors next year. He is probably the only director whose house I went to after seeing Sarfarosh and said 'Man what a film'." John Mathew Matthan helmed the 1999 movie as well, whose interesting cast included names like Sonali Bendre and Naseeruddin Shah.
That told it's worthwhile to remember that the 1998 release was both critically acclaimed as well as got the cash-register ringing on the box-office collection recordings. Quite like the rare combination of beauty and brains, this was a cinematic experience that was as widely received by fans as it was by the regular run of Bollywood critics.
In 1999, Sarfarosh won the National Film Award for Best Popular Film Providing Wholesome Entertainment, followed by several Filmfare trophies.
Interestingly, Sarfarosh 2. is being jointly produced by both John Abraham- its lead actor- and John Mathew Matthan. The only question is, will this one be able to pull in the audiences the way its famous predecessor did.