Salman Khan is the most talked topic on today's list of Indian social media after a Jodhpur court acquitted him in an Arms Act case that had been filed against the actor in 1998. While people love Bhaijaan's movies and admire his charity work but after the decision came out, many people just couldn't take 'how Salman gets into a criminal case yet manages to get acquitted every single time'. (After all, crime is crime and people should be punished if the INDIAN LAW finds them guilty).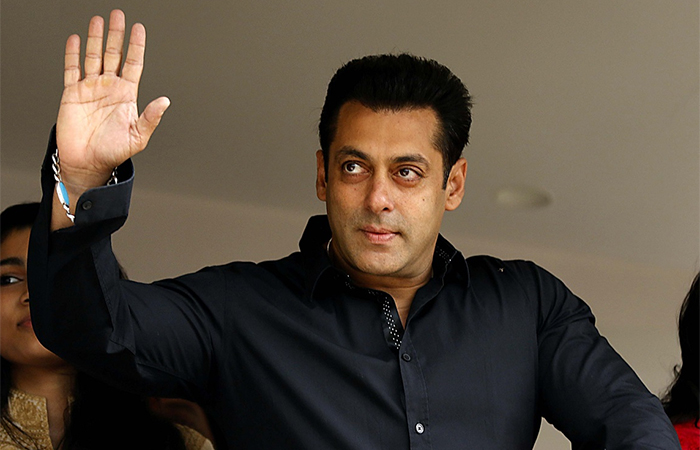 #FLASH Jodhpur CJM Court acquits Salman Khan in the Arms Act Case.

— ANI (@ANI) January 18, 2017
So Salman, who is famous for coming out innocent of any case registered against him, once again cleared the allegations and is acquitted of all charges in the Arms Act case, for hunting two black bucks in 1998 in Kankani village, Rajasthan. The verdict is given 18 years after the case was registered by CJM Court, Jodhpur and Twitterati are not at all happy about it. They are sharing their disappointment on twitter in a rather sarcastic way and we just can't stop sharing the bizarre reactions.
This Is How Humourous Yet Sarcastic Twitter Went On Blackbuck Case:
1. Kick Mode On!
Salman Khan right now :-
Dil me aata hu Jail me nahi#SalmanKhan #SalmanVerdict #JodhpurCourt #सलमान खान बरी #ArmsAct@DeemagSePaidal

— Patrakar Popatlal (@Toofaanexpress) January 18, 2017
2. Stated Accurately!
https://twitter.com/yganesh0208/status/821608762523975681
3. Kyuki Bhai Kabhi Jhoot Nahi Bolte!
https://twitter.com/WoCharLog/status/821605045200363520
4. In The Meantime, They Can Conduct Hearing Of Another Case!
#SalmanKhan I dont know why they are wasting court's time on Salman Khan. Just say He is innocent in every case.

— Deepak Joshi (@djlive5) January 18, 2017
5. It Was All A Well Planned Illusion!
No one killed the #BlackBuck No one was carrying a weapon. It died of shock and presented itself on plates 🙂 #IllegalArmsCase #SalmanKhan https://t.co/Y8hwZJrKQ2

— seemi pasha (@seemi_pasha) January 18, 2017
6. Ahem! Anything Is Possible… Or Bailable!
Waiting for @abhijeetsinger to say that it was the black bucks' fault they were living in that jungle. #SalmanKhan

— Akhil Tandulwadikar (@drunkcaveman) January 18, 2017
7. The Truth Behind The Story!
So finally
Truth is here with evidence
Truth – the owner of guns was chinkaras
Evidence – here it is

Arms Act
Jodhpur#SalmanKhan pic.twitter.com/ZXHsGzyHHb

— TARUN (@tkcthousand) January 18, 2017
8. Bhai's Advocate Just Got A New Client!
#SalmanKhan free from all charges and here I am accused for anything wrong that happens in the office!

— Rohan Kalia (@nomadicrohan) January 18, 2017
9. Are You Gonna Vote?
#SalmanKhan should become?

— p (@prateekreports) January 18, 2017
10. Hit And Run!
Story of Black Buck
Pic1~I Came
Pic2~I Saw
Pic3~I Ran#SalmanKhan #JodhpurCourt pic.twitter.com/Ofmc2Tbomt

— BATOLEBAZI 🏹 (@BATOLEBAZI) January 18, 2017
11. Makes Sense Or Nonsense?
सलमान तो कोर्ट से ऐसे छूट जाते हैं जैैसे रोज के खाने में मेरा सलाद छूट जाता है।#SalmanKhan

— abhishek (अभिषेक) (@abhikm_qaafila) January 18, 2017
12. And That's How Those People Were Killed!
Soon it will be proved that the blackbuck acquired the illegal arms from the driver and they both went for a late night drive in Bandra.

— Shilpa Rathnam (@shilparathnam) January 18, 2017
13. Looks Like There Is A Major Improvement Suggested!
https://twitter.com/ROFL_India/status/821606224483545089
14. Well Almost…
सलमान को आर्म्स एक्ट में बेनिफिट ऑफ़ डाउट मिला..
जैसे ट्रेलर की वजह से उनकी फिल्मों को मिल जाता है..! 😂😂 #SalmanKhan

— Amit Tiwary / अमित / امت (@amit_tiwary7) January 18, 2017
15. Could Be True!
#SalmanKhan after hearing today's judgement #blackbug #jodhpur #SalmanVerdict @BeingSalmanKhan pic.twitter.com/WSxPOzEstw

— amit (@amit_nirvana) January 18, 2017
16. May Be Someone Is Writing The Script Already!
#SalmanAcquitted – BHAI KI NEXT MOVIE —- DRIVER RETURNS!!

— KP (@KP_tigerstyle) July 28, 2016
17. The Best Explanation Ever!
Just Salman Khan things. pic.twitter.com/IRhb4O038Q

— Godman Chikna (@Madan_Chikna) January 16, 2017
18. Sabka Sapna Money Money!
https://twitter.com/sagarcasm/status/757455259107258368
19. The Whining !
"Bhai aaj mere wale case me bhi bari ho gaya wo" 😢 pic.twitter.com/4aqQ2R0W0P

— Rofl Gandhi 2.0 🏹🚜 (@RoflGandhi_) January 18, 2017
20. That's What It Seems!
2015: "Salman Khan wasn't drunk"

2016: "Bhai didn't kill the blackbuck"

2017: "Actually the blackbuck was driving Salman's car that night"

— Akshar (@AksharPathak) July 25, 2016
21. Perfectly Placed Evidence!
https://twitter.com/SRKswarrior/status/821604448468422656
What Would Be Salman's Reaction After Reading All These Tweets?
Follow us on Facebook, Twitter and Instagram for more updates. Don't forget to like and share. Do tell us your views in the comment box below.
18th January 2017
Avni S. Singh