Actor Hrithik Roshan's upcoming film Super 30 now finally has a release date. In case you were wondering, a bit like many others as to whether the film ran into any issues, well all of that now stands corrected. Nothing could be further from the truth that the film may have run into issues.
The only issues, however, that Super 30, based on the life of remarkable mathematician from Bihar, Anand Kumar, was facing was those concerning the movie's release date.
And finally now, after a lot many erratic delays with regards to the release date, the film is going to have a final date.
The film will be released on July 26, 2019, so block your dates, book your tickets and await what promises to be a tell-it-all tale of the trials and tribulations of one of the country's most unsung heroes- Anand Kumar.
The actor, gung-ho about his new film role took to microblogging platform Twitter to share the exciting news surrounding the release date of his forthcoming movie, Super 30.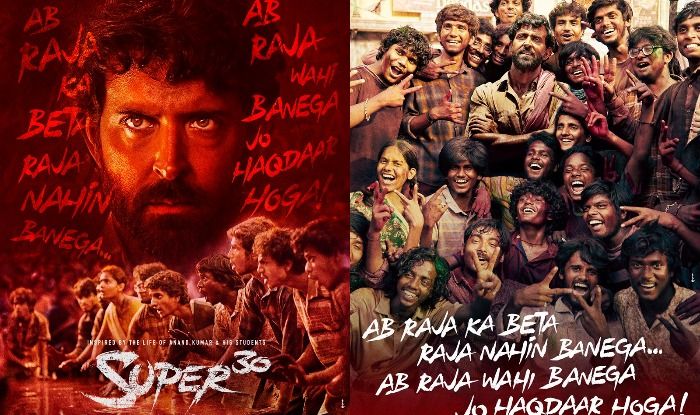 And here's some perspective about Hrithik's forthcoming cinematic appearance that seems at some length from quintessential, poppy Bollywood capers.
While actor Hrithik Roshan has played many a versatile character in what is already a two decade long Bollywood journey, seldom has he played the role of an out and out common man, one whose feet are firmly planted on the ground and whose life couldn't be further from the trappings of luxury and material wealth or comfort.
But one mustn't forget that in both Mohenjo Daro and Kaho Na Pyaar Hai did he play earnest characters hailing from struggling background, having played a farmer in the former.
Yet, the challenge that Super 30 presents Hrithik with is something exceedingly interesting.
It could be said that his role as one of India's most enigmatic albeit simplistic mathematician- Anand Kumar- who dedicated his entire existence to the upliftment and benefit of his students is something that seems out of the extraordinary. This is for the simplest reason that Hrithik's charming looks, suave personality and hunky aura afford him an urban persona, which is miles away from the common milieu residing in the country's hinterland.
But having said that, the actor, noted for his ability to get underneath the skin of his character- being a slacker youth in Lakshya to being the son of a multi-millionaire in Kabhi Khushi Kabhi Gham, having played a wheelchair-bound former magician in Guzarish to donning the hat of Emperor Akbar in Jodha-Akbar- there's hardly a doubt about the superstar's caliber.
But what excites one and all about Super 30 is the fact that it poses upon Hrithik a dual challenge so to speak.
On the one hand, he would be expected to etch the life story of a man who one knows mostly through the running of a successful coaching institute in Bihar, on the other, Hrithik will find himself challenged to tell his audiences that there's still a lot more than he has on offer instead of running into vile controversies surrounding his flings and love life. And all of this and more makes the prospect of watching Super 30 interesting. So now that you know the release date, what are your thoughts?