Priyanka Chopra, Global Movie Star, is currently in Berlin, Germany to promote her recent international film, Baywatch. And, while she's in Berlin, she got to meet Prime Minister Narendra Modi, who also happens to be in there for his 6-day Europe tour. Priyanka went on Instagram and Facebook to share one of the pictures from her meeting with PM Modi, which was a rather exciting event for her.
However, PC was soon trolled by some hardcore trolls for her clothing choices, when she met the Prime Minister. Funny how they categorised her clothing choices as uncultured and ridiculous, and even went on to term her as someone who doesn't respect her elders. Many other ridiculous claims came under PC's way and this took us back to the time when people fighting about tolerance and intolerance level in our country, seems like we kind of have the answer to it now.
Along with the photograph, she also captioned her photograph as, "Thank you for taking the time to meet me this morning @narendramodi Sir. Such a lovely coincidence to be in #berlin at the same time. (sic)".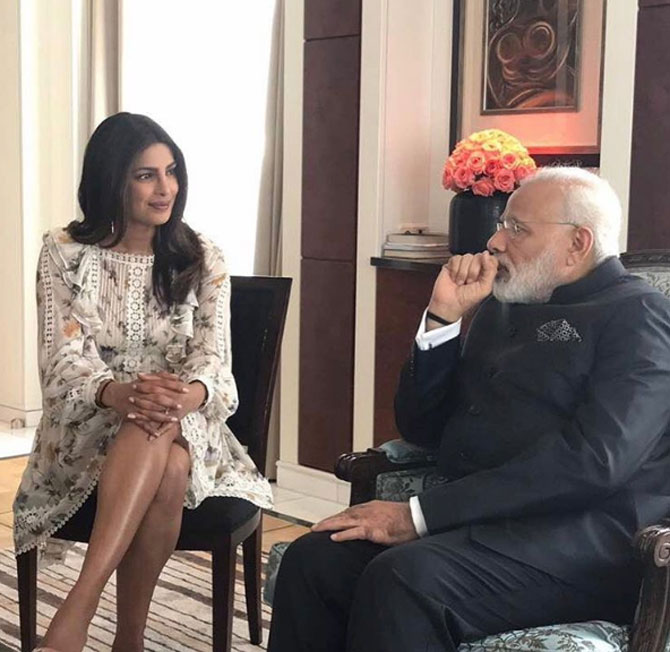 There were many who made light-hearted jokes about the picture, but some just went downright blatant with their opinions. These were the statement that people commented under Priyanka's post and called her shameless and many other things, along with questioning her character.
As ridiculous these comments actually sound, they have been written by people, who obviously don't know the concept of – let people wear what they want to. Many even came in support of PC and joked about all the responses that she was getting regarding her clothes.
Unfair how Priyanka Chopra deliberately disrespected Modi by wearing that short dress, but at the Met Gala she wore 20 metres of respect.

— Akshar (@AksharPathak) May 30, 2017
Priyanka chopra wears a skirt

HOW CAN U WEAR IN FRONT OF PM NO RESPEXT?

PM wears suit with name printed on it

LET HIM WEAR WHAT HE WANT

— Tanmay Bhat (@thetanmay) May 30, 2017
People attacking Priyanka Chopra for wearing skirt have the same mentality of those who keep their woman wrapped in a black cloth.

— Krishna (@Atheist_Krishna) May 30, 2017
Can't believe Priyanka Chopra didn't cover her legs in front of Modiji. Now he knows that she is not a mermaid.

— Priya Malik (@PriyaSometimes) May 30, 2017
How can Modiji wear short clothes does he not respect Modiji? pic.twitter.com/lDiL582Bbz

— Tanmay Bhat (@thetanmay) May 30, 2017
For people slamming Priyanka Chopra @priyankachopra , its not the length of her dress but the shortness of your sight, please grow up !

— Wondering Woman 🇮🇳 (@indiclogic) May 31, 2017
However, after the MET Gala trolling, we all are now pretty aware of Priyanka's preference while dealing with trolls. She doesn't shame them, but just be her real self and completely roll over, and she did this once again. Earlier today, PC posted a picture of her with her mother, partying in Berlin and the duo can be seen rocking a dress. Priyanka intelligently captioned her image, "Legs for days…. #itsthegenes with @madhuchopra nights out in #Berlin #beingbaywatch".
And her fans, or basically everyone, is cheering PC for her smart move, and even we feel the same way.
Go Priyanka! Go!
31st May 2017
Jyotsna Amla