Long before the term glamour even became a recurring phrase and perhaps an overused one, it came to depict a glorious woman. Long before women like Madhuri Dixit, Aishwarya Rai or Suchitra Sen further beautified beauty, a revered artiste personified the phrase.
And long before, tragedy could define so many undercurrents of life and became a principle subject whether describing crimes against women, poverty, financial upheaval, emotional torment or any other facet, it was exemplified by a woman of substance.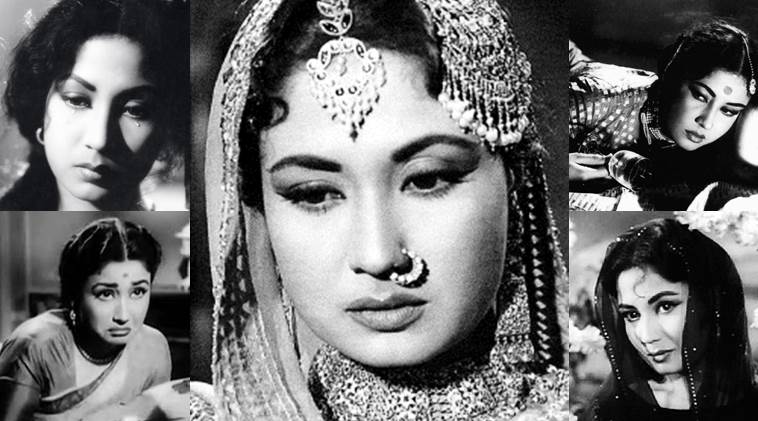 That woman was Meena Kumari. They don't make women like that anymore. None before her and none ever since have come to beautifully represent an intersection of tragedy and beauty as exemplarily as Meena Kumari.
She would have been 85 on August 1, 2018.
Google is paying an ode to her. Websites are writing about her with rich vigor. Bollywood has plunged into a pause, perhaps one of remorse, perhaps one that's a bittersweet feeling, one where there's as much pleasure about celebrating Meena Kumari's memorable film-journey is coloured by the sadness reflected in her personal life.
Born in a small chawl in the heart of Mumbai but rising to become a princess of the colorful world of cinema, Meena Kumari's life was not as memorable as some of her on-screen characters.
Her husband, also a noted director and screenwriter Kamal Amrohi didn't quite know what to do with his wife, the national heartthrob of a country so utterly smitten by Meena Kumari's haunting eyes, melancholic presence and, rich candor.
The duo may have seemed like a normal, everyday couple to others but deep inside, were only just. It's hardly an irony that films like Abhimaan, released quite later than Meena Kumari's active days were dealing with sensitive subject of man's jealousy regarding his wife's success.
Meena Kumari's on-screen portrayals- bearing a characteristic imprint of soul-crushing sagas and emotional turmoil effervescently captured the curious eye of the cinemagoers.
She was born to amaze and become a lasting symbol of grace. Meena Kumari was unputdownable, unavoidable and a pearl amidst artificial stones around her.
Could there have been another Pakeezah other than her? Could Sahib, Biwi aur Ghulaam have had any other cinematic giant replace her? Could Baiju Baawra been made minus Meena Kumari?
Never one with the crowd and never away from it- Meena Kumari seemed doused in despair, never separated from it.
And perhaps it was this characteristic suffering that she so effortlessly portrayed in many a celebrated female character that upheld both her artistic integrity and the fame her talent afforded her.
The poise, the hauntingly beautiful eyes, the unalienable presence once the camera was on all made Meena Kumari a timeless star of her time.
Call her the female James Dean of the 50s and 60s for personifying the pains and agonies of women of her era if you like. Akin to the great James Byron Dean who epitomized the frustrations and angst of the teens in America, Meena Kumari echoed the bitterness of love and the embitterment associated with romance with characteristic flair.
To that regard, what carved her in a niche of her own was that Meena Kumari wasn't just an actress alone. She was a poetess. Nearly abandoned by her father when she'd been barely a few 'minutes' old in 1935, only to be embraced later, pain was as central a tenet to her life as romance to Bollywood movies.
And instead of being admonished by this poison chalice of an emotion, Meena Kumari uplifted cinema by a transcendence that was rare to hear and even rarer to actresses of her archetype- beautiful, endearing and, very intoxicating.
If Pakeezah- her greatest cinematic role till date- took 14 years to be made, then it was because of a reason. You don't just construct monuments that beat limits of human imagination just like that- don't you?
Could a courtesan be as graceful and unpolluted as her- you asked, awe-struck by the grandeur of her mystic personality? Could the widowed Shanti in Phool aur Patthar been any more charming and captivating than Meena Kumari?
It was only a matter of time- at that time, one feared- that the listlessness of her married life would take the better of her. And thus began a long draining courtship with the bottle. In the end, even after undergoing treatment in Switzerland, India's timeless fragrance on the celluloid screen experienced a downward spiral in health, from which she would never recover.
In 1972, Meena Kumari died and left behind a perpetual void. Actresses have come and gone but none have so humanely represented the longings and blossoming; the ups and downs of a spirit as avidly as Meena Kumari.