During the 90s in Bollywood- a time where Akshay Kumar wasn't yet a superstar, Mr Bachchan's plot had witnessed a sudden down in fortunes and the Khan-trinity was consistently churning a hit after hit- there was an actress who all wanted to take home. It wasn't Preity Zinta. Rani Mukherjee perhaps wasn't the answer.
As beautiful as she looked, she was gifted with a voice of mellifluence. Sonali Bendre was a one of a kind beauty. To this day, where one hardly sees her in front of the camera and mostly not missing in action in award ceremonies and Bollywood galas- she's still enchanting.
Arguably, in an Indian milieu decked by cinema and defined by glamour, Sonali Bendre- was quite simply, glamour in itself. Albeit, being in its most sedate form.
How many actresses- it ought to be asked- needed makeup or had to apply something to look great and stand out? Nine on ten is a good stat, isn't it?
Sonali Bendre didn't need it. She gave the camera its only real worth.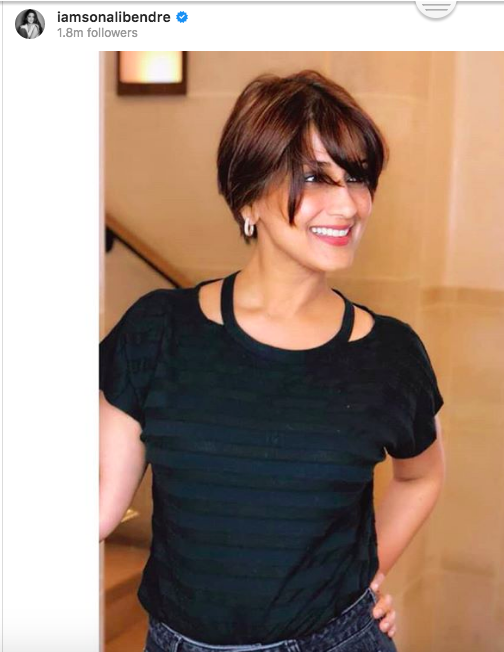 Few other women possessed the rare combination of an inherent goodness and beauty and Sonali Bendre was every man's crush. Perhaps, she still is. But at the moment, what's making news, even more than the great beauty of this flawless looker is the fighting spirit she's demonstrating as she battles cancer.
Currently in the Big Apple New York, as Sonali Bendre undergoes treatment for the great malady of her times, her positive Insta stories and posts highlight a personality who's more than just a charmer; but in fact, a really positive person. Alas, our true solid selves are often revealed in terms of adversity.
Through very peppy, bright and forward-looking messages like #OneDayAtATime and #SwithOnTheSunshine- Sonali contends that she's happy to take each day as it comes and has a larger than life but pivotal message for those who are constantly wishing and praying for the enchantress' betterment.
That she's just shared that she's not alone when it comes to fighting cancer and that there are several others like her who are fighting their own battles seriously underlines the courage and strength our favourite actress has. Just how many, one's got to ask, would've demonstrated such fighting audacity in such torrid times?
The Mumbai-based actress also states that she's fortunate to receive so many overwhelming messages and wishes from her admirers and supporters, a bevvy of whom are in India. After all, what does one need in desperate times? Isn't it an extension of one's support and good faith that provides the healing or resuscitating balm amid despair?
The Hum Saath Saath Hain actress was thanked those who wished her well by sharing that she's moved by the outpouring of love she's received amid duress. And she had an important message for everyone, whether in Bollywood or elsewhere:
"In the words of my favourite author Isabel Allende, 'We don't even know how strong we are until we are forced to bring that hidden strength forward. In times of tragedy, of war, of necessity, people do amazing things. The human capacity for survival and renewal is awesome'," is how she began her Instagram note.
And, she didn't stop there. She would add, "Sharing my journey is also part of this process… I can only hope it reminds you that all is not lost and that someone, somewhere understands what you're going through."
Well, Sonali we knew just how beautiful you were and were so smitten by your charm. And now, perhaps, it's time to tip our hat to you for displaying great courage and for being so utterly human and sane amid a testing time. There's little doubt that you will emerge victorious in this great battle of yours.
RapidLeaks wishes the famous star a very happy and positive recovery.