One of the most successful and talked about movie of this year – Udta Punjab, which fought against all the odds and was highly praised for its storyline, characters and actors is appearing to be plagiarised. It bears a striking resemblance to Ben Elton's – High Society in more than one way.
High Society is about UK's booming drug scene, and has characters like Tommy Hanson – one of the most successful Pop Star in Britain and a drug abuser,  Jessie – a 17-year-old girl who ran away from her home in Scotland to London and was abused into prostitution by a pimp as well as in drug addiction, and Commander Barry Leman – a high ranking police officer who wants to serve justice and goes against a big politician for his involvement in drugs surfacing.
All these character are very similar to Abhishek Choubey's Udta Punjab characters like, Tommy Singh (Shahid Kapoor) – a Punjabi Rockstar who is heavily involved in drugs consumption, Mary Jane (Alia Bhatt) – who shifted from Bihar to Punjab to work on farm and gets forced into physical, mental and drug abuse, and Sartaj Singh (Diljit Dosanjh) who went on to expose the drug situation in Punjab which is led on by some of the most powerful political leaders in the State.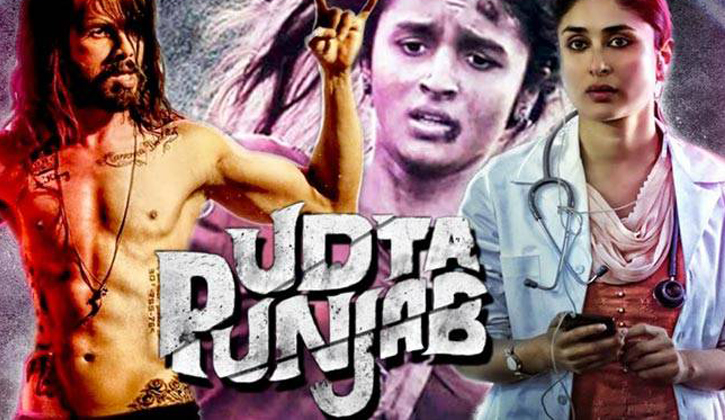 Apart from the character, there are many other things that would make you sure about the coincidence that the book and the movie share.
1. Tommy and Jessie met exactly like Shahid and Alia's character, that is, while Tommy was running from the angry crowd, Jessie had run away from the brothel she was locked in and was escaping the pimp.
2. Even the reason of existence that Tommy Singh achieves once Mary Jane was taken away in front of his eyes, is exactly same in the book.
3. Tommy Singh's fans and people around were often seen wearing t-shirts with "Gabru The Crew" written on them, and the people around Tommy (from the book) and his younger audience were used to wear necklaces with "Tommy's Crew" laminated on them.
4. In the movie, Tommy gets a tattoo called "Fuddu" which means an idiotic person in Punjabi as well as female's genitals. Tommy (from the book) visit a tattoo parlour and asks the artist to shave his head as well as gets "Twat" tattooed, which is a British slang for a stupid person and even female genitals.
5. Mary Jane's and Jessie's dream is to relax at a peaceful place like a beach which gets fulfilled in the end, in the book as well as the movie.
6. The name of the book and the movie is also very much alike, as High in Hindi is "Udta" and Society has been replaced by "Punjab", where the story takes place.
Film's director hasn't had yet confirmed anything but the scriptwriter Sudip Sharma has disagreed that High Society was the inspiration behind Udta Punjab. But Sudip has said that he read Ben Elton's book a long time back but doesn't remember most of it.
Follow us on Facebook, Twitter and Instagram for more updates. Don't forget to like and share. Do tell us your views in the comment box below.
28 September 2016
Jyotsna Amla