The only way you have escaped the news of Salman Khan being imprisoned for jail for 5 years, if and if only you live under a rock, and if that's the case then even this piece won't reach you. Which means, all of you reading this already know about the news of the hour, day, week, month and year. Salman Khan is a convict and he'll be spending 5 years in jail for his blackbuck poaching case.
The verdict, in this case, might be a little too late, 20 years to be precise, but one just can't be thankful enough for its arrival. The case had a total of six accused and from all of them, only Salman Khan has been convicted while others were acquitted. This includes Saif Ali Khan, Tabu, Sonali Bendre and Neelam.
The verdict was given yesterday, and by this our, Bhai has already spent a night in jail and would have to spend another one since his plea for bail has been pushed for another day by the judge.
But that's not the news, even though media is constantly busy in dwelling one out of it. The news is how fellow actors from B-town are reacting to the news.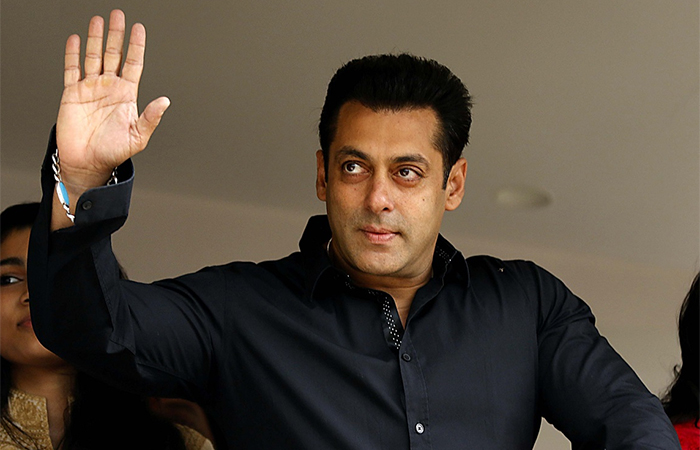 By now, everyone who knows about Bollywood is also aware of the power that Salman Khan holds in the industry. This includes his ability to make or break one's career. He has done it in the past and isn't ashamed of doing it again, if possible. Which is why more and more people in Bollywood are no less than yes-men when around Salman or talking about him.
In fact, not just movies, even the television industry of the country heavily believes in the power and charisma of Salman Khan for an elevation in their career. Plus, he has shared a fair amount of his career these days, hosting something or the other kind of reality show on the television.
All of this makes up for an interesting Twitter watch in terms of seeing which celebrity had what to say on the verdict given to Bhai. While some blatantly supported him and requested the judiciary to re-think about the decision considering his changed past and humanitarian, others simply came out to trash talk about the laws in India. There were some who thought that 5 years was too long of a time for something like this. Then, there was Rakhi Sawant who managed to find a conspiracy theory of her own in the entire case. Check out all of these reactions over here:
#SalmanKhan should have been given relief for his humanitarian work: #JayaBachchan#BlackBuckPoachingCase

Read @ANI story | https://t.co/0G8nkOd0fc pic.twitter.com/izgX4IIhIZ

— ANI Digital (@ani_digital) April 5, 2018
https://twitter.com/rohitroy500/status/982102623393267712
The law takes its course. Can't argue it. But at this point in time I just feel helpless and my heart goes out to @BeingSalmanKhan and his family. Reason, cause the last thing @BeingSalmanKhan is, is a criminal.I feel this is too harsh. I do hope he gets the relief he deserves.

— arjun rampal (@rampalarjun) April 5, 2018
Really Sad to see my friend Salman khan sentenced for 5 year But the Law must take its course & we got to respect the decision of honourable court of India but i still think punishment is to harsh but my heart goes to his family & fans ..
Am sure he will out soon ..

— Shoaib Akhtar (@shoaib100mph) April 5, 2018
I know for a fact that Salman bhai and his family have the utmost respect and faith in our judiciary system. @BeingSalmanKhan is one of the strongest and most genuine people I know and I'm sure he will come out of this stronger.

— VarunDhawan (@Varun_dvn) April 5, 2018
Tough times dont last…tough people do…waiting for tiger to be back @BeingSalmanKhan

— Maniesh Paul (@ManishPaul03) April 6, 2018
https://twitter.com/ShindeShilpaS/status/981840886408597504
https://twitter.com/suyyashrai/status/981827257042796544
https://twitter.com/suyyashrai/status/981829032340631552
https://twitter.com/suyyashrai/status/981830959103295488
Today has been a very mixed emotion day with @BeingSalmanKhan news strange u don't meet someone ever n still u can feel so much pain for tht person ! I'm kinda sad n I wish him n the whole family lot of strength in this tough time…#allahnigehban🙏🏻

— Shama Sikander (@shamasikander) April 5, 2018
Andha kanoon!!! https://t.co/Y4kDAP51qD

— Kamya Shalabh Dang (@iamkamyapunjabi) April 5, 2018
वाह रे क़ानून! Rape और Murder के Victims चक्कर पर चक्कर लगाते रहते है उनका कोई Insaaf नहीं। एक आदमी @BeingSalmanKhan जो कितनी Charity और Proper टैक्स भरता है। उसको 20 साल पहले Incident के लिये फँसा रखा है! #IStandWithSalmanKhan #BlackBuckPoachingCase

— मनवीर महाराज सिंह (@imanveergurjar) April 5, 2018
Obnoxious as ever !! #SalmanConvicted pic.twitter.com/eHYMRMIjHi

— Yo Yo Funny Singh (@moronhumor) April 5, 2018
Apparently #SalmanKhan is convicted because he's Muslim and Saif Ali Khan is acquitted because he's Hindu/Sikh/…/…./…?
What logic? #SalmanVerdict #SalmanKhan #BlackBuckPoachingCase

— Koena Mitra (@koenamitra) April 5, 2018
I respect the law but must confess the verdict saddens me. My heart goes out to @BeingSalmanKhan & his family members. 5 yrs is too harsh! I hope they review the decision, in lieu of his great humanitarian work & grant him bail tom 🙏#WeSupportSalmanKhan #BlackbuckPoachingCase

— Rahul Dev (@RahulDevRising) April 5, 2018
I am extremely shocked to hear @BeingSalmanKhan being convicted by session court but also having full trust in indian judiciary which has many other doors to appeal for final justice whatsoever. Since He is most loved person by industry N people for his human reasons too.

— Subhash Ghai (@SubhashGhai1) April 5, 2018
Of one thing I am dead sure..@BeingSalmanKhan would NEVER EVER harm any animal. He loves them too much. The real culprit should be exposed. 20 years is too long to bear someone else's cross..

— Simi Garewal (@Simi_Garewal) April 5, 2018
The reason @BeingSalmanKhan can walk into jail like this is as he knows he is NOT GUILTY. pic.twitter.com/ZlaqInO5MS #BlackbuckPoachingCase

— Priya Gupta (@priyagupta999) April 5, 2018
This is so like @BeingSalmanKhan. Police inside the jail thought he would make demands. He did not even demand special water. He wants no special treatment. Easy to misunderstand him as he has high resilience but he is a great human being. pic.twitter.com/wQ7YYZXBz8

— Priya Gupta (@priyagupta999) April 5, 2018
Extremely saddened by hearing about @BeingSalmanKhan , I have full faith in the law, and I hope they get lenient on behalf of the great humanitarian work that he is doing. #Salman Khan #WeSupportSalmanKhan #BlackBuckPoachingCase

— Naved Jafri (@NavedJafri_BOO) April 5, 2018
Saddened by the #SalmanKhanConvicted verdict.its like sentencing him for 25 years. I hope he is out soon . #WeSupportSalmanKhan .hes a good man as far as I know.

— Arjun Bijlani (@Thearjunbijlani) April 5, 2018
Such outdated archaic laws in India that really need to be changed! Parts of our legal system needs a revisit! Any1 can file a case on anyone! One court says not guilty other says guilty! People thrown from court to court! @BeingSalmanKhan doesn't deserve this at all! Ridiculous

— Raj Kundra (@TheRajKundra) April 5, 2018
Some might call all of these comments to be mere attempts of being in the good books of Salman Khan, and while it might be true to some extent, there are a lot of reactions that just can be explained.
But, what do you think about the verdict?
Jyotsna Amla