While people all around the world are celebrating and fasting during the holy month of Ramzan, there are some in India who can't stop themselves from moral policing a woman for wearing whatever she wants. I mean, how could she? Isn't she aware of the rules of this society, moreover, isn't she aware of the non-existential rules of non-existential trolls on the Internet?
Hina Khan is the latest victim of slut-shaming or any other kind of shaming one wants to count this incidence in, where she was surrounded by trolls for her clothes.
All of this started after she shared few pictures and videos of herself on Instagram, where she's wearing some really beautiful dresses, considered "revealing" in the eyes of online trolls. And, because the Internet offers one a safe space to say and do anything they want with the added bonus of animosity and no repercussions, she was attacked by them.
A series of abuses, policing and what not was aimed at her in the comment section of her pictures. People came ahead to say that she should not be considered a Muslim, since she wore clothes like these, others questioned her to even think about wearing something like this in the month of Ramzan.
Here are few of the images she posted:
https://www.instagram.com/p/BjSsDFaBywB/?taken-by=realhinakhan
https://www.instagram.com/p/BjT1gvABxTG/?taken-by=realhinakhan
https://www.instagram.com/p/BjT1y2SBqt4/?taken-by=realhinakhan
Here are the comments she received on her clothing: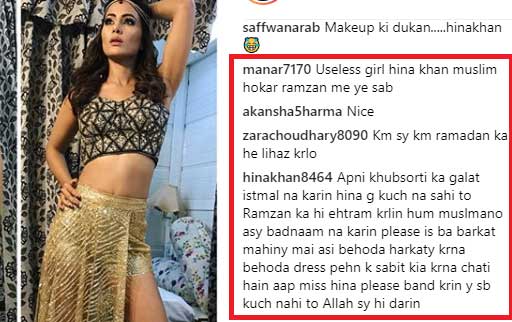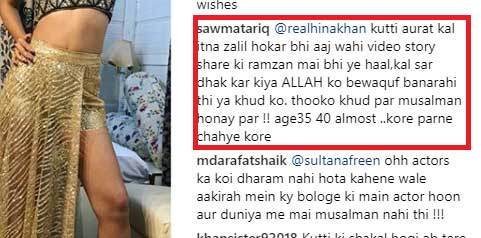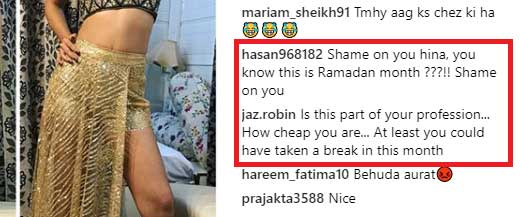 It's almost unbelievable to think that people can actually go ahead with all of this nonsense. After all, it's her choice and one might not be comfortable with it for them, but they have no right to go ahead and hurl abuses at someone they don't even know or anything.
An incident like this one sadly isn't the first one. Last year, Dangal girl, Fatima Sana Shaikh also had to go through something very similar to this, when she posted a picture of herself on the beach in a swimming costume.
An entire year has passed, but it seems dumb trolls will be dumb trolls no matter what.
Jyotsna Amla